Typical Food of ZACATECAS
Zacatecan cuisine is the product of multiple inventions, influences and exchanges, inheritance and remembrance of the indigenous and Spanish presence in the territory of the state.
In pre-Hispanic times, the Chichimeca tribes took advantage of what the semi-desert soil offered for their food: nopales, tunas, magueys, biznagas, dates, roots; wild animals such as hares, rabbits, squirrels, wild boars, snakes, deer, and insects. Some of these supplies were prepared in order to be conserved for a long time, anticipating periods of famine.
With the Hispanic presence in Zacatecas, the establishment of trade routes and the development of mining, new products were introduced and added to existing ones, giving rise to baroque dishes, such as the exceptional wedding barbecue, made from chili peppers from different varieties gilt in butter, spices and pork, which has been present at banquets and celebrations for several centuries.
In the region, it is also customary to consume beef in broths, such as menudo and pozole and birria de borrego. They are worth mentioning the gorditas of corn stuffed with stews, the enchiladas miners or zacatecanas, the artisan wheat bread, the old cheese and other derivatives of milk as typical sweets.
The traditional drinks are aguamiel (mead), colonche de tuna, tejuino, agua cuaresmal (Lenten water), quince liqueur and mezcal.
Currently, corn, beans and mirasol chili (considered the best not only in Mexico, but in the world), constitute the basis of food and represent the largest agricultural production in the state.

Tacos Envenedados (Poisoned tacos)
There are many stories behind the origin of the poisoned tacos; one evokes Don Lauro, a playful merchant who joked about the dish's secret ingredients; others say that his name refers to the danger miners run in their work and the relationship with what they eat.
The recipe has also had modifications but the original consists of a bean filling with potato, cheese and chorizo. They should be fried in lard and served with lettuce and tomato. They are so classic in the state that they even have a festival in August.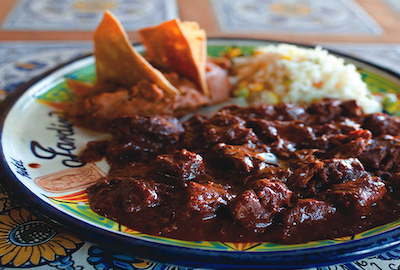 Asado de Bodas (Wedding roast)
It is the flagship dish of Zacatecas; of course it takes its name from being served at parties and on special occasions.
It is made with pork and various chili peppers, including guajillo and colorado. It is seasoned with bay leaf, garlic, pepper and cloves; Oddly enough, it also has bread, whether it be bolillo or white bread and chocolate.
It is a preparation that could well be an interpretation of mole although it is not as sweet as those found in Oaxaca, Hidalgo or Puebla.
Birria de borrego
Perhaps for each state in the country there is a different birria and in Zacatecas it is not different, here they have their way of preparing it. One of its constants is that it is almost miraculous when we talk about curing a hangover.
The Zacatecan birria is made with lamb or lamb, it has ancho chili, rattlesnake and morita. Among the spices they use to give it more flavor are cloves, thyme, oregano, pepper and cinnamon; in addition mass is used to thicken.
When serving, it is topped with onion cut into squares and coriander.
Caldo de Rata (Rat broth)
No, we are not in China, in Zacatecas they also eat strange animals. The rat broth is a mixture of pumpkin, carrot, broccoli, chipotle, xoconostle, corn and of course, rat. Rodents are used for this traditional Zacatecan dish, but don't worry, they are very different field animals from those that live in the sewers of big cities.
It emerged as many dishes that we know: due to the need to eat something and the scarcity. There are those who say that it is miraculous and that it even has healing properties (it makes sense if we take a look at how nutritious its ingredients are). Without a doubt, when you visit Fresnillo do not hesitate to eat a good warm rat broth.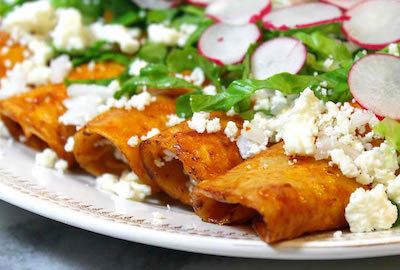 Enchiladas Zacatecanas (Zacatecan enchiladas)
There are three variations depending on the region in which you eat them. The first is with a poblano chili sauce that is mixed with cream and cheese; These are stuffed with cooked, shredded and fried pork loin.
The second is with cuaresmeño chili sauce mixed with egg, onion and salt, stuffed with asadero cheese.
Finally, the traditional ones that we can also find in San Luis Potosí and Guanajuato are flavored with guajillo chili. The way to prepare them is to soak the tortilla in sauce and fry it; They are filled with cheese and are accompanied by pickled vegetables, lettuce and sour cream.
Jeréz Tostadas
Jerez is one of the five Magical Towns of Zacatecas along with Nochistlán, Pinos, Sombrerete and Teúl de González. Here they prepare a traditional dish that is the famous Jerez tostadas.
You can find them in almost any corner and street stall. They have pork trunks cured in vinegar (which can be substituted for cueritos); They are garnished with red sauce and served on a golden omelette or a piece of pork rinds.
Now there are quite a few variations with more ingredients, for example, with buche or carnitas.

Quiote
Eating quiote is not exclusive to Zacatecas but here it is a traditional sweet. It is the thick stem that sprouts from the center of the maguey; It can be up to five meters high and produces flowers that are also eaten.
In Zacatecas, it is sliced, cooked, and roasted with sugar until completely caramelized.It can also be prepared baked and its flowers are used to make pancakes or savory dishes.
Queso de Tuna (Tuna cheese)
Is a cheese that does not contain milk really cheese? In states where tuna cheese is consumed as sweet, of course it is! It is prepared with cardonas tunas and it is also a typical dessert of San Luis Potosí.
The magic of this fruit is that it has the ability to give cheese texture to what is actually an "ate". Making it takes about two days. In the whole process, the sugars in the prickly pear play a key role, first creating the molasses and then adding flavors.It is said that it was named cheese because of the texture it has and the way it was pressed, although now it may have different shapes.
Colonche
The colonche is an intense red drink made from cardona prickly pear that grows in the Bajío states; You can also find it in San Luis Potosí, Guanajuato and Aguascalientes.Its origin dates back to pre-Hispanic times as a ritual for the harvests in the months of August and September.
The texture is very similar to pulque and the flavor is acidic. It is a careful drink since, although it does not have a higher alcohol content, the sweet notes are deceptive and you will never know when you got all the way back.
Tejuino
Taking tejuino is a tradition that honors corn and Zacatecas, being one of the products of this food, could not be left behind. We are talking about a refreshing drink made from corn fermented for months. To balance the acidity, it is prepared very much like an atole: mixing dough, sugar and water. Salt, baking soda, lemon and lots of ice are also added.
Mezcal
As strange as it may seem, in Zacatecas mezcal is also made; It is one of the states with a designation of origin to produce it together with Durango, Guerrero, Michoacán, Guanajuato, Tamaulipas, San Luis Potosí, Puebla and of course Oaxaca. Seven are the municipalities that can produce it and that have registered agave varieties; Huitzila, García de la Cadena, Teúl de González, La Pendencia, Jalpa, Saldaña and Juchipila.

More Tourist Attractions in ZACATECAS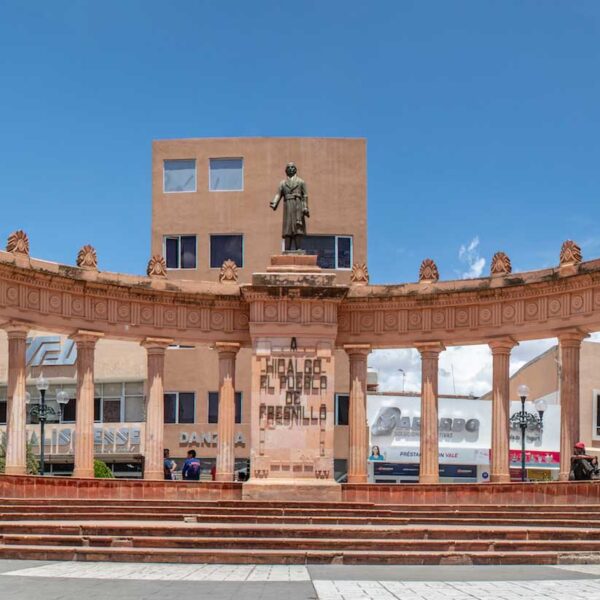 Interesting Sites
It is the second largest city in Zacatecas and was founded by Francisco Ibarra in 1554. Throughout much of its history, the city's fate has followed the boom and bust of the mines and you can see it in the streets and in the colonial-era buildings. Today, Fresnillo continues to stand as one of the world's largest producers of silver. This city has been the birthplace of great artists and prominent politicians and offers several attractions including squares, monuments, gardens, museums and mines.… Read More
Read More »

Flights & Hotels in ZACATECAS

More Tourist Attractions in MEXICO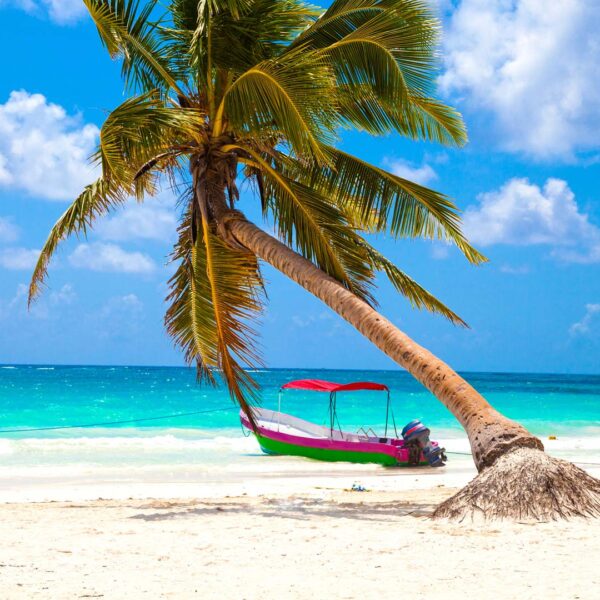 On the Beaches of Mexico you can immerse yourself in the intense blue ocean of the Pacific bays, sunbathe on the shore of the warm and transparent waves of the Caribbean Sea in Quintana Roo or even rest on the beautiful coasts of the Gulf of Mexico. Mexican beaches hide wonderful secrets for the traveler. By visiting them, in addition to enjoying the excellent climate and water activities, you can discover splendid archaeological sites and interesting colonial cities without traveling long distances.… Read More
Read More »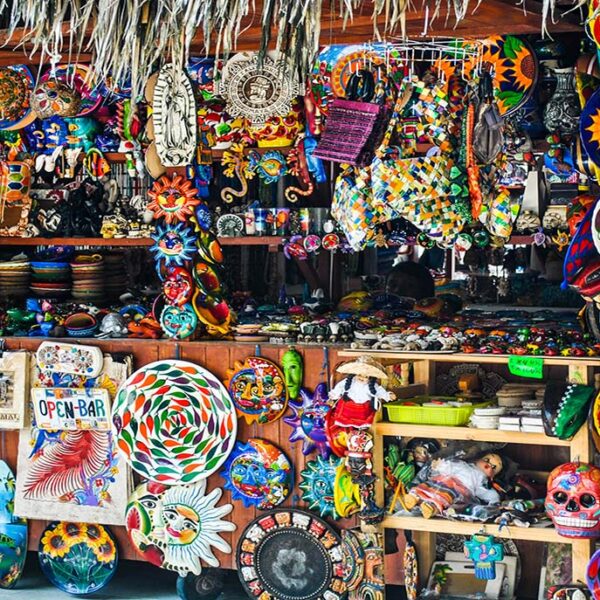 It is practically impossible to make a meticulous, and above all, accurate selection of the places to visit in Mexico. Each place that our country houses is unique and beautiful in its own way. Mexico, with its nearly 2 million km², has a large number of scenarios to offer, as well as endless activities to do. Do not lose your way and enter the places to visit in Mexico. In Mexico, apart from the beaches and its famous archaeological sites, there are many other really interesting sites and activities that you should know. In the surroundings of the main cities you will find places full of culture and tradition, where you can spend relaxing, interesting and fun vacations. On your trip through Mexico you cannot stop obtaining souvenirs, the crafts that are made here are of the highest quality and recognized worldwide. A shopping tour cannot be missed.… Read More
Read More »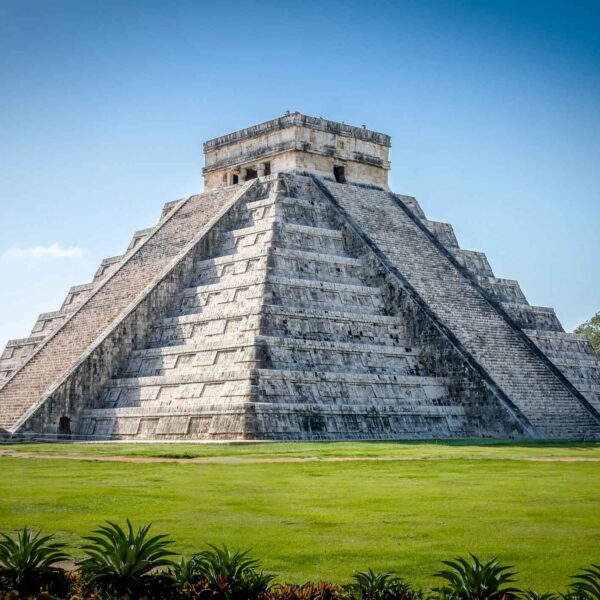 The Archaeological Zones are the cultural past of every Mexican. You will be amazed at the ambient, nature and the environment that surrounds them. Climbing to the top or being around it will take us back in time to admire every detail. México is a country of culture and traditions, many of which we have inherited from the pre-Hispanic inhabitants of this vast territory, although it is true that there were more settlements in the central and southern part of the country, it is also possible to find some archaeological remains in the north.
… Read More
Read More »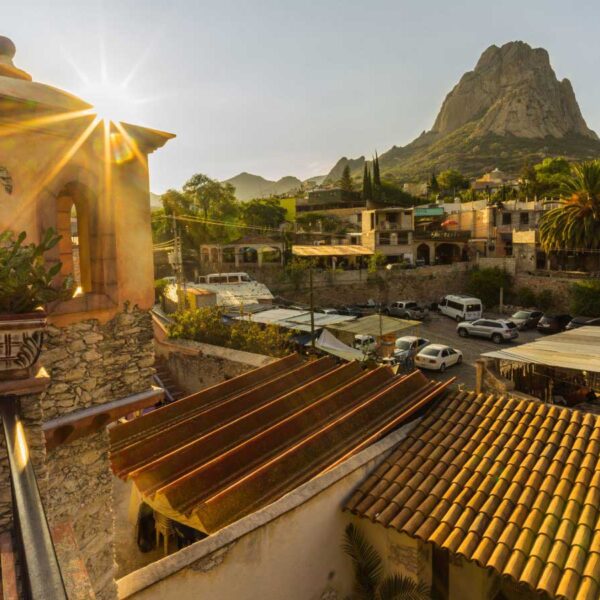 A Magical Town is a place with symbols and legends, towns with history that in many cases have been the scene of transcendent events for our country, they are places that show the national identity in each of its corners, with a magic that emanates from its attractions ; visiting them is an opportunity to discover the charm of Mexico. The Magical Towns Program contributes to revalue a set of populations in the country that have always been in the collective imagination of the nation and that represent fresh and varied alternatives for national and foreign visitors. A town that through time and in the face of modernity, has conserved, valued and defended its historical, cultural and natural heritage; and manifests it in various expressions through its tangible and intangible heritage. A Magical Town is a town that has unique, symbolic attributes, authentic stories, transcendent events, everyday life, which means a great opportunity for tourist use, taking into account the motivations and needs of travelers.… Read More
Read More »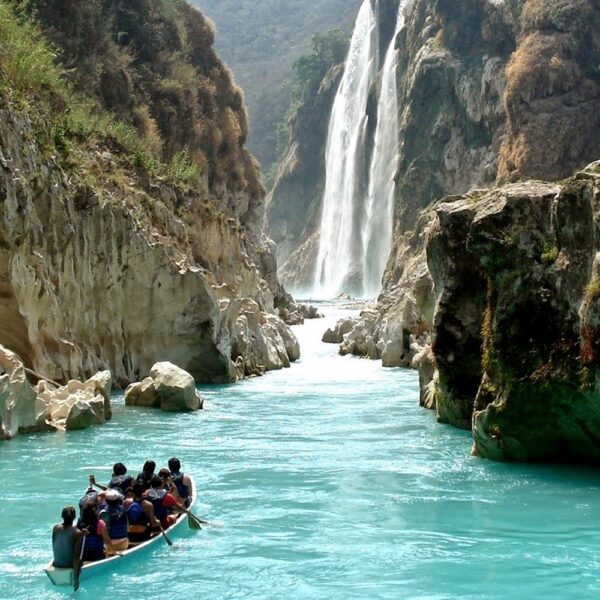 Mexico is one of the best countries for Ecotourism as it has a great variety of flora and fauna, as well as a large number of refuges for extraordinary species. You can enjoy recreational activities of appreciation and knowledge of nature through contact with it, such as: stargazing, observation of natural attractions, wildlife and bird watching. Throughout México there are more than 176 protected natural areas, 5 of them considered by UNESCO as Natural Heritage of Humanity. Just for this and much more, we believe that Mexico is a Paradise for Ecotourism.… Read More
Read More »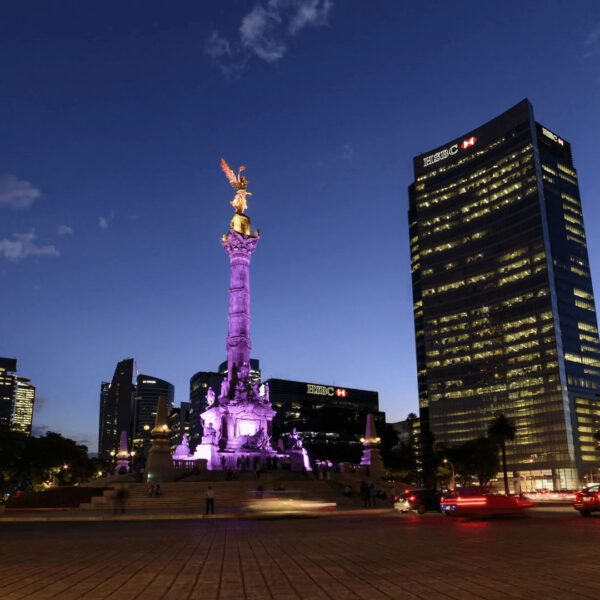 Folklore, gastronomy, literary culture, art and exhibitions, is what you will find in the capitals of the states of Mexico. To the north, colonial Mexico, Puebla, Guadalajara, Guanajuato, the Sonoran desert and the California peninsula. To the east Veracruz and the gulf. To the west Acapulco, Oaxaca and Tuxtla Gutiérrez. And to the south the Riviera Maya and the pyramids of Chichén-Itzá, Tulúm and Cobá in Yucatán, Palenque in Chiapas, the cenotes, and the Central American jungles.… Read More
Read More »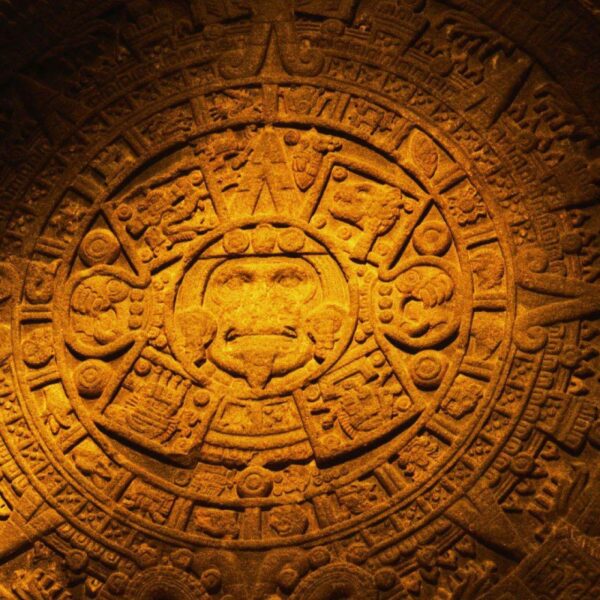 Mexico has an incredible diversity of landscapes, where the beauty of its beaches, internationally recognized, stands out. In its vast territory of coasts, there are beaches of unparalleled beauty, and colorful landscapes. A large network of first-class hotels and tourist services is available to visitors to these beaches. Mexico is also mystical places, dotted with archaeological testimonies inherited from its original inhabitants. Monuments made by the Mayas, Aztecs and Toltecs are located in magical landscapes, like lighthouses in an ocean of natural beauty. They offer visitors buildings that tell their history, and museums that collect their cultural heritage. And that keep alive ancestral traditions, in ceremonies and festivals, where you can enjoy cultural activities and entertainment.… Read More
Read More »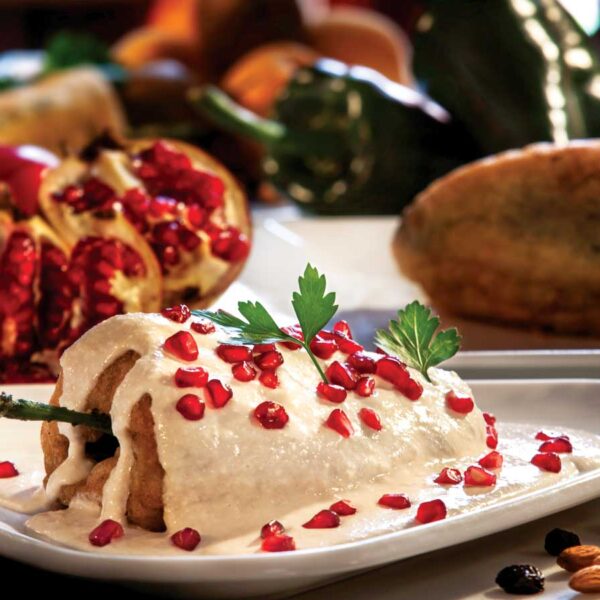 The Gastronomy of Mexico has a great diversity of typical dishes, which is why it was recognized by UNESCO as Intangible Heritage of Humanity. The basic and representative ingredients of Mexican dishes are: corn, coriander, chili, beans, piloncillo, nopal and tomato. Mexican cuisine is also characterized by its sauces, which serve as an accompaniment to traditional dishes, prepared based on spices.… Read More
Read More »