Travel to Guanajuato is a fascinating experience, you can discover two World Heritage sites (Guanajuato and San Miguel Allende), three important archaeological sites, two picturesque Magic Towns (Dolores Hidalgo and Mineral de Pozos), exciting tourist routes and a calendar full of events. Undoubtedly, Guanajuato is one of the most complete and interesting states of Mexico.
Guanajuato, is the heart of Mexico, it is the perfect blend of history, culture, stunning architecture and friendly local people, this is the chance to have an unforgettable experience.
What was once an old mining town in central Mexico is now a thriving and charming tourist destination, with magical streets to stroll through, UNESCO World Heritage Sites and lots of fun.
Among the many attractions of Guanajuato are buildings that bear witness to the Mexican War of Independence, such as the Alhóndiga de Granaditas, fascinating corners such as Avenida de Miguel Hidalgo and its market, or the Callejones del Beso and de la Condesa, beautiful gardens, funiculars with exceptional views and even mines in which to evoke life in these workspaces, such as the experimental El Nopal and Rayas Mines.
The presence of attractive monuments and sculptures of illustrious people are included among the artistic treasures of Guanajuato, in whose streets tradition and modernity coexist, in a fascinating environment whose inhabitants stand out for their hospitality, animation and good atmosphere.

Tourist Attractions in GUANAJUATO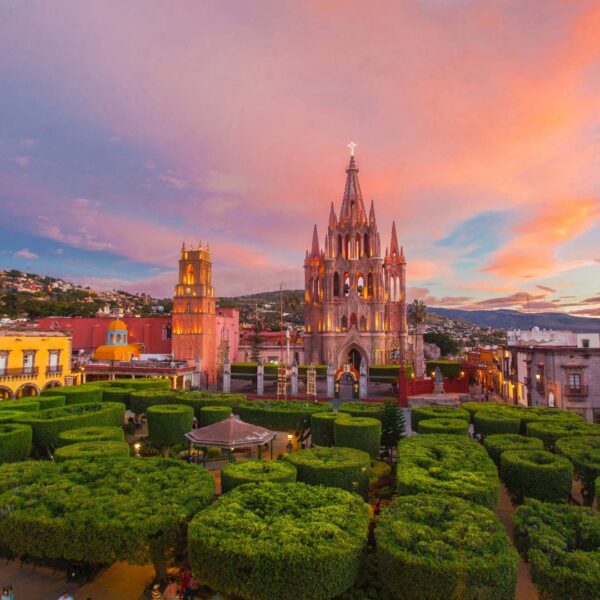 Interesting Sites
San Miguel de Allende was founded in 1542, this is one of the most beautiful colonial cities in Mexico. San Miguel has meant the careful conservation of the town's charming architecture and cobblestone streets, as well as its culture and traditions, and that is why it has become a UNESCO World Heritage site. Besides it offers the warm and friendliness of the people, the charming small cafes, bars, haute-cuisine restaurants and unique nightspots blend into the beautiful streets of this cosmopolitan town. San Miguel boasts more "fiestas" than any other Mexican town. There are religious, cultural or sports events; some of them include international performances like the International Jazz Festival and the Chamber Music Festival; and some others are traditional celebrations like the "Sanmiguelada" (Running of the Bulls), the National Brass and Wool Fair and the Holy Week, with a solemn procession of the Holy Burial, among others.… Read More
Read More »
Magical Towns
Guanajuato is one of the most picturesque and historic states in all of Mexico. If you are planning a visit in these directions, we recommend that you start with one of these Magical Towns. All of them will surprise you with their gastronomy, architecture and variety of cultural activities. It is not necessary to travel to another country to see a world completely different from yours. Proof of this are the Magic Towns of Guanajuato, they have everything, history, gastronomy, colors, folklore, but above all, human warmth that awaits you on your next visit.… Read More
Read More »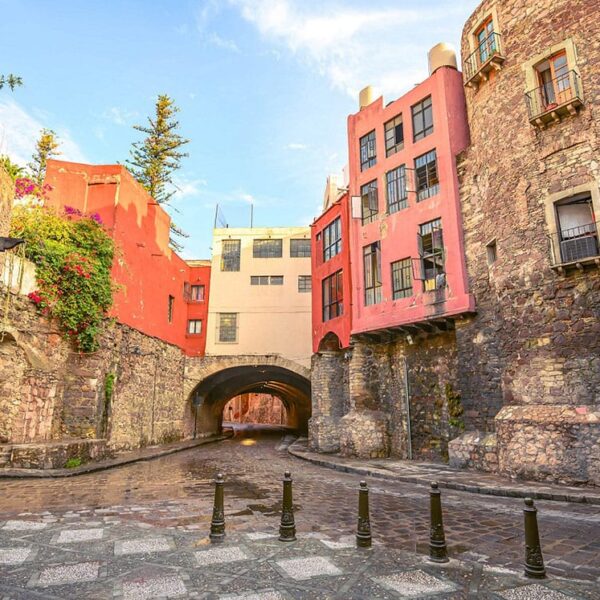 Capital City
Guanajuato, is the cradle of Independence, and invite us to stroll along the romantic cobblestone streets full of legends and history. The pied pipers call themselves estudiantinas. They wander the city, playing traditional music, singing old favorites, telling the city's stories and giving this magic atmosphere of this unique place. Once one of the greatest mining cities in Mexico, Guanajuato has a rich history and it is a UNESCO World Heritage site. The setting of the city is very beautiful: it stands in a narrow gorge amid wild and striking scenery. The whimsical trace of its streets, its peaceful squares, gardens, "estudiantinas" (strolling student minstrels), and the beauty of its houses and buildings give to Guanajuato a magic ambiance and an evocative and romantic touch.… Read More
Read More »

Since pre-Hispanic times, Guanajuato has distinguished itself in the culinary arts. The aromas, textures and flavors of their dishes are full of symbols and history. The state features a wide variety of flavors, each destination has a wide range of dining facilities that will impress even the most discerning palate. Some of these restaurants are located in unique and historic buildings immersed in the typically colonial atmosphere.
The roots, of this rich culinary tradition, come from the different cultures that once populated this region, mixed with new ingredients brought by the Spanish conquerors, transforming the regional dishes into some of the best in Mexico.
In any of the restaurants, in San Miguel de Allende you will find traditional dishes such as "pellizcadas de nata" (corn cake made with cornmeal and stuffed with cream), "fiambres estilo San Miguel de Allende" (a mixture of meats, fruits and vegetables topped with olive oil vinaigrette and apple vinegar). In Dolores Hidalgo, you can enjoy a concert of flavors that melt in your mouth with their unique exotic flavors of ice-cream such as mole, tequila, avocado, chicharron, beer, shrimp, rose petals, etc. In Atotonilco you can try the delicious "gorditas de chicharron en salsa" (a thick tortilla fried with different fillings).
Very traditional in Guanajuato are the "Enchiladas Mineras" (Miner's Enchiladas with tortillas, cheese, carrots, potatoes and smooth guajillo chile sauce), "tamales guanajuatenses" (stuffed with pork or cheese), and of course the "Charamuscas" (a hard, caramel candy that is yellow in the shape of mummies). Celaya, famous for its sweets, most of which include milk, but the most famous is the "cajeta" (boiled goat milk, brown sugar and cinnamon) in its different flavors like wine-flavored cajeta, vanilla, nut, raisin, almond, strawberry, etc. And, in Irapuato, the delicious strawberries prepared in many different ways.
You cannot miss the chance to try the traditional beverages, such as beetroot juice, strawberry liquor, the famous "cebadina" (a carbonated beverage made of pineapple vinegar and steamed tamarind or Jamaica flower), or the unique "agua de mesquite" (beverage made from a leguminous plant with a sweet flavor).
In order to spread the traditional and the new culinary trends, Guanajuato celebrates several food festivals in different destinations. There are festivals to celebrate the typical food with international chefs and there are also wine circuits. Guanajuato, the gastronomic heart of Mexico, is recognized for its intense and variety of flavors and offers interesting culinary exploration tours.

Festival Internacional CERVANTINO
It is held annually in the City of Guanajuato and lasts approximately three weeks. In 1972 the festival became an annual event since then the number of participants and spectators has grown with each passing year, and has become the most important
international artistic and cultural event in Mexico and Latin America.
The Festival attracts thousands of visitors interested in the intense cultural agenda. The events happen in the theatres, plazas and other venues in the city. During the celebration of the International Cervantes Festival a torrent of the most outstanding works in music, opera, theatre, dance, plastic arts, cinema and literature take over all of Guanajuato, this is a unique experience in a city full of legends.
The international aspect is to create a space for discovery and exchange. The event attracts artists from all over the world each year in order to present typical aspects of culture from each country.
Today the Cervantino Festival has become an internationally acclaimed event.


Guided Tours in GUANAJUATO

Flights & Hotels in GUANAJUATO

More Tourist Attractions in MEXICO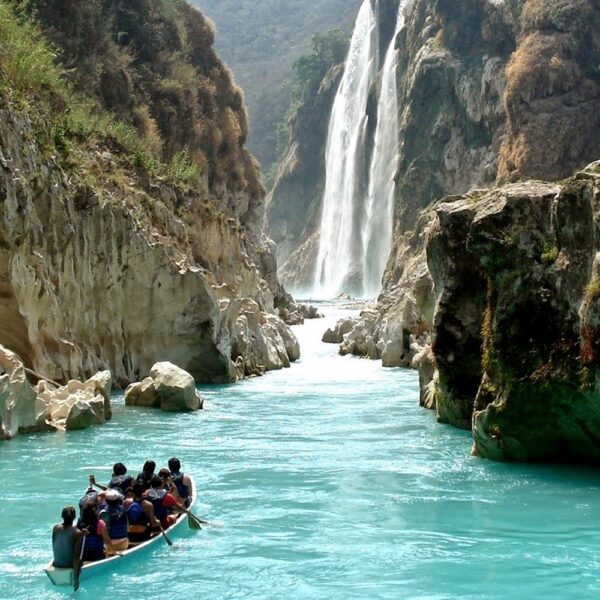 Mexico is one of the best countries for Ecotourism as it has a great variety of flora and fauna, as well as a large number of refuges for extraordinary species. You can enjoy recreational activities of appreciation and knowledge of nature through contact with it, such as: stargazing, observation of natural attractions, wildlife and bird watching. Throughout México there are more than 176 protected natural areas, 5 of them considered by UNESCO as Natural Heritage of Humanity. Just for this and much more, we believe that Mexico is a Paradise for Ecotourism.… Read More
Read More »