Mexico City (CDMX) is a city with a large population, some natives and many others from both inside the country and abroad, who chose it as their home; Thus, its gastronomic proposal hides endless culinary secrets from the most varied origins, ranging from delicious national appetizers to exotic dishes prepared by an international chef.
Among the typical dishes of Mexico City, the tamale torta, the red and green tamales, the migas broth, chili peppers, the flour cracklings with pork skins and the belly quesadillas stand out; In addition to this, the snack stalls are the main attraction since they offer a wide and varied selection of typical foods of the city, such as tacos, tlacoyos, sopes, huaraches, flautas, elotes and Esquites, basket tacos and other delicacies.
To complement these dishes, you can order a michelada or a fresh water and if you have time, visit a pulquería and try the tlachique or pulque, it can be a good plan; likewise, a good tequila or mezcal at some point of the day will be an almost obligatory task, special occasions are not necessary, there will always be a reason to enjoy one of the traditional Mexican drinks.
The gastronomy of Mexico City will surprise you, there are no limits to the creativity of the chefs who create rich options, trying them will be a unique experience worth enjoying, you just have to cheer up, you won't regret it!
As an additional bonus, in CDMX you can enjoy the gastronomy of any state of Mexico, since without having to look hard, you can find a restaurant specialized in the traditional food of each region.

Traditional Dishes of CDMX
Tacos al Pastor
It is the quintessential guilty pleasure for the capital residents, perfect for eating with family, friends, with your partner, in the afternoon and at night. Nothing whets the appetite more than seeing a trompo of al pastor meat rotating vertically over the oven, while the pineapple that crowns the top releases its juice on it. These tacos are served at the moment; With a knife, the taco maker cuts pieces of the spiced meat from the top and places them on small double tortillas about eight centimeters in diameter, accompanied by a piece of roasted pineapple and chopped cilantro with onion.
It is normal to eat them with lemon and although chile de arbol sauce was originally used, today there is a wide variety of sauces. It should be noted that meat al pastor is also sold in "tortas".
Tacos al pastor are believed to have been created by Lebanese immigrants in Mexico City in the 19th century. Although they are mainly pork, they are usually also beef. They are also known as trompo tacos due to the shape of the thin, marinated fillets, skewered on a metal rod that works as a vertical spit. The pork is previously marinated with achiote, chiles, vinegar and spices. In the upper part of this rod a pineapple is skewered that, spilling its juice, seasons the meat.
The trompo of meat rotates in slow cooking and when the taco maker needs to assemble a taco, he cuts a portion that falls on the tortilla held with the other hand. This is also put a piece of pineapple, onion, cilantro and a variety of sauces. Meat trompos are part of the landscape in public view in Mexico City, where tacos al pastor are eaten throughout the day.
Tacos de Canasta (Basket Tacos)
Also known as sweaty tacos, the vendors ride their bikes and carry a huge wicker basket on the back, covered with red and white checkered cloth. On one side the buckets are hung, one filled with a rich sauce and the other with pickled jalapeño peppers to accompany the tacos that have unpretentious fillings: potatoes, pressed pork rinds, marinated meat, beans and green mole. The tacos are served on plastic or Styrofoam plates and are accompanied by sliced onion that is cooked with the steam that the tacos give off.
An average basket can have from five hundred to a thousand tacos, which are finished in a matter of three to four hours. These taqueros go out to sell in the mornings, generally, it is best to eat these tacos early, right away, since the last ones that remain at the bottom of the basket usually end up crushed by the weight of the other tacos and the tortilla comes undone due to excess steam and moisture.
Tlacoyos
It is a preparation of pre-hispanic origin whose name in Nahuatl means laborious, it is made of corn dough, commonly white or blue, in a rhomboid shape and filled with beans, potatoes, broad bean, cottage cheese or pressed chicharrón, which is cooked with little fat on a griddle. It is served accompanied by grated cheese, chopped cilantro, onion and green or red sauce.
When roasted and because it is just over a centimeter thick, it can take a little time to cook, so the vendors choose to have the tlacoyos already preheated on the edge of the griddle, almost ready to serve. You can distinguish the stalls that sell this type of appetizers thanks to the huge round griddle placed on a brazier.
Quesadillas
Quesadillas are one of the most controversial dishes in the country. This product consists of a tortilla or stuffed corn dough, but while in Mexico City a quesadilla can be made with cheese and some stew such as tinga, picadillo, potatoes, pressed pork rinds, squash blossoms, brains, huitlacoche or mushrooms, in the In the rest of the states of the Mexican Republic, this appetizer is only prepared with cheese.
Quesadillas are folded in half and can be grilled on a comal or fried. In some places they are served with grated cheese, lettuce and green or red sauce. If they are fried, cream can be added.It is preferable to eat them freshly made, since, depending on the filling, they become moist and the flavor is no longer the same and there is even a greasy sensation in the dough.
The quesadillas on comals are sold at the stalls next to the tlacoyos, whose tortilla is prepared with white or blue dough, while the fried quesadillas can be found in places with steel plates known as navel comales where the oil is poured and heated to over 200°C to be able to fry the products. It should be noted that although the most common is that quesadillas are prepared with corn dough, there are places where they are made with wheat flour and with fillings such as cheese with ham or sausage.
Sopes
It is a dish prepared with corn dough that is round in shape, its thickness is approximately half a centimeter and it has small 'pinches' on the edges that prevent the filling that is placed on this appetizer from coming out. They are cooked on a comal or a griddle and usually simple sopes of refried beans with grated cheese, onion, sauce and sometimes nopales on top or lettuce and cream are offered. There are also prepared sopes that are the same as the first ones but include meat such as cecina, chicken, longaniza or some stew, all you have to do is look at the containers next to the griddle.
Gorditas
They are appetizers prepared with corn dough, round in shape and filled -generally- with pressed pork rinds or cottage cheese. Like quesadillas, they can be cooked on a comal or fried, the former, in addition to being made with white or blue corn, are served with grated cheese, chopped cilantro, onion, sauce or even nopales with red chili and sliced onion; the latter are prepared with white corn and are presented only with onion, cilantro and sauce. For a few pesos more you can order them stuffed with quesillo (Oaxaca cheese), which is really worth it.
Huaraches
These snacks or perhaps snacks, are prepared with corn dough and are flattened to about 30 centimeters long by 10 or 15 cm wide, some are filled with refried beans.You can also order them simple, with grated cheese, lettuce and sauce or prepared with meat or the stew that the vendor has at your disposal. There are shops specializing in huaraches and they are normally sold together with giant quesadillas made on a comal and similar in size to the huaraches.
They are named for their similar shape to the sole of the indigenous sandals of the same name. They are prepared with corn dough spread into thick, oval cakes, which are their distinctive feature. A wide variety of fillings based on meat, chicken, chorizo, cheese, beans and other vegetables, properly sauced, are added on top.
Pozole
Pozole is a pre-hispanic dish with many national varieties, such as green, from Guerrero, and red, from various states. In CDMX you will get all of these, including the Guerrero and those from Jalisco, Guanajuato, Tlaxcala, from the northern states and the varieties from the Pacific coast. This Mexican dish is a perfect balance of the 3 macronutrients that the body needs for a healthy diet. Corn provides carbohydrates, chicken or pork contribute protein, and vegetables add vitamins and minerals. The broth is a revitalizer that cures a hangover.
Elotes (Corn) and Esquites
You can't talk about one without finding the other. When the afternoon begins to cool down, it is a good idea to locate the nearest corn vendor. Already at the stall, we can see a huge pot where the corn is submerged in salted water, all you have to do is choose the one you like the most and the vendor will expertly stick a wooden stick into it to prepare it with lemon, chili powder and Salt. It can also be ordered with a smear of mayonnaise and a sprinkle of grated cheese.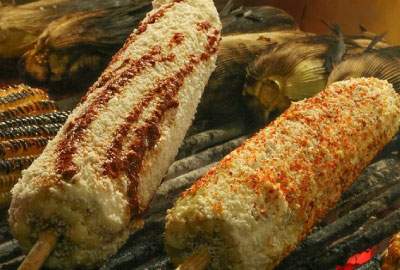 Another option is the grilled corn, which is placed on a grill and roasted over direct heat. These are served on a corn husk and then a lemon is squeezed over them. As for the Esquites, this appetizer consists of corn kernels cooked in water, with salt and epazote. They are served in Styrofoam cups and eaten with a spoon. The vendor prepares them by placing a layer of corn kernels, followed by lemon juice, salt and another spoonful of shees, and so on until the glass is full.
Like the corn, we can also order them with mayonnaise, cheese, and piquín chili powder. For the risky there is "the spicy" and for the less adventurous "the non-spicy". A good point about corn and skis is that you will almost always find them hot, since the pots and pans that contain them are usually on the stove.
Chicken Soup
When the cold attacks there is no better remedy than a good chicken broth to warm the stomach. Without wanting to be redundant, this is a broth made with water, garlic, onion and the pieces of a chicken such as gizzards, wings, legs and crates. This preparation also incorporates vegetables such as chickpeas, carrots, chopped onions and coriander. To serve it, it is accompanied with rice, lemon, sauce and an order of tortillas to 'spoon' the broth.
The diner can choose the piece of chicken they want to eat and although you can ask for breast, customers usually prefer pieces such as legs, thighs or gizzards. Although it sounds more difficult to consume than the previous options, vendors can offer it in ceramic dishes up to half-liter Styrofoam containers. The interesting thing about this dish is that its cooking time is three to four hours due to the toughness of the chicken meat compared to the usual chicken, which can be ready in half that time.
Tamales
The representative Mexican tamales are corn buns filled with meat, vegetables, fruits and other ingredients, wrapped in vegetable leaves that are parboiled or steamed. Although corn cob leaves are used in the traditional wrapper, banana leaves, avocado leaves and other plant species are also used. Aluminum foil sheets are also used industrially, but many prefer traditional wrappers. The green and red tamales are particularly popular in Mexico City. They are steamed in a corn husk and fried in butter just before eating, leaving them crispy on the outside and soft on the inside.
Chilaquiles
Totopos or pieces of toasted or fried tortilla dipped in red or green chili sauce. As an alternative, shredded beef or chicken, cecina, flank steak, chorizo, cheese, cream, eggs, avocado, onion and other ingredients are also added. Many people eat them accompanied by beans in the morning.
Mexican "Tortas"

Bread or piece of bread (bolillo, birote or other) cut in half and stuffed with cheese, ham or other ingredient, which can be eaten hot or cold. They are seasoned with cream, mayonnaise, mustard, chiles, tomato slices, beans, guacamole and other sauces.

Flautas (Flutes)
Flutes are a classic in Mexico City. They are usually chicken or shredded meat. This appetizer is characterized by being an elongated fried taco that measures from 25 centimeters to 40 centimeters long, served in orders of three on an oval plate and accompanied by lettuce, cheese, cream and a touch of sauce.
The flautas should be made almost immediately, because if they have been waiting in the basket for a long time, the texture of the cold fat will be unpleasant and the crispiness that the frying gives to the tortilla will be lost. It is also not advisable to order them to take away because if they are stored in a bag the flautas will "sweat" with the steam they give off, the tortilla will be soft and once again the delicious crispy sensation will be lost.
Its name refers to the similarity it has with the musical instrument and like this, it is taken with the hands, without the need to use cutlery. Its origin is not known for sure, although it is said to come from Sinaola.
Enchiladas
In Mexico there are at least 300 types of enchiladas, tortillas filled with meat, chicken, turkey, pork or cheese, bathed in a chili sauce. Mining (Guanajuato), Michoacan, green and red (according to the color of the tomato and chilies), mole (sauced with mole), beans, Monterrey and potosinas are known.
Other popular ones are the northern ones, from the ground (popular in Sinaloa), Swiss (with milk cream and gratin cheese), sweets (with a mole that has raisins and piloncillo) and Chicanas or gringas (with chopped black olives). CDMX is the city in the country where you can easily get all these variations of enchiladas, whose usual accompaniment is lettuce, sliced onions, cheese and cream.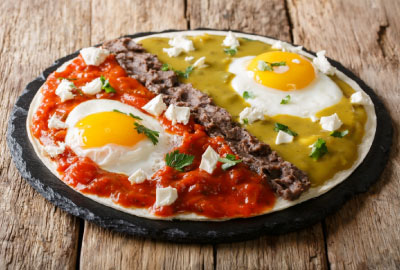 Ranch Eggs
It is the traditional breakfast of the workers of the ranches of Mexico and also the first meal of many people from the capital and other city dwellers. The eggs are fried. Scrambled, but not parboiled. Chopped chilies or a chili sauce, refried beans and corn tortillas cannot be missing. Divorced eggs are a variant. Two fried eggs, one covered with a red sauce and the other with a green sauce, separated by a serving of beans or chilaquiles. Ranch workers eat their eggs after dawn. Many in the cities, in the middle of the morning or at noon.

Stuffed Peppers
The stuffed peppers are one of the most complete foods that the inhabitants of the capital have. They are rich in vitamin C and other nutrients, while the cheese-based filling provides protein, fat and vitamins. Accompanied with tortillas or rice, they become a complete meal. If the filling is made with salmon, tuna, bonito, sardines or horse mackerel, the dish is enhanced with healthy omega-3 fatty acids.
Nopales Salad
Preferred dish by residents of the capital who want to eat vegan and very nutritious.A nopales salad with tomato and avocado is a "superfood" that provides vegetable protein, healthy fats, vitamins and minerals. Nopal is low in calories. Its fiber helps in transit through the gastrointestinal system, preventing conditions such as constipation and irritable bowel syndrome. It is rich in vitamins A, B and C and in minerals such as potassium, sodium, calcium and magnesium.

More Tourist Attractions in CDMX
Ecotourism and Adventure
Ecotourism is one of the main economic activities in Mexico and the world, this is because every day more people move from their place of residence to other destinations with different objectives. For this reason and for the sector to meet the needs of each type of visitor, tourism has chosen to differentiate itself taking into account what motivates people to travel. On this occasion we will focus on ecotourism and yes, although many do not imagine that within this great city there is space for areas destined for this activity in Mexico City there is an offer for travelers who seek to coexist with the environment. Ecotourism takes place in natural areas and its purpose is the appreciation and knowledge of nature.… Read More
Read More »



More Tourist Attractions in MEXICO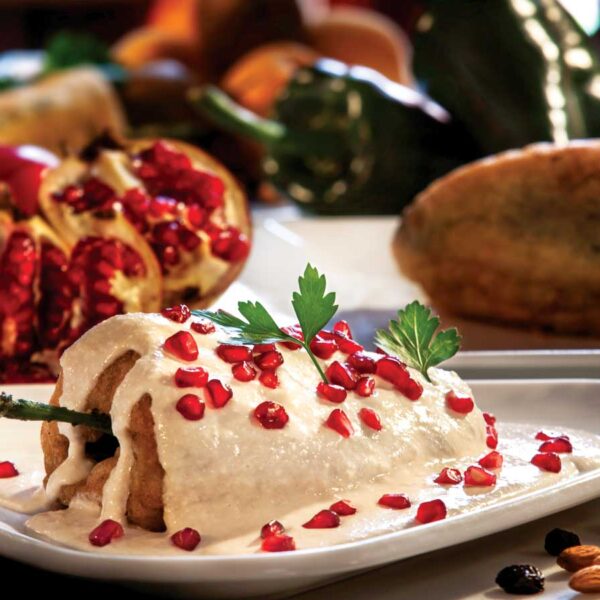 The Gastronomy of Mexico has a great diversity of typical dishes, which is why it was recognized by UNESCO as Intangible Heritage of Humanity. The basic and representative ingredients of Mexican dishes are: corn, coriander, chili, beans, piloncillo, nopal and tomato. Mexican cuisine is also characterized by its sauces, which serve as an accompaniment to traditional dishes, prepared based on spices.… Read More
Read More »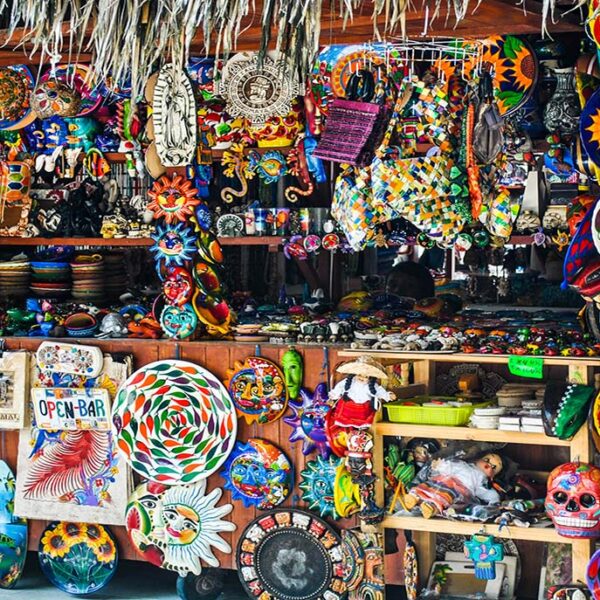 It is practically impossible to make a meticulous, and above all, accurate selection of the places to visit in Mexico. Each place that our country houses is unique and beautiful in its own way. Mexico, with its nearly 2 million km², has a large number of scenarios to offer, as well as endless activities to do. Do not lose your way and enter the places to visit in Mexico. In Mexico, apart from the beaches and its famous archaeological sites, there are many other really interesting sites and activities that you should know. In the surroundings of the main cities you will find places full of culture and tradition, where you can spend relaxing, interesting and fun vacations. On your trip through Mexico you cannot stop obtaining souvenirs, the crafts that are made here are of the highest quality and recognized worldwide. A shopping tour cannot be missed.… Read More
Read More »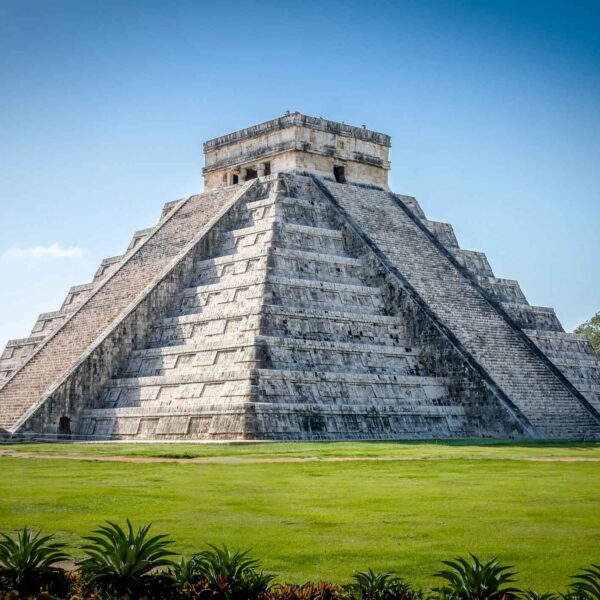 The Archaeological Zones are the cultural past of every Mexican. You will be amazed at the ambient, nature and the environment that surrounds them. Climbing to the top or being around it will take us back in time to admire every detail. México is a country of culture and traditions, many of which we have inherited from the pre-Hispanic inhabitants of this vast territory, although it is true that there were more settlements in the central and southern part of the country, it is also possible to find some archaeological remains in the north.
… Read More
Read More »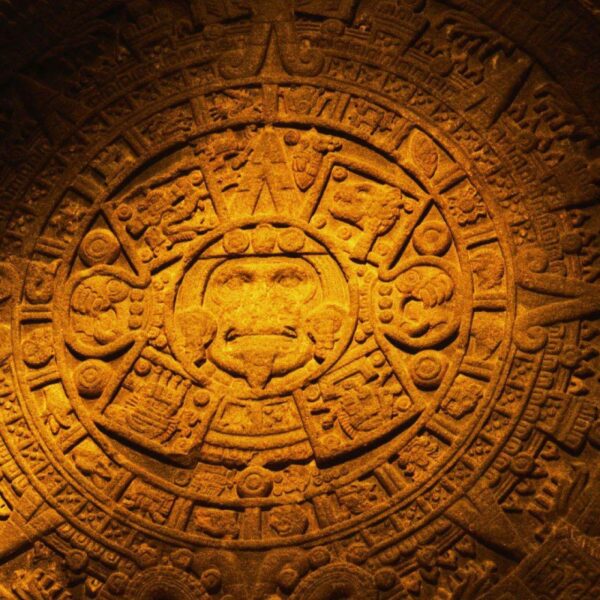 Mexico has an incredible diversity of landscapes, where the beauty of its beaches, internationally recognized, stands out. In its vast territory of coasts, there are beaches of unparalleled beauty, and colorful landscapes. A large network of first-class hotels and tourist services is available to visitors to these beaches. Mexico is also mystical places, dotted with archaeological testimonies inherited from its original inhabitants. Monuments made by the Mayas, Aztecs and Toltecs are located in magical landscapes, like lighthouses in an ocean of natural beauty. They offer visitors buildings that tell their history, and museums that collect their cultural heritage. And that keep alive ancestral traditions, in ceremonies and festivals, where you can enjoy cultural activities and entertainment.… Read More
Read More »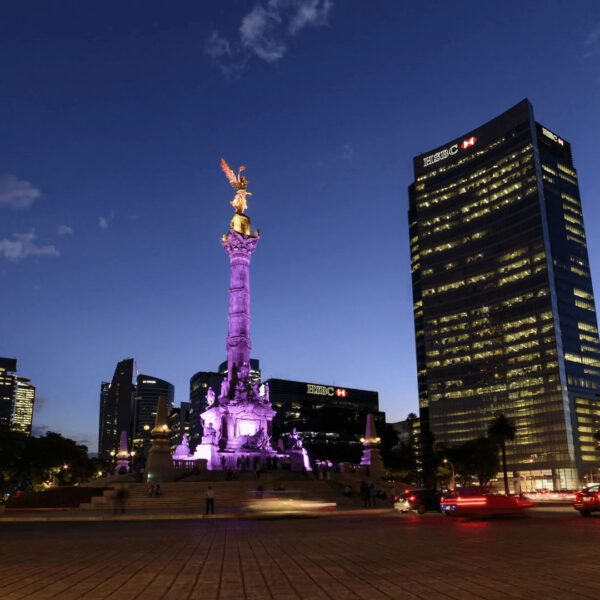 Folklore, gastronomy, literary culture, art and exhibitions, is what you will find in the capitals of the states of Mexico. To the north, colonial Mexico, Puebla, Guadalajara, Guanajuato, the Sonoran desert and the California peninsula. To the east Veracruz and the gulf. To the west Acapulco, Oaxaca and Tuxtla Gutiérrez. And to the south the Riviera Maya and the pyramids of Chichén-Itzá, Tulúm and Cobá in Yucatán, Palenque in Chiapas, the cenotes, and the Central American jungles.… Read More
Read More »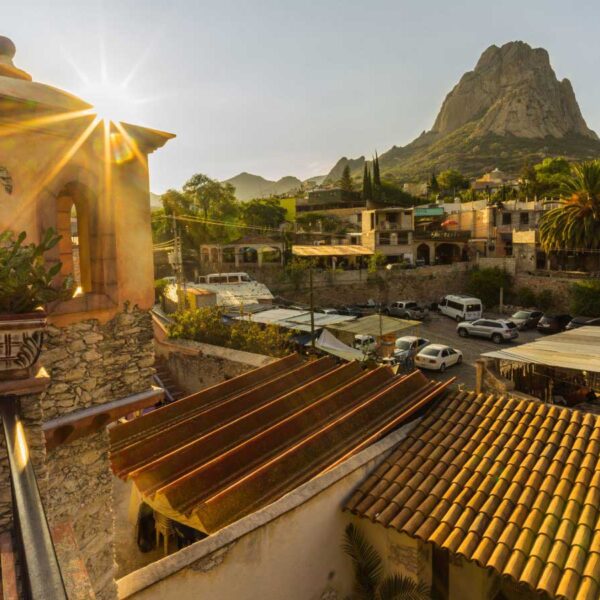 A Magical Town is a place with symbols and legends, towns with history that in many cases have been the scene of transcendent events for our country, they are places that show the national identity in each of its corners, with a magic that emanates from its attractions ; visiting them is an opportunity to discover the charm of Mexico. The Magical Towns Program contributes to revalue a set of populations in the country that have always been in the collective imagination of the nation and that represent fresh and varied alternatives for national and foreign visitors. A town that through time and in the face of modernity, has conserved, valued and defended its historical, cultural and natural heritage; and manifests it in various expressions through its tangible and intangible heritage. A Magical Town is a town that has unique, symbolic attributes, authentic stories, transcendent events, everyday life, which means a great opportunity for tourist use, taking into account the motivations and needs of travelers.… Read More
Read More »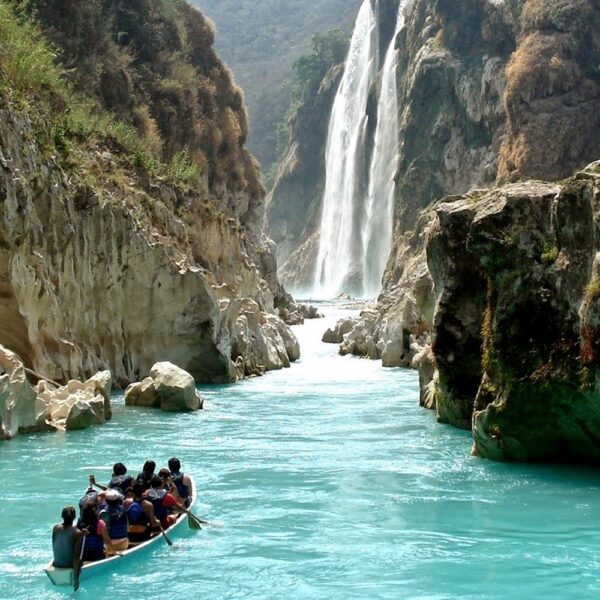 Mexico is one of the best countries for Ecotourism as it has a great variety of flora and fauna, as well as a large number of refuges for extraordinary species. You can enjoy recreational activities of appreciation and knowledge of nature through contact with it, such as: stargazing, observation of natural attractions, wildlife and bird watching. Throughout México there are more than 176 protected natural areas, 5 of them considered by UNESCO as Natural Heritage of Humanity. Just for this and much more, we believe that Mexico is a Paradise for Ecotourism.… Read More
Read More »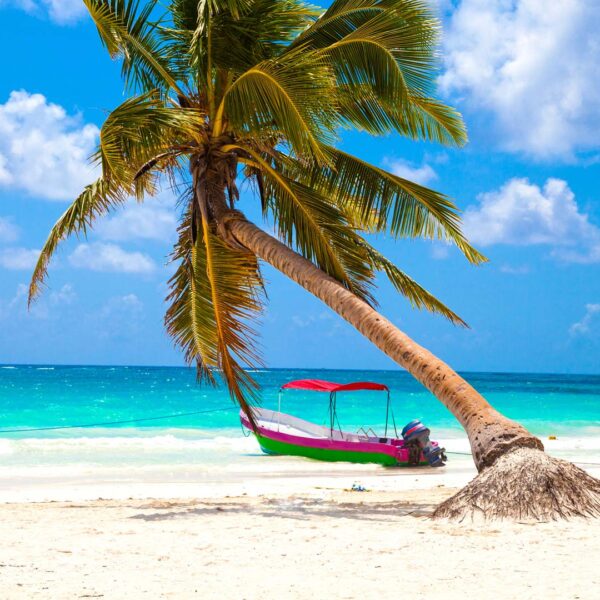 On the Beaches of Mexico you can immerse yourself in the intense blue ocean of the Pacific bays, sunbathe on the shore of the warm and transparent waves of the Caribbean Sea in Quintana Roo or even rest on the beautiful coasts of the Gulf of Mexico. Mexican beaches hide wonderful secrets for the traveler. By visiting them, in addition to enjoying the excellent climate and water activities, you can discover splendid archaeological sites and interesting colonial cities without traveling long distances.… Read More
Read More »