This Caribbean island is known internationally for its coral reefs ideal for diving and snorkelling.
If you are looking for a place with diverse options where each member of the family finds interesting activities, Cozumel is one of the best choices: for the most daring, diving or snorkeling to get to know one of the most important reefs in the world, through kayaking, kite boarding and wind surfing for those who prefer to stay close to the shore, even sport fishing, for family members who prefer to spend a quieter time.
Infinity of beach clubs and water parks will give you hours of healthy fun: Playa Paraíso is highly recommended, with a pleasant atmosphere, for those who prefer to lie on a lounge chair and enjoy delicious food and tropical cocktails, nearby reefs for those who want to explore under the water, and inflatable playgrounds on the water, for the little ones.

Map of Water Sports in COZUMEL

Flyboard
This is one of the most ultimate adrenaline activities in Cozumel. Cruise above the water on a flyboard like a bird or dip below the water like a dolphin. Easy to learn, fun to try and safe to practice. You are propelled by water jets beneath the board supplied by an 18 meter hose. With just a few minutes with a certified instructor, you can be flyboarding. It all depends on your l18-meterskills and natural abilities. This is one of the most amazing things you have ever experienced.
Kite Boarding
Cozumel offers a wide variety of riding venues (flatwater, chop or waves). The island is quickly gaining steam as one of the world's top kiting destinations. Found along the entire northern Cozumel bank are a series of lagoons, fantastic for flat water riding, but be aware that there are strong currents if you get too far out. Punta Molas Lighthouse, is a great place to do downwinders (heading south west), you'll hit breaks, kickers and ship wreck sliders! The Country Club Beach is the most popular and most accessible launch area with the typical northeast winds. Cozumel's east coast has a number of launch areas, one of the best is Playa Bonita, and here the waves are always on, sometimes 10-12' high. The best time to come for kiting is in the 'cooler' winter months when the temperature is in the low to mid 20ºC (70ºF).
Segway
Explore the scenic waterfront of Cozumel by Segway, a unique and fun type of personal transportation. You can enjoy the views of the stunning Caribbean Sea and the beautiful beaches.
Trekking and Hiking
Hike through the lush Mayan jungle is the perfect way to immerse oneself in the stunning natural environment of the island and experience the lingering Mayan spirits and the legacies of their temples. There is a broad range of tours sure to suit all tastes.
Sea Trek And Snuba
Is the easiest and most comfortable way to explore the Cozumel's pristine underwater world. You wear a special helmet and your hair doesn't get wet and you can even wear prescription glasses. Sea Trek lets you feel the bottom of the ocean under your feet and enjoy watching colorful fish. Snuba is for those seeking more than a snorkel, you can swim at your own level of comfort with a maximum of 20 feet depth without having to carry heavy gear.
Kayak
Kayaking in Cozumel is a very popular beach activity due to the relatively calm and crystal clear waters of Cozumel. There is a selection of single and double kayaks or tours in glass kayaks so that you can see marine life up close without getting wet. These "dry snorkeling" tours last approximately 45 minute Cozumel has beaches ideal for kayaking.
Some of the best spots are: Playa San Francisco, its calm waters invite you to take in the natural surroundings as you kayak in the open sea. Playa de San Juan, here you can do a pleasant kayaking outing thanks to its shallow waters and gentle waves. Parque Faro Celaraín, it has virgin beaches and wonderful jungle landscape.
This ecological reserve has a lagoon surrounded by lush vegetation and it offers great kayaking conditions due to its calm waters. Playa Mia, which is one of the user- friendliest kayaks available in Cozumel.
4WD, ATV's & Off-Road Tours
This excursion is a great way to experience the thrill and adventure of the island wilderness. Drive your off-road vehicle along the coastline road or through winding trails to explore the beautiful jungle of Cozumel. You can enjoy Jade Cavern swimming in its crystal clear, fresh water; visit an ancient Mayan Ruin that was used for weather observatory; or ride along the Columbia Lagoon, teeming with nesting birds and a sanctuary for crocodiles.
Mud, rocks, narrow paths, twists and turns, speed…whatever you want, these Cozumel vehicles can deliver. The all-terrain vehicles ensure a safe and exciting ride. The experience is guaranteed to bring out your adventurous side.
ATV's. A fun way to explore Cozumel's inland jungle and trails is aboard a thrilling ATV and discover the island mysteries like El Cedral archeological site, or you can hop on your ATV for an adventure ride to a secluded beach.
Biking
One of the most relaxing and rewarding ways to see more of Cozumel is on a 4-person bike. This is a great option for families as the bikes can accommodate two adults and two children under the age of 12. Ride along the northern scenic coastal road of the island on a specially made bike trail. You will stop at several monuments along the way and enjoy the views of the blue Caribbean Sea. There are also tours that will take you into the Mayan jungle to learn about the regional flora and fauna.
Parasailing
You will experience the thrill of flying over 600 ft. above the crystal clear waters of the Caribbean and see the island like few will ever see. Start safely from the parasailing boat's platform, then pulled behind a speedboat at high speed, and with the aid of your parachute, you rise high in the air for an approximately 12 minute flight.
Enjoy the views and the silence floating above the water before returning again safely to the platform on the back of your boat. This excursion is available as a single flight as well as double/tandem flights. Don't forget your waterproof camera or portable binoculars – the view is breathtaking!
Safety is very important; all instructors are certified by the PAPO (Professional Association Parasailing Operators).
Motorcycle Tour
Cozumel is the ideal destination for motorcycle enthusiasts. You get to pick from among a variety of new models and a large selection of styles. You can hop on a Harley and explore the coastline and head south on the way over to the "Wild Side" of the island. The road parallels the gorgeous Caribbean water on one side with lush jungle on the other side.
You can ride through the Chankanaab National Park; have a sightseeing stop at the first Mayan town of El Cedral, or head to the southern tip of the island where you can enjoy the view from the Punta Celarain Lighthouse. All driving is on relatively smooth, paved roads. Another option is just ride the streets and avenues of San Miguel, and visit the main plaza.
Canopy
Experience the thrill of flying high above the jungle floor on a series of zip lines. There is a park with 6 towers where you'll have panoramic views of Cozumel. There are 3 towers with the maximum height of 80 feet, while the other three have different models of bridges. Through a series of pulleys and cables, you will climb the first tower, hook into the pulley/cable system and zip down to the next tower.
There are 2 steel cables are for your added safety and protection. There is another Zip Line Adventure, a perfect excursion for real adventurers to experience the sensation of flying from tree to tree over the jungle.
Horseback Riding
Horseback riding is a nice way to relax and enjoy the scenery of the island. You can ride along sandy trails that border the Caribbean or head deep into the Mayan jungle, exploring Mayan ruins, ancient caves and cenotes. The horseback rides are suitable for kids and families of all ages, since you are matched up to a horse according to your riding ability.
Boat Tours
There are a wide variety of tour boats to enjoy the crystal clear waters surrounding Cozumel. All vessels are in excellent conditions and
have experienced crew.
You can experience the beautiful sunsets of the Mayan Caribbean from the deck of a state-of- the-art 65-foot sailing catamaran. Take a ride
on a glass bottom boat, where you can see the tropical fish and marine life going by below you as you motor out to the reefs. Or just enjoy
luxury and comfort on a 55' luxury yacht.
The most thrilling experience in Cozumel is a world famous jet boat ride. The fun starts from the moment the captain steps on the
accelerator, zooming through the turquoise Caribbean waters at speeds of 45mph. Make sure to hold on tight when your captain makes the signal for a 360° spin, when the jet boat quickly turns in a circle without losing momentum. Another exciting moment is when the jet boat stops at full speed, having the entire boat nosedive into the refreshing ocean before heading back to shore.
A submarine tour provides visitors with a glimpse of reefs and rich marine life of Chankanaab Park. You will actually fully submerge in a
real submarine, and dive to depths of 100 feet beneath the surface of the water. Throughout your submarine voyage an experienced co- pilot who will be happy to answer any questions provides an informative, live narration.
Travel back in time to the era of the pirates on board the Old Spanish Galleon, and indulge yourself in a delicious dinner while sailing through the Caribbean waters of Cozumel.
Jet Ski
Enjoy some high-speed Jet Ski fun in Cozumel. You choose to ride the Jet Ski single or double. Enjoy the warm sunshine and the cool breeze on your jet ski fully automatic and easy to drive.
Paddle Surf
StandUp Paddle or SUP is one of the fastest growing water sports today; it is like a cross between kayaking, canoeing and surfing. Unlike surfing, this sport does not require waves, the flat water here is great. 
All you will really need is one lesson on the SUP to be up on the board and paddling as you enjoy and explore the beautiful, turquoise blue Caribbean water on your 1.5 hour guided tour. Easy and fun…this is a great sport for the young and young at heart alike.

Cozumel is one of the top sport fishing destinations in the world. In the crystal- clear blue waters surrounding the island are more than 200 species of fish. There are plenty of year round species to catch like wahoo, barracuda, tuna, bonito, and amberjack. The prime fishing season goes from March through August, undoubtedly the best times to go after billfish.
Bottom fishing in Cozumel is a year round activity, and offers a solid chance of going after grouper, snappers, triggerfish, amberjack, as well as various reef fish that populate the area.
The three spacious lagoons are home to a yearly supply of Bonefish, the island is known for having some of the best bonefishing in the world. But fly fishing in Cozumel isn't all about bonefishing, you can look for some good Permit fishing opportunities from February -July, Snook during the winter and Tarpon all year round.

There is no other diving destination in the Caribbean that can compete with Cozumel. The crystal clear waters surrounding the island offer spectacular coral formations and the sight of hundreds of colorful fishes. It is rightly considered among the top-five diving destinations in the world.
The reefs surrounding Cozumel's shores are some of the largest and oldest coral reefs in the world, and there are 40 different dive sites offering a variety of dive environments including dramatic depths, inspiring underwater cliffs, intriguing caverns, and idyllic shallow reefs.
The currents in these reefs are normally moderate to strong, so Cozumel is famous for its drift diving. Visibility is incredible year round and water temperature varies very little between the winter and summer months.
Equipment and Infrastructure
There are a wide variety of diving and snorkeling shops in Cozumel. All of them have trained captains, dive masters and instructors with experience. There is always staff trained oxygen first aid, CPR and decompression sickness. You may rent or buy specialized equipment; tanks, weights and weight belts are included for all divers. You can also rent quality photographic equipment. However, it is always a good idea to carry your mask, fins, snorkel and regulator.
Heavy wetsuits are rarely necessary due to the warm water conditions, Lycra or 3mm (1/8 inch) suits are more than fine, you have to keep in mind that drift diving does tend to chill the body a little more. Beside you are not allowed to wear scuba gloves while scuba diving to prevent divers from the temptation of touching any plant life or animal while in the water.
In Cozumel you can become a Certified Scuba Dive or enroll in the PADI Open Water Diver course and learn the basic diving techniques that are required to visit the underwater environment. You can select the boat according to the size of your group and your budget. There are many options, fast boats easily reach the many excellent reefs located on the southern end of the island, but there are also luxury boats, or even catamarans.
To dive in Cozumel Reefs National Marine Park, you have to look for boats that have the corresponding authorization.
Diving Seasons
There's no bad time to visit Cozumel. However, the summer months offer better weather, increased water clarity and better visibility, but
you must keep in mind that hurricaneseason runs from June until the end of November. The rainy season runs from May to October and the dry season is from November to April. May and June have the highest rate of humidity.

Reefs of Cozumel, a Nature's Hidden Treasure
Wildlife Protection Area in the Island of Cozumel
Northeast, North, Northwest and West of the Island
Playa Bosh, El Mirador, Punta Chiqueros, Chen Rio, Punta Morena
These shallow dives along sections of reef offer a lot of coral variety and marine life. Since this is the wild side of the island you will not see many sponges or sea fans, but you will find is healthy coral, many juvenile fish, as well as green moray eels and nurse sharks. Visibility is good and allows for good photography especially in the early morning hours.
Hanán Reef
Hanan is not a common dive in Cozumel. This dive is usually done during a "Norte", in which the wind is battering the west side of the island, and the east coast is relatively calm. You will cruise at the bottom of some crevices in the coral rock, which have been carved by the constant wave action. This is an interesting reef to see where you can find a lot of sea fans and sponges, which are home to a large number of lionfish, as well as some parrotfish, a few damselfish and some snappers.
Los Atolones, Punta Molas
Punta Molas is becoming more and more popular, but you have to dive here with caution, as there are often very strong currents. You will find an excellent variety of coral growth and sponges. In this reef is easy to see butterfly fish, horse eye jack, schools of grunts and spotted moral eels.
North Coast - West side of the Island
Barracuda Reef
It is located on the north end of the island. Because of the severity of conditions, the Port Captain monitors and restricts tourist diving in this area heavily. Even in good weather, the current runs 2 to 3 knots and down-currents along the wall are not uncommon. These ocean conditions attract large pelagic like nurse sharks and eagle rays, but you can also see lobsters, crabs and turtles.
San Juan Reef
Huge beautiful fields of finger coral, which houses thousands of Damselfish, dominate the coral here. You will also enjoy with big barrel sponges oddly shaped reflecting the continual swift current and nice patches of lettuce coral. Just like in Barracuda Reef, the Port Captain monitors and restricts tourist diving in this area heavily because of the severity of conditions.
Cantarel Reef (Spotted Eagle Ray Wall)
This is a unique place, from December until the end of February, Spotted Eagle Ray females start to promenade, so it is not uncommon to see as many as 20 rays swimming by the wall at about 80'. It sits amidst a large sand bank and has many sponges and soft coral with a unique scenic beauty.
Central Coast - West side of the Island
Las Palmas Shallows, Wall
Skin Diver Magazine readers in 2002 considered it the best snorkel spot in the Caribbean, and it makes an excellent beach or boat dive both day and night. The rough tube sponges, brain coral, and rope sponge predominate. There are patches of coral growth throughout the sandy bottom filled with lobsters, crabs, golden-tail eels, spotted morays and splendid toadfish.
In the sand flats you can see turtles and sting rays, especially during the winter months. Slants smoothly to a wall. Most action is near the top or above the slant. Be sure to check the direction of the current as it often varies and often runs a bit stronger along the wall. This is a great night dive.
Villa Blanca Shallows, Wall
This is a great beach dive (day or night) accessible for all skill levels. The dive is usually done between the cruise ship peers. Abundance of tropical fish and vibrant coral makes it a photographer's paradise. There are golden- tail eels, squirrelfish and lots of sea fans.
Villa Blanca is a sloping wall, dominated by huge basket sponges, barrel sponges, gorgonians, and big schools of jacks and angelfish. Not uncommon to see spotted eagle rays and some turtles in this area.
The local university, tourist services and environmental authorities are undertaking a major project in Villa Blanca with artificial reefs to increase reef areas and restore the areas damage by hurricanes and other factors.
Cozumel Reefs National Marine Park
Southwest, South and Southeast side of the island
Paradise Reef
This is actually a series of three separate reefs with excellent visibility, varied coral and abundant marine life, a real paradise! The colorful corals of the reef are crisscrossed by sandy channels and bordered by eelgrass. Because of its proximity to Caleta many dive shops and freelancers use this as a staging area for certification dives.
This is one of the few reef areas accessible to beach divers. There are nice coral heads they range from 10'-20' tall that jut out from a sandy bottom, anemones and an assortment of nice sponges. A great place for beginners and a popular spot for night dives. The current runs from south to north normally. You will see Spotted Moray Eels, Spiny Lobster, octopus, large Parrot Fish, Splendid Toad Fish and some barracudas.
There is a sandy area towards shore, where you can see camouflaged Scorpion Fish and Seahorses. Seven to 10 days after the August full moon, the reef explodes in a reproduction frenzy known as mass coral spawning.
Chankanaab Reef, Shallow, Balones, Caves
This is a shallow platform reef with mild currents and small coral heads. Here you will discover the Chankanaab Lagoon, a natural aquarium. This name in Maya means "Small Sea", considered one of the most exceptional eco-systems in the world. Visitors can practice completely safe free diving (without a tank) or sports diving.
A long continuous band of colorful coral reef filled with cracks and crevices and holes which attract all sorts of marine life like stonefish, scorpion fish, splendid toadfish and lots of trigger and tang fish. Near and under the coral heads you can find Spiny lobster, crabs, Spotted Moray eels, Grunts, and sometimes Lion Fish. Generally the current will run from North to South and the visibility is not as good as other dive sites because of the flow of the cool fresh water from the Chakanaab lagoon.
The name comes from a large series of balloon-shaped coral heads. Here you'll find crags measuring 13 to 32 feet with abundant cavities full of marine life such as lobsters, eels and manta rays. Excellent night dive when you can see the typically shy octopus.
An interesting dive found at the south end of park. A unique experience is the mixing of cold fresh water that flows out of the limestone caves called cenotes on top as you can still feel the warm salt water below. Large Tarpan can be found swimming around the entrance of the caves, but try to stay in the ambient light and do not venture far back.
Originally built in Tampa at the Wilson Marine Shipworks in 1944. This ship was put into service as mine sweeper for the US Navy as SCUFFLES. In 1962 it was sold to the Mexican Navy, converted to an Admiral Class gunboat and named and numbered Felipe Xicotencatl C-53. After 55 years of service C-53 was donated to Cozumel underwater park. C-53 was sunk in 2000 in 82' of water just off shore from Chankanaab Park.
Marked by a highly visible buoy, the vessel is 184 feet long & 33 feet wide, and 40 feet high from keel to the top of the super structure. Divers should be experienced, since the site generally has a strong current. There is mostly sand close to the wreck, and if you leave the wreck, you will be looking for sand dwelling creatures, such as Manta Shrimp or Peacock Flounder. Always have to be careful not to hit sharp edges and buoyancy control is a must. Underwater photographers have plenty of opportunities to snap great photos of lobster, mackerel and jacks.
Tormentos Reef
This dive is usually done as a second dive. Some of the fastest currents can be found here, great for adventurous drift divers. A series of colorful coral heads (20-30' tall) separated by sand valleys and dunes pushed up by prevailing currents. Under the ledges and in holes, you can find lobsters, Angelfish, grunts, snapper and Splendid Toad Fish. It is also common find Black Grouper, Nurse Sharks, Turtles, and King Crabs. There are nice tunnels and overhangs that contain large schools of French Grunts and snappers.
San Clemente Reef
This reef is ideal for beginners or qualified divers interested in a long shallow dive. There are small coral heads, with a variety of marine life. Usually done as a second dive.
Yucab Shallow/ Wall
This is one of the longest reefs in Cozumel, with an area 4,921 feet long by 65 feet wide. Several dives are needed to fully absorb the site. Yucab is a low profile reef generally with a strong current, which encourages healthy reef growth. Reef heads range from 10'- 20' tall.
In the turtle grass look for stingrays, Sea Horses and Puffer fish. After cruising the turtle grass you will come across a sheer vertical wall. Excellent multilevel computer dive. The sand-scoured overhangs at Yucab offer refuge for lobsters, banded coral shrimps, arrow crab, parrotfish, squirrelfish and angel & butterfly fish always swimming in pairs. You can also see some turtles and barracudas.
Punta Tunich Reef
From a sand bottom at 70 feet, a long ridge of coral rises from the sand dunes between 40 to 60 feet. This vibrant colorful reef is a swift drift dive with many fish to be seen. Often turtles hide in the seagrass. There are an abundance of barrel and rope sponges and a lot of black feather hydroids, which are beautiful to look at but painful to get touched by. You will see large sloping hills of sponges and coral, inhabited by thousands of Damselfish, schools of grunts and snapper, and lots of cruising parrotfish and angelfish. Nurse shark is almost always seen here.
San Francisco Reef Shallow/ Wall
This a quarter mile long ridge of coral running parallel to the shore, broken into three sections, separated by about 60 yards of sand. This is usually a second dive. This is an especially colorful reef where red, yellow, pink and orange sponges abound. The best dive sights at depths ranging between 25 to 60 feet. A sandy slope leads to a segrass plain where you may find turtles, giant Parrotfish, French Angelfish, Black Groupers, green moray eels, nurse sharks and in some season eagle rays. This is one of the shallowest wall dives and is loaded with marine life. San Francisco Wall starts at 50' then slopes into an abyss. This is an exciting place to see with pristine sponges, and brain corals. You can go as deep as you want.
Cardona Reef
This is a perfect shallow dive for beginners with mild currents and great visibility. A great place for underwater panoramic images. There are a number of sea anemones gorgonians and sponges. This reef area is teeming with schools of colorful tropical reef fish.
Santa Rosa Reefs Shallows / Wall
Undoubtedly some of the best dive spots in Cozumel and the second most popular drop-off. Usually a very swift current allows you to "fly" along the wall. A perfect place for underwater photography and a good first dive. Excellent multilevel computer dive. The wall starts at 50 feet and drops straight into the deep! Best dive between 80' and 100' where you can enjoy the beautiful coral formations with many swim through tunnels, overhangs, caves and colorful sponges.
In Santa Rosa expect to see an array of marine creatures like big groupers, lobsters, barracudas, green moray eel, giant Parrotfish, French and Queen Angelfish, lion fish, barracuda and eagle ray, but you can also come across a Hawksbill turtle. You will not be disappointed with this scuba diving adventure.
Paso del Cedral Reef Shallows / Wall
This is a strip reef separated into three sections. The part of the reef that is not a wall consists of a mile of sloping hills covered with star and brain corals, sea fans and colorful sponges. The second section is a labyrinth of interconnected tunnels; one room that connects all of the tunnels is home to a school of glassy sweepers. This site is great for second dives and is a photographer's paradise. The third section splits into two tapering strips where you can see barracuda, spotted moray and nurse shark.
You'll feel like you're flying along a wall while you're not moving a muscle since the current is usually swift. Be sure to stay with your dive leader! You can find many large schools of blue striped grunt, black and yellow striped porkfish and snappers. You will also see trumpet fish, large parrotfish, black groupers, turtles and eagle rays. If lucky you can spot lion fish, large green morays, sharks and some nice sized drum fish.
La Francesa Reef
This area is partly a strip of colorful coral as well as patches of small coral heads with a good variety of multicolored sponges and gorgonians. Stay left to follow the main section of the reef. You could easily find butterfly fish, black grouper, splendid toadfish, lobsters, crabs, sharks, turtles and barracudas. Usually done as a second dive is a great spot for photography.
Palancar Reef Gardens / Horseshoe / Caves / Bricks
The reef is more than three miles long (5km) and about one mile (1.5km) offshore and is one of the most beautiful reefs in the world. The coral formations are very colorful and have literally hundreds of species of coral jammed together with lavender and orange sponges interspersed, as well as sea fans and a wide variety of marine life. With typically mild currents and great visibility this reef is excellent first dive for those not yet confident in their dive skills.
Palancar Horseshoe gets its name from the shape of its large, natural u-shaped amphitheater, which can be seen from the surface. The corals form tall towers, deep buttresses, gullies and canyons. With these unique diving conditions each dive is an interesting experience. A spectacular dive site to catch some mesmerizing sights and capture some photos, since currents are usually slow running and visibility stays around 200' minimum.
The large caves, tunnels and caverns are alive with abundant marine life. Turtle, shark and eagle ray sightings are very common. The beauty of the underwater world will mesmerize you.
Another section of Cozumel's most spectacular reef is Palancar Bricks, an excellent deep dive. Large coral formations rise up from the brilliant white sandy bottom, which easily slopes off, into the blue abyss. The stunning blue color of the abyss contrasted with the sandy bottom is what astonishes most divers visiting this area. You can easily see jacks, turtles, nurse sharks, green moray eels, groupers and eagle rays.
Arrecife Colombia
This reef offers several options, so you get a little of everything on this dive. Giant barrel Sponges, sea fans and black coral contour the landscape. This reef is renowned for its teeming sea life.
This seemingly never ending sea garden is a popular second dive full of colorful tropical fish, schooling snapper and grunts, as well as some barracudas. This is the perfect dive for photographers wanting maximum bottom time.
Colombia Deep is a beautiful wall dive with series of gigantic coral pinnacles, almost 100' built over millions of years on the skeletons of ancient coral. There are also caves, tunnels and caverns.
Large marine life is common in this area like sea turtles, nurse sharks and eagle ray. You can discover some octopus hiding in the small caves and cracks along the wall.
Punta Sur Reef
An excellent multilevel dive for experienced divers only. This ecosystem is one of the deepest and most impressive dives in Cozumel. Punta Sur has tunnels, caves (including the "Cathedral" chamber and the "Devil's Throat" vertical passageway) canyons, cracks and vertical columns.
Due to its southern location and exposure to prevailing trade winds, topside conditions can be rough. This coupled with fast running midwater currents that can cause one to miss the dive site entirely, makes this not a dive for those who cannot descend relatively problem free.
The Devil's Throat is considered is a "must dive" experience by scuba divers visiting Cozumel. It is an underwater cave formation and you enter the swim-through at about 80' and dump out over the wall at 100' to 120' depending on which way you turn at the end. The scariest part of Devil's throat is where the tunnel narrows to about 5' wide and drops about 15' down before it opens up again.
Diving the Devil's Throat requires use of an underwater light, and it is recommended that divers not scissor kick because it stirs up sediment, which heavily obscures visibility. You will usually see barracudas, angelfish, toadfish, eagle rays, sharks and turtles.
The Cathedral section is spectacular, it has been described as a "mystical experience". It is a large vaulted cave opening with giant sponges that form a cross in the ceiling of the cave where light passes through.
Punta Dalila Reef
Good variety of corals and sponges along with the typically mild current makes this a good choice for photographers. This is a relaxing second dive. Punta Dalila is a reef strip populated by crabs, green morays, angelfish, squirrelfish and schools of grunts. Look carefully in the anemones and find popcorn shrimp and ghost shrimp.
Maracaibo Reef Shallows / Wall
This is one of the southernmost dive sites exposed to current and topside surf, and is generally considered Cozumel's most challenging reef, recommended for the experienced diver. Maracaibo actually consists of two dive areas, the shallower ridge and the more interesting, and aggressive deeper dive at the edge of the wall.
The shallows consist of healthy amounts of soft coral like sea whips gorgonians, black scattered coral all anchored on the sandy flats, it is spectacular, an invitation to adventure.
Wall starts at 90 feet and is covered with large orange elephant ear sponges, black coral and sheet coral. At the edge of the wall has a thin but vibrant covering of coral along its ridgeline. Drifting along the wall the current will lead divers to a dramatic arch, approximately 30' wide, whose base lies at about 120 feet.
Very deep Maracaibo Reef and steeply inclined wall are subject to unpredictable currents, only the most experienced divers should attempt this site and only under supervision of a very experienced local dive master, since this reef is best seen at depths exceeding recreational limits, this is a decompression dive, but from 140' to 160', its awesome.
Often during nesting season (May to September), as many a 3 different species of turtle can be spotted: hawksbill, which do not nest in Cozumel but migrate through, and green and loggerheads. Big barracuda, jacks, large groupers, schools of hammerheads or shoals of eagle rays are typically all around for those with a keen eye.
Yellow House Reef ("No Name Reef")
It seems to be more of a transition reef than one that has permanent fish life. It is a great dive for beginners with a large sandy plain. This is not a popular reef. You will find rope sponges and the soft corals.
Chun-Chacaab Reef
This reef is often overlooked in favor of the surrounding well-known sites. Chun-Chacaab reef has huge fields of Sea Plums, an excellent variety of sponges and some sea fans in the flats, which gently slope down to an eventual wall. This reef is very different from the other reefs in Cozumel. The current can be quite stiff, but there are plenty of breaks in the ridges to drop down in and get out of the current. Look for Spotted Eagle Rays, Reef Sharks, Nurse Sharks, and lots of turtles.
Punta Celarain Reef
This is a wonderful and beautiful shallow reef that runs parallel to the shoreline. Many divers do not frequent it. This a memorable place with a large number of sea fans, parrot fish, damsel fish, snappers, turtles and schools of grunts and snappers.
El Islote Reef
This is an interesting dive site located on the eastern side of the island, a deep dive that will show you a different view of Cozumel. In this area the ocean bottom is covered with long ribbons of coral growth that start in the shallows and continue on into the deep. There are incredible quantities of staghorn coral in these bands.
This site is for experienced divers as it goes deep relatively quickly. With the water clarity offered this becomes a dive with an exceptional "big picture" view, especially during the calmer months of May through September. You can see turtle, shark and eagle rays.
Cañones (Cannons) Reef
As well as Hanán, this dive is usually done during a "Norte", in which the wind is battering the west side of the island, and the east coast is relatively calm. You can find outstanding Elkhorn coral, probably the biggest one near Cozumel, and about a dozen large cannons and several cannon balls. It is believed a Spanish Galleon sank there in the late 1700's. In this reef is easy to see a large number of lionfish, parrotfish, damselfish and some snappers.

More Tourist Attractions in QUINTANA ROO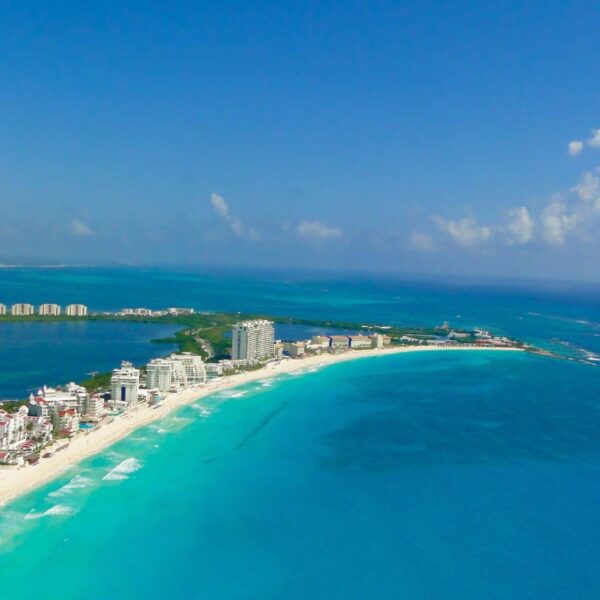 Beaches
Cancun is recognized around the world for its spectacular white sand beaches, its fascinating sea with turquoise blue waters and its unique climate. In addition, it has excellent air and land connectivity, as well as a first-rate hotel infrastructure that places it as one of the best tourist destinations in the world. Year after year Cancun is the destination chosen by national and international visitors thanks to the wide range of attractions and tourist places it offers such as: Mayan culture and history that can be enjoyed in its museums and archaeological sites, water activities, adventure tourism, great variety of gastronomic experiences, spectacular shopping centers as well as seductive entertainment offers for the whole family.… Read More
Read More »


Flights & Hotels in COZUMEL

More Tourist Attractions in MEXICO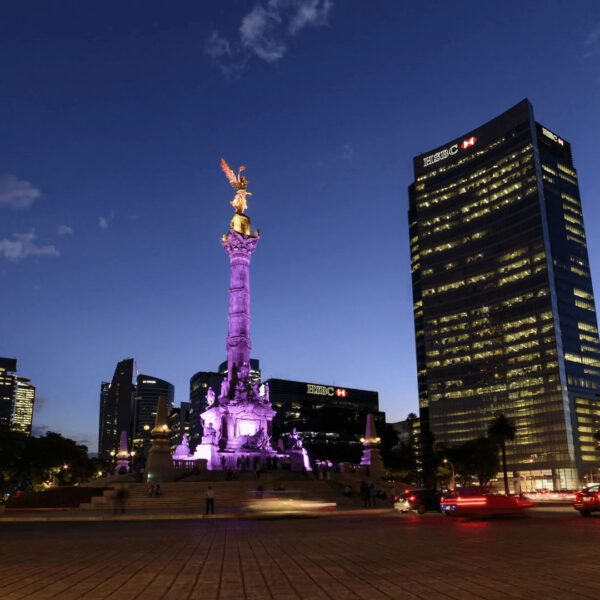 Folklore, gastronomy, literary culture, art and exhibitions, is what you will find in the capitals of the states of Mexico. To the north, colonial Mexico, Puebla, Guadalajara, Guanajuato, the Sonoran desert and the California peninsula. To the east Veracruz and the gulf. To the west Acapulco, Oaxaca and Tuxtla Gutiérrez. And to the south the Riviera Maya and the pyramids of Chichén-Itzá, Tulúm and Cobá in Yucatán, Palenque in Chiapas, the cenotes, and the Central American jungles.… Read More
Read More »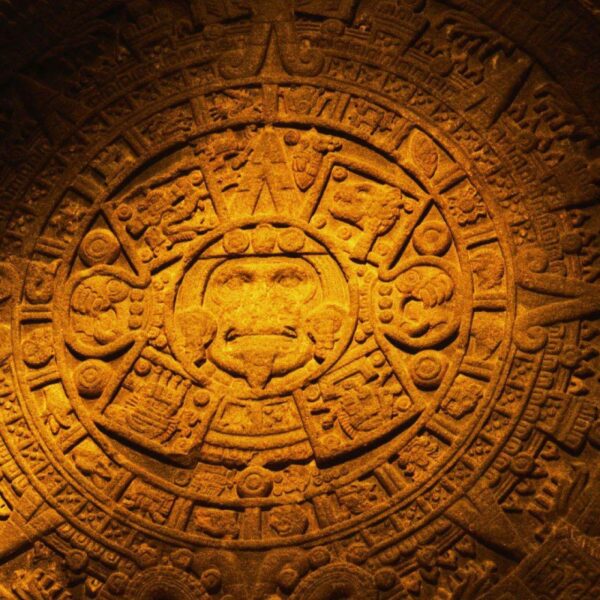 Mexico has an incredible diversity of landscapes, where the beauty of its beaches, internationally recognized, stands out. In its vast territory of coasts, there are beaches of unparalleled beauty, and colorful landscapes. A large network of first-class hotels and tourist services is available to visitors to these beaches. Mexico is also mystical places, dotted with archaeological testimonies inherited from its original inhabitants. Monuments made by the Mayas, Aztecs and Toltecs are located in magical landscapes, like lighthouses in an ocean of natural beauty. They offer visitors buildings that tell their history, and museums that collect their cultural heritage. And that keep alive ancestral traditions, in ceremonies and festivals, where you can enjoy cultural activities and entertainment.… Read More
Read More »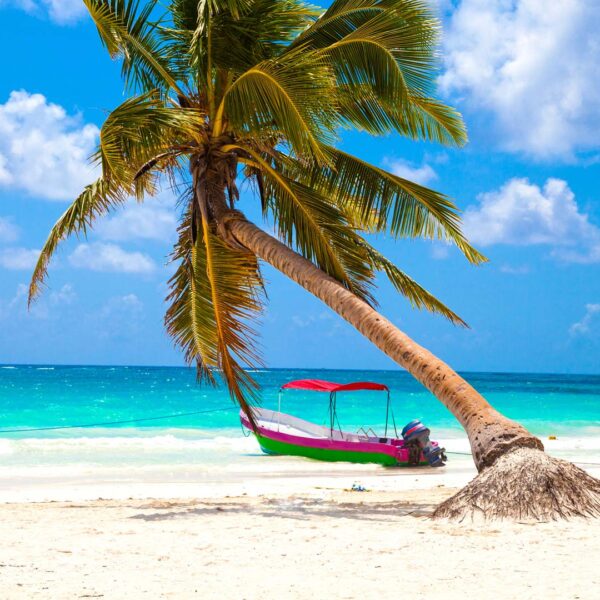 On the Beaches of Mexico you can immerse yourself in the intense blue ocean of the Pacific bays, sunbathe on the shore of the warm and transparent waves of the Caribbean Sea in Quintana Roo or even rest on the beautiful coasts of the Gulf of Mexico. Mexican beaches hide wonderful secrets for the traveler. By visiting them, in addition to enjoying the excellent climate and water activities, you can discover splendid archaeological sites and interesting colonial cities without traveling long distances.… Read More
Read More »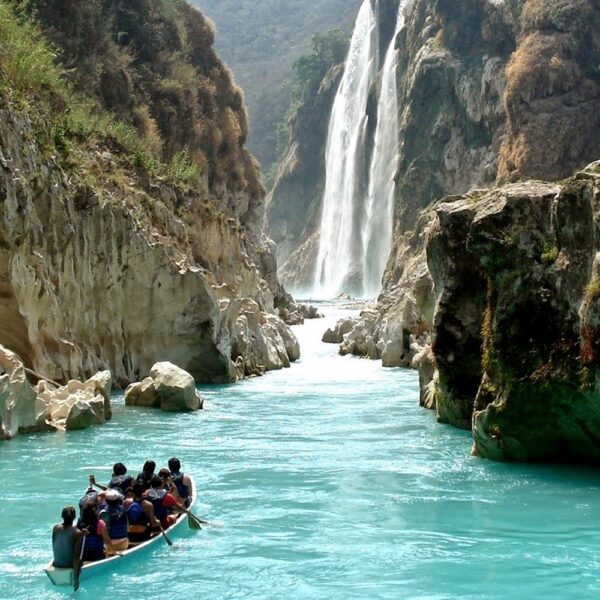 Mexico is one of the best countries for Ecotourism as it has a great variety of flora and fauna, as well as a large number of refuges for extraordinary species. You can enjoy recreational activities of appreciation and knowledge of nature through contact with it, such as: stargazing, observation of natural attractions, wildlife and bird watching. Throughout México there are more than 176 protected natural areas, 5 of them considered by UNESCO as Natural Heritage of Humanity. Just for this and much more, we believe that Mexico is a Paradise for Ecotourism.… Read More
Read More »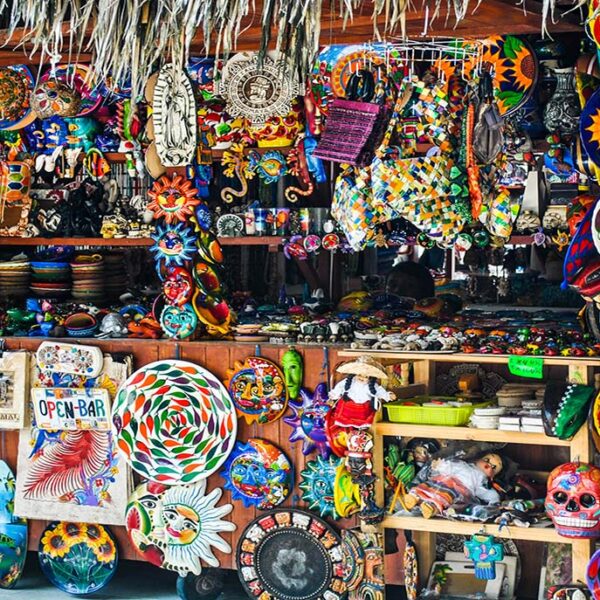 It is practically impossible to make a meticulous, and above all, accurate selection of the places to visit in Mexico. Each place that our country houses is unique and beautiful in its own way. Mexico, with its nearly 2 million km², has a large number of scenarios to offer, as well as endless activities to do. Do not lose your way and enter the places to visit in Mexico. In Mexico, apart from the beaches and its famous archaeological sites, there are many other really interesting sites and activities that you should know. In the surroundings of the main cities you will find places full of culture and tradition, where you can spend relaxing, interesting and fun vacations. On your trip through Mexico you cannot stop obtaining souvenirs, the crafts that are made here are of the highest quality and recognized worldwide. A shopping tour cannot be missed.… Read More
Read More »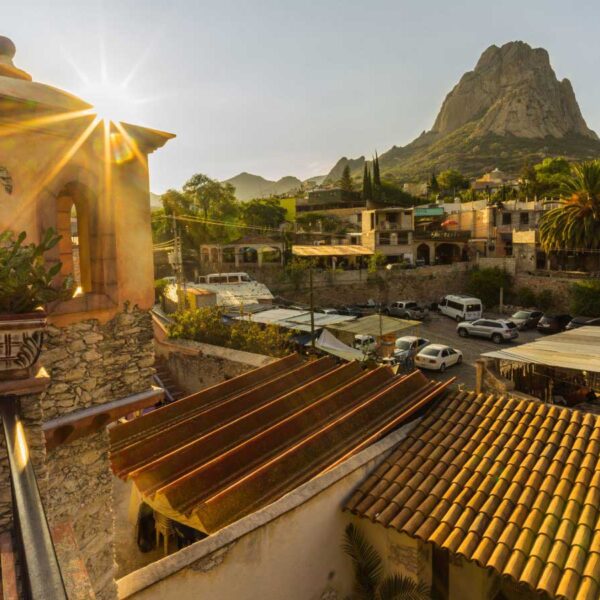 A Magical Town is a place with symbols and legends, towns with history that in many cases have been the scene of transcendent events for our country, they are places that show the national identity in each of its corners, with a magic that emanates from its attractions ; visiting them is an opportunity to discover the charm of Mexico. The Magical Towns Program contributes to revalue a set of populations in the country that have always been in the collective imagination of the nation and that represent fresh and varied alternatives for national and foreign visitors. A town that through time and in the face of modernity, has conserved, valued and defended its historical, cultural and natural heritage; and manifests it in various expressions through its tangible and intangible heritage. A Magical Town is a town that has unique, symbolic attributes, authentic stories, transcendent events, everyday life, which means a great opportunity for tourist use, taking into account the motivations and needs of travelers.… Read More
Read More »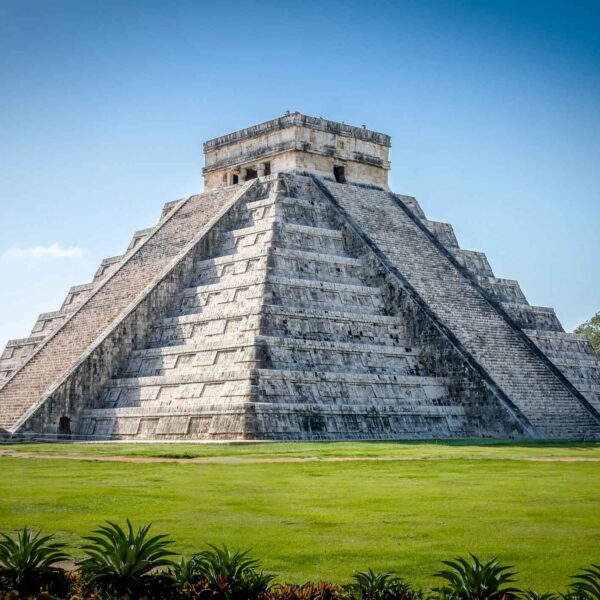 The Archaeological Zones are the cultural past of every Mexican. You will be amazed at the ambient, nature and the environment that surrounds them. Climbing to the top or being around it will take us back in time to admire every detail. México is a country of culture and traditions, many of which we have inherited from the pre-Hispanic inhabitants of this vast territory, although it is true that there were more settlements in the central and southern part of the country, it is also possible to find some archaeological remains in the north.
… Read More
Read More »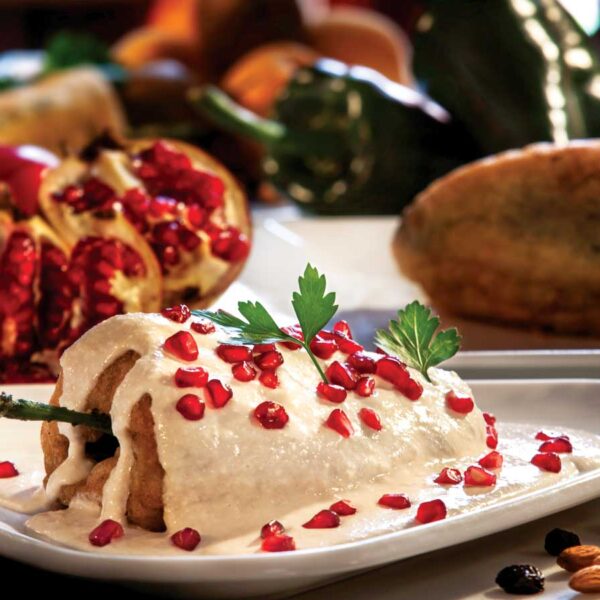 The Gastronomy of Mexico has a great diversity of typical dishes, which is why it was recognized by UNESCO as Intangible Heritage of Humanity. The basic and representative ingredients of Mexican dishes are: corn, coriander, chili, beans, piloncillo, nopal and tomato. Mexican cuisine is also characterized by its sauces, which serve as an accompaniment to traditional dishes, prepared based on spices.… Read More
Read More »