ECO PARKS IN QUINTANA ROO
Eco Parks in QUINTANA ROO
Other options to experience adventure in Quintana Roo are the various natural, thematic, adventure, extreme and aquatic parks where in addition to living exciting and entertaining experiences it is possible to get in touch with nature.

Map of Eco Parks in QUINTANA ROO

The Mexican Caribbean offers a great diversity of theme, adventure, extreme and water parks. There are options for adrenaline lovers, for the whole family, for ecologists and for those who want to learn more about Mayan culture and traditions. Some parks will challenge all your limits, spend the day zip lining, off-roading in the jungle and exploring underground rivers but there are some others where you can just relax in a hammock, snorkel in a natural aquarium or enjoy a colorful Mexican spectacle whith a gourmet dinner, there are options for all tastes.
Located in the hotel zone of Cancun, it offers a series of activities that allow you to get closer to Mayan culture. Start the tour with a 7-minute short film, that will give you a true insight into Mayan culture. Then climb 20 meters in the air as you prepare to fly high over the clam waters of the Nichupte Lagoon in a 5 Zip line Circuit. You can also navigate on a boat across the mangroves of the Nichupté Lagoon discovering this eco system.
And to end your day full of fun take a walk through a "Mayan Path" where you will admire replicas of 24 different representations of Mayan art and history, learn more about the Mayan Calendar and participate in ceremonies and dances with the Mayan warriors. Open Monday to Saturday zipline & mangrove tour 10:00 hrs, zipline & jungle tour 9:00, 11:00 and 13:00 hrs, zipline & shipwreck snorkeling tour 12:00 hrs.
An adventure park that will challenge your limits of audacity. With everything from ziplines and jetboats to off- road vehicles and white water rafting, it's the ultimate thrill- seeking experience. The intensity levels are classified as soft, hard, extreme or ultimate. Xavage promises a wild day out. Open Monday to Saturday from 8:00 to 17:00 hrs.
Located in the hotel zone of Cancun, is a family amusement park with fun for everyone. It features different attractions such as: Wet n' Wild,
with plenty of fun & exciting water activities; Aaah! Ventura, with a 3 zipline circuit, a bungee swing and a high-hanging aerial bridge; Fun World, with activities for children like a small roller- coaster, merry-go-round, crazy chairs, and kid's playground; Grand Prix, a Go-Kart race track by the sea; and Underworld, high tech gaming center with the latest in virtual reality. Open Monday to Saturday from 10:00 to 17:00 hrs.
Xoximilco Cancun offers an original Mexican-style option for those who want to celebrate at night with friends and family. It is located 5 minutes from Cancun International Airport, at kilometer 338 of the Cancun-Chetumal highway. At Xoximilco the party starts right away, with a traditional mini carnival, games, music and esquites, a delicious Mexican snack. There you will be received by your personal host, who will be accompanying you throughout your entire visit.
You then board your party barge adorned with colored lights to begin the tour through the jungle canals. During the trip, your host will recount legends and anecdotes from Mexico, and there will be unique games that will fill the atmosphere with laughter and fun.In addition, on board the party barge you will delight with a delicious sampling dinner of varied typical Mexican dishes.
To accompany your meal, we offer an open bar of beer, tequila, fresh flavored waters and soft drinks. And at the end, you can enjoy traditional desserts. There are also options for children and vegetarians.There is a 10-minute stop to use the facilities, take pictures or just keep dancing. And at the end of the tour, you can buy souvenirs in the gift shop.
To visit Xoximilco it is recommended to reserve in advance, since each barge has a maximum capacity of 20 people. Wear comfortable clothing (preferably pants or long skirt), and only use biodegradable insect repellent. The Park is recommended for children 5 and up. It is also recommended to purchase the transportation service, or go with a designated driver. Schedule: Monday to Saturday. From September to March the first party barge leaves at 20:00 hrs and from April to August at 20:30 hrs.
Music is the special ingredient of the night. During the journey you'll approach different gondolas with live music from the mariachi, the "norteño" group and marimba, among others, to dance and sing along too.

Eco Parks in the RIVIERA MAYA
JOYÀ is the first and only resident show of Cirque du Soleil in the Riviera Maya. Follow the story of an alchemist and his granddaughter as they journey together to discover the secrets of life. JOYÀ combines culinary and performing arts in an intimate theater designed to engage the audience through the five senses. This is a thrilling, whimsical show in which joy, courage and friendship conquer all!
Located just five minutes from Playa del Carmen, on the road to Tulum, you will find Xcaret. This natural place is the most emblematic park of the Riviera Maya and Mexico, and offers more than 50 attractions in the middle of the jungle, looking out to the Caribbean Sea, perfect for enjoying with family.
In this Majestic Paradise of Mexico, you can live the experience of swimming in Underground Rivers, relax in a cove, or swim in natural pools. Observe up close huge sea turtles, macaws and deer, or take walks in the jungle. Don't forget to visit the Coral Reef Aquarium, the Butterfly Pavilion and the Aviary.
The most beautiful cultural expressions of Mexico are found at Xcaret Park, such as the Ritual of the "Voladores" flying men, Mexican rodeo and pre-Hispanic dances. As the sun goes down, the Park shines with the Xcaret presentation, a trip through the history of Mexico with music and folklore, colorful costumes, and more than 300 artists on stage. Other attractions are the replicas of a henequen hacienda and a traditional Mexican cemetery.
A ride in a speedboat, a walk on the seabed or swimming with dolphins is some of the optional extra cost activities that you can choose from at Xcaret.
The Park also has rest areas, hammocks, showers, bathrooms, lockers and more than 10 restaurants of various specialties.
Xcaret is EarthCheck certified for its sustainable programs, such as the Sea Turtle Protection Program and the Red Macaw Reproduction Program. The latter received the Guinness World Record in 2011, for the largest number of macaws born in the same facility in a lapse of twelve months.
At Xcaret you will also find archaeological vestiges, since for the ancient Mayas, Xcaret (which they called Polé) was an important commercial and ceremonial center.
During the year there are two special events that you can attend. In May the Sacred Mayan Journey takes place, which recreates the crossing of the Mayans in canoes to visit the oracle of the goddess Ixchel on Cozumel. And from October 31st to November 2nd, you can enjoy the Festival of Life and Death Traditions, which commemorate the Day of the Dead. Schedule: Daily 8:30 to 10:30 hrs.
Xel-Há Park is surrounded by jungle and is characterized by its large inlet, where three underground rivers join the sea. For its calm waters, it is a true paradise to snorkel and admire diverse species of fish, like snapper, bonefish, parrotfish, and sometimes even manta rays and sea turtles.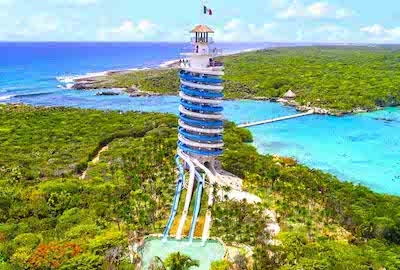 It is a Natural Wonder located about 30 miles from Playa del Carmen, and just a few minutes from Tulum. Xel-Há Park is surrounded by jungle and is characterized by its large inlet, where three underground rivers join the sea. For its calm waters, it is a true paradise to snorkel and admire diverse species of fish, like snapper, bonefish, parrotfish, and sometimes even manta rays and sea turtles. Snorkeling equipment and lifeguards are already included in your admission, so you can enjoy unlimited and safe fun.
You can also enjoy a relaxing trip down the river on an inner tube, between mangroves and beautiful natural landscapes. Another way to get to know Xel-Há is through the jungle trails, on foot, by train or by bicycle. Along the way you will find fun attractions, such as rope challenges on the water, aquatic zip-lines and even the Cliff of Courage, where you can take a dip jumping from sixteen feet up. For the little ones, the Children's Playground has slides, hanging games, a waterslide and a special resting area with hammocks for parents.
Swimming with dolphins, walking on the seabed or snorkeling with diving technology are optional extra cost activities that you can experience during your visit. If you arrive before 11:00 a.m. you can enjoy an exquisite continental breakfast, and from 12:30 p.m. on you can find delicious buffet meals, as well as unlimited refreshments and snacks for the rest of the day. There are also several souvenir shops throughout the park. Schedule: Daily from 8:30 to 18:00 hrs.
It is distinguished as being the only half- day park in the destination, with duration of 5 hours. It offers unique and extraordinary activities that will test each of your senses from the moment you arrive at the Park.
Xenses is the new park from Experiencias Xcaret, located by Xcaret in the Riviera Maya. The Pinwheel is the central area of the Park, where you will find a very fun and original store, the snack area, restrooms and dressing rooms. From this place you can depart on multiple sensory activities and innovative routes through jungle and caves.
Among the attractions, you can enjoy the Xensatorium, a unique experience immersed in total darkness, where you'll tour various ecosystems using touch, hearing and smell.In Riverlaxing you'll float on a salt river, and in Sludgerie you can play like a kid in a river of mud.
Feel the thrill of speed on the Slip waterslide and the fabulous Bird Flight zip-line, and enjoy the refreshing sensation of water at our Rain activity. The Town is an experience that will test your senses of sight and logic, where what you see is not what it seems.
In every corner of the Park you will find fantastic scenarios, for totally original photos.The recommended minimum age is 5 years. Bring a towel, a change of dry clothes, and cash or credit card to buy original souvenirs or savor some snacks.
Xenses Park operates from Monday to Saturday from 8:30 a.m. to 7:00 p.m. For those who purchase the transportation service, the following schedules are handled: Schedule: Morning, arrival between 9:00 and 10:00 hrs. and departure between 14:00 and 15:00 hrs. Afternoon, arrival between 13:00 and 14:00 hrs. and departure between 18:00 and 19:00 hrs.
Located next to Xcaret and Xenses parks, the ideal place to live the adventure of the Riviera Maya is found, Xplor Park. At Xplor you can fly on the highest Zip-lines in the destination,If you have never been on a zip-line, start with the flying hammock, which is not as high up, is very fun, and ends in a refreshing landing in the waters of a cenote.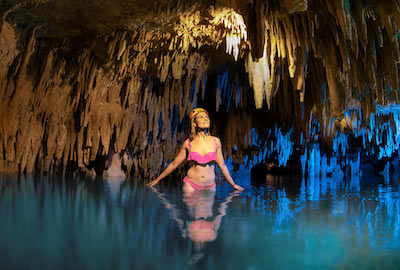 Descend from the sky to the world beneath the Earth to get to know the Stalactite River, a wonderful scenario where you can swim in its crystalline waters while enjoying landscapes of caves, caverns, and even a surprise waterfall. You can also tour another Subterranean River aboard a raft, paddling with special hand paddles, a unique activity to share as a couple or with friends.
The fun also extends into the jungle, where you can drive an Amphibious Vehicle through jungle trails, flooded caves, and over hanging bridges. Even the walks inside the Park are an experience, as you pass through caves full of stalactites and stalagmites formed millions of years ago. Meet up with your friends and family at the giant heart, the center of the Park and where all the fun begins.
You can fly on the highest Zip-lines in the destination, the tallest at nearly 150 feet in the air! From there you have magnificent views of the jungle and the Caribbean Sea.
There are two stations with fruit smoothies, coffee, hot chocolate, sweet bread and cookies to enjoy as many times as you want. In addition there is a full buffet to satisfy your hunger after your adventure, and rest areas with hammocks and lounge chairs to relax. With your admission to Xplor, a locker for two is included, restrooms, showers and dressing rooms. The Park is open Monday to Saturday from 9:00 to 5:00 hrs. and a minimum age of 5 years is recommended.
Here you will fly along on the only nighttime Zip-lines, with a view of the faintly lit jungle, until you pass through an arch of fire. The paths of the jungle are lit with torches so you can tour them aboard Amphibious Vehicles, in a unique experience where you will hear the sounds of the jungle at sunset. Come see the Lava River, where you can swim freely and safely while admiring incredible underground scenery. And take a ride on Volcanic Rafts, a unique attraction in which you can paddle with your own hands surrounded by the silence of the caves.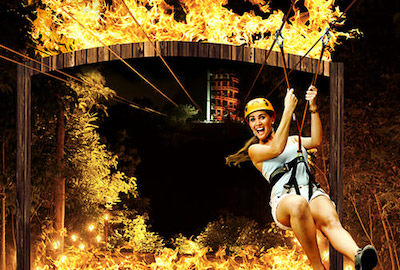 Whenever you want, visit the hot drink stations to enjoy a hot chocolate, a coffee or a "champurrado" (a hot thick drink made of corn dough and chocolate), accompanied by sweet bread and oatmeal cookies. And for the perfect finish, enjoy an exquisite buffet with a specialty of BBQ ribs that satisfies even the hungriest adventurers! Don't worry, there are also options for vegetarians.
For those who wish to rest, there is a special area with hammocks and chairs located around a comfortable campfire, perfect for sharing your stories within the Park. In addition, as part of your admission, you can make use of a locker for two people, showers, dressing rooms and restrooms.
All activities use modern and safe equipment, and the provided helmet is mandatory within the Park. Xplor Fuego is recommended for visitors over 5 years old and is open from Monday to Saturday, from 5:30 to 23:00 hrs. For your convenience, choose the transportation service when you buy your admission.
For those who visit Cancun and the Riviera Maya, the cenotes are treasures of nature, and more than just getting to know them, you have to live them. Xenotes Oasis Maya is a tour that takes you to experience the magic of four different types of cenotes, with a different activity in each one, with the comfort and security that characterizes the Experiencias Xcaret Group.
The Xenotes Tour takes you to the heart of the Cenotes Route, located a few kilometers from Cancun, towards Playa del Carmen, at kilometer 22 of the Puerto Morelos-Leona Vicario highway. There the Closed (or Cavern) Cenote awaits you, a jewel hidden underground. Discover it as you descend in Assisted Rappel to its beautiful turquoise waters.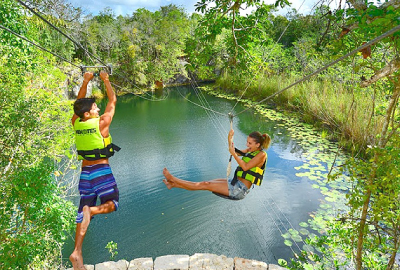 The Ancient Cenote is an oasis that you can admire from the heights while sliding along a zip-line. The Open Cenote is the perfect place to kayak and admire its walls full of vegetation and hanging gardens. The underwater gardens of the Semi Open Cenote are a unique setting that you can see up close with the snorkeling activity.
The Xenotes Oasis Maya Tour is operated in small groups, and at all times you will be accompanied by a specialized guide, who will tell you interesting facts about the cenotes and the legends of the small guardians of the jungle that take care of them, the Aluxes. On the Tour there will be seasonal fruit, coffee, "champurrado" (a hot thick drink made of corn dough and chocolate), soft drinks, as well as a Glam Picnic for lunch in the middle of the jungle.
The minimum age to enjoy the Tour is 6 years. It is recommended to bring a change of dry clothes and avoid the use of cosmetics and perfumes, so as not to damage the ecosystem of the cenotes. Sunscreen and repellent should be biodegradable. The Tour includes the use of snorkeling equipment and two towels. Xenotes Oasis Maya operates from Monday to Saturday throughout the year, with pickup hours starting at 9:00 hrs. The Tour lasts approximately nine hours, including travel times.
It is distinguished as being the only half- day park in the destination, with duration of 5 hours. It offers unique and extraordinary activities that will test each of your senses from the moment you arrive at the Park.
A unique experience where you will make a trip to a 1km-long underground cavern where you can enjoy the impressive geological formations. The experience is complemented with activities such as rappelling and cycling. Open daily, tour Rio Secreto 9:00, 10:00, 11:00, 12:00, 13:00 and 14:00; tour Rio Secreto Plus 9:00 and 11:00 hrs; Rio Secreto Wild Tour 9:00 hrs.
It is located inside the Vidanta hotel in the Riviera Maya. You will have the chance to explore the beautiful, natural jungle area with rock walls, giant tree formations, waterfalls, bridges, and caves. As for thrills you can get your kick on "state-of-the-art rides" including the Aqua Drop, Aqua Loop, Flatline Loop, and Whizzard, as well as a wave pool with natural sand and a massive lazy river over 3,000 feet in length (the longest in Latin America). Open daily from 8:00 to 17:00 hrs.
The natural park offers a guided walk through 600-meter (0.4 mile) dry cave, and during the tour the guide gives an interesting explanation of the origin of the cave system in the Yucatan Peninsula. After the underground tour, you'll have a chance to swim and snorkel in the crystalline waters of the sacred cenote, a mystical experience. You can also fly over a kilometer (0.62 mile) through 10 zip lines and two suspension bridges; contemplate the lush tropical jungle. Open Monday to Saturday from 9:00 to 16:30 hrs.
Its name means "yellow stone mouth" in Mayan. An ecopark where you can swim in wonderful fresh water cenotes and explore an underground cavern. You can also enjoy all the flora and fauna surrounding these magnificent caves and cenotes. Open daily from 9:00 to 17:00 hrs.
experience the emotion of driving an ATV vehicle through jungle trails. Enjoy pleasant walks immersed in a protected natural area to explore caves, fly above vegetation with zip lines, discover archaeological vestiges, learn about the lifestyle of the region ́s first inhabitants and swim in a beautiful crystal-clear water cenote. Open Monday to Saturday from 8:00 to 17:00 hrs. Sunday from 9:00 to 17:00 hrs.
true adventurers are the only ones ready to embrace nature in the dark. Our guided ATV's ride allows you to indulge your inner explorer and tune into all your senses to discover what lies beneath darkness. Follow your tour guide walking through the jungle to discover beautiful caves and fly above vegetation with three impressive zip lines. According to Maya culture, light and darkness is only one; unveil the mystic Maya heritage by participating in a shaman's blessing ceremony in a torch lit night and in a relaxing temazcal session.
Explore the majestic Cenote Maya with the largest dome in the Yucatan Peninsula. You can swim in this natural jewel and enjoy some adventure activities. Discover the Maya culture, visit an authentic Maya house, participate in an authentic blessing ceremony and enjoy traditional buffet prepared with organic vegetables from our own orchard.
Located in the Hotel Hard Rock Riviera Maya, it is ideal for extreme sports such as skiing, snowboarding, skateboarding, BMX, parkour, hip hop and gymnastics trampoline, among others.

It is a natural park located within the Cozumel Arrecifes National Park. It has several attractions, such as a Mayan house, pre-Hispanic replicas, tropical garden, crocodile, tequila museum, zip line, agave landscape and an area to relax and enjoy its beautiful cove.
Punta Sur

Ecotourism park located in one of the largest protected natural areas in Cozumel. Visit the Celaraín lighthouse with a panoramic view of the island and a small museum, or enjoy its wide beaches of fine white sand, where you can snorkel and enjoy the wonders of its reefs. In the Laguna Colombia you can take a ride in a boat while you observe the great variety of birds and its impressive mangroves. It also has several beach clubs to spend the day.
Interactive park where you can learn more about the Mayan culture, their religious beliefs, traditions, gastronomy and agricultural activities. You will learn about the elaboration of tortillas, chocolate, honey and pulque; You will also have the opportunity to participate in a fun ball game, as the ancient Mayans did.
Get to know all of Mexico in one place. On your tour you will be able to appreciate the models of the most representative archaeological sites and colonial buildings in the country. It also offers workshops such as the chocolate workshop, Tequila tasting and a workshop to paint alebrijes.

Parks in other destinations in the MEXICAN CARIBBEAN
Located on the Ruta de los Cenotes in Puerto Morelos. It has a circuit of 10 zip lines, a human roller coaster; suspension bridges, the Jungle Rollercoaster, ATVs and a private cenote.
Located in Isla Mujeres. The park offers water activities such as kayaking and snorkeling, as well as adventure activities such as island tours, bike tours and flying over the turquoise waters on a zip line. You can also relax in the panoramic pool, on the lounge chairs or in the hammocks, or enjoy a temazcal.
Nativa Park

Located in Solferino, very close to Chiquilá (the point where you take the ferry to cross to Holbox). The Nature Reserve is a place where you can live unforgettable experiences full of adventure in unique natural settings. Visit a chiclero camp, go canoeing in the lagoon, drive ATVs, visit a meliponary and the interactive natural museum, among many other adventures.
Located in Mahahual, south of the Mexican Caribbean. It is a water park inspired by the jungle expeditions of the 40s. Impressive zip lines, exciting suspension bridges, an amazing zip-coaster and slides, are some of its attractions.

More Tourist Attractions in QUINTANA ROO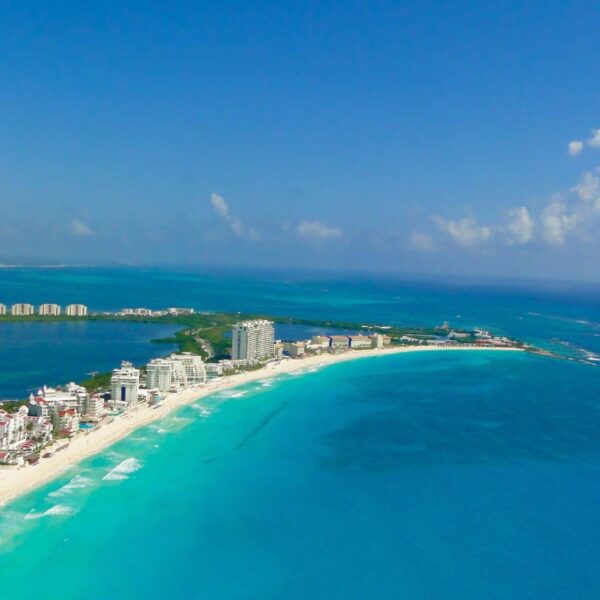 Beaches
Cancun is recognized around the world for its spectacular white sand beaches, its fascinating sea with turquoise blue waters and its unique climate. In addition, it has excellent air and land connectivity, as well as a first-rate hotel infrastructure that places it as one of the best tourist destinations in the world. Year after year Cancun is the destination chosen by national and international visitors thanks to the wide range of attractions and tourist places it offers such as: Mayan culture and history that can be enjoyed in its museums and archaeological sites, water activities, adventure tourism, great variety of gastronomic experiences, spectacular shopping centers as well as seductive entertainment offers for the whole family.… Read More
Read More »

Guided Tours in QUINTANA ROO

Flights & Hotels in CANCUN

More Tourist Attractions in MEXICO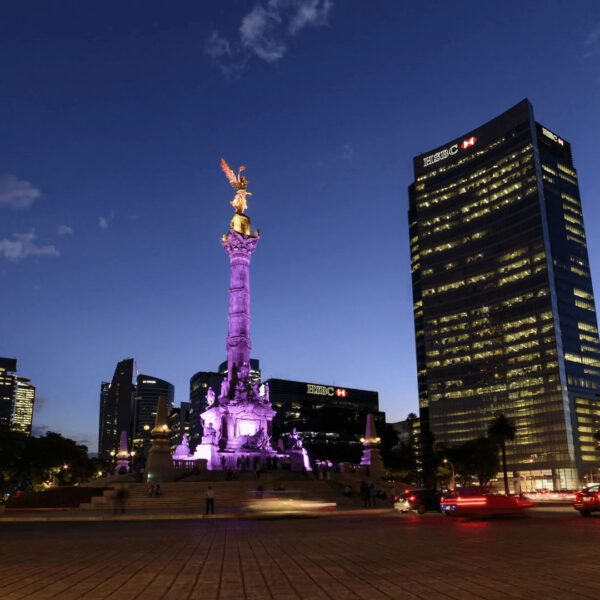 Folklore, gastronomy, literary culture, art and exhibitions, is what you will find in the capitals of the states of Mexico. To the north, colonial Mexico, Puebla, Guadalajara, Guanajuato, the Sonoran desert and the California peninsula. To the east Veracruz and the gulf. To the west Acapulco, Oaxaca and Tuxtla Gutiérrez. And to the south the Riviera Maya and the pyramids of Chichén-Itzá, Tulúm and Cobá in Yucatán, Palenque in Chiapas, the cenotes, and the Central American jungles.… Read More
Read More »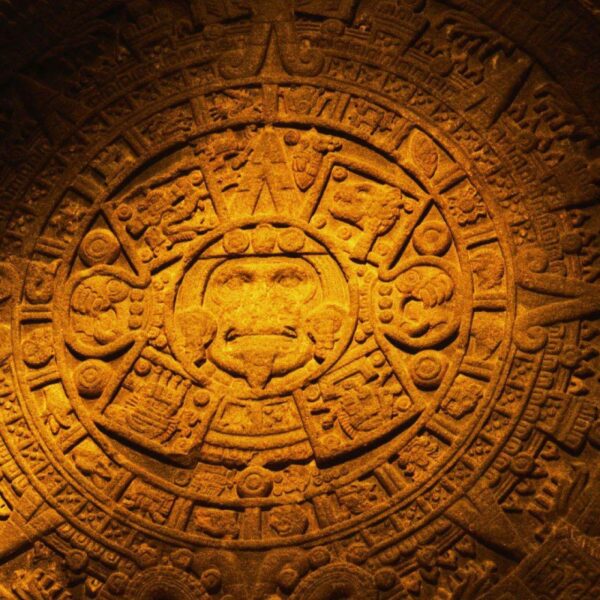 Mexico has an incredible diversity of landscapes, where the beauty of its beaches, internationally recognized, stands out. In its vast territory of coasts, there are beaches of unparalleled beauty, and colorful landscapes. A large network of first-class hotels and tourist services is available to visitors to these beaches. Mexico is also mystical places, dotted with archaeological testimonies inherited from its original inhabitants. Monuments made by the Mayas, Aztecs and Toltecs are located in magical landscapes, like lighthouses in an ocean of natural beauty. They offer visitors buildings that tell their history, and museums that collect their cultural heritage. And that keep alive ancestral traditions, in ceremonies and festivals, where you can enjoy cultural activities and entertainment.… Read More
Read More »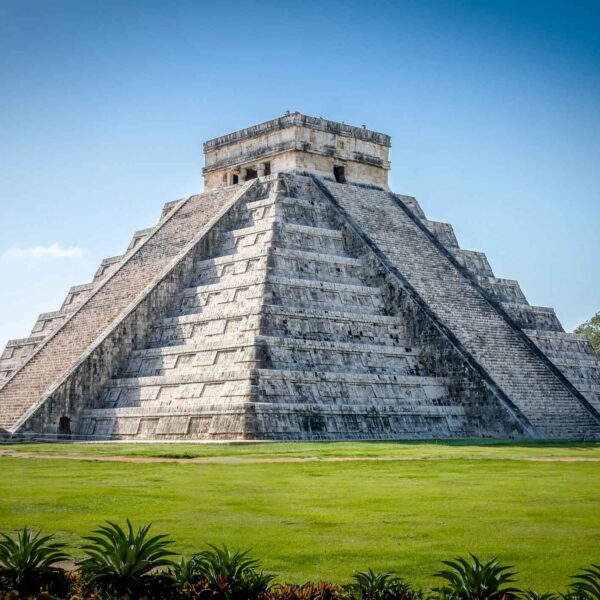 The Archaeological Zones are the cultural past of every Mexican. You will be amazed at the ambient, nature and the environment that surrounds them. Climbing to the top or being around it will take us back in time to admire every detail. México is a country of culture and traditions, many of which we have inherited from the pre-Hispanic inhabitants of this vast territory, although it is true that there were more settlements in the central and southern part of the country, it is also possible to find some archaeological remains in the north.
… Read More
Read More »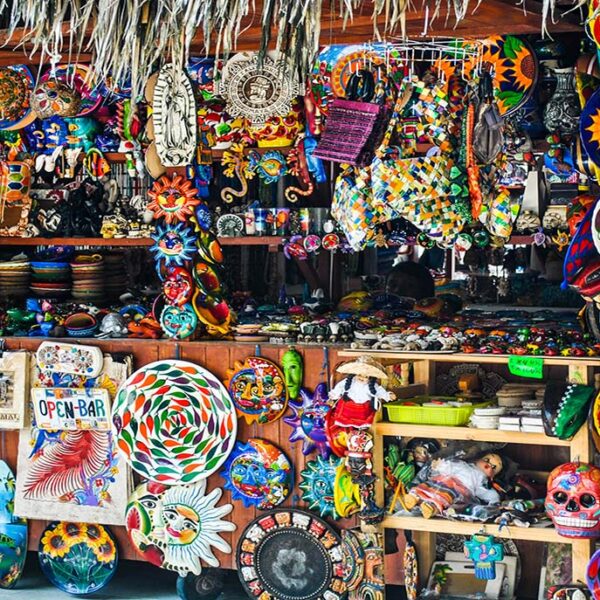 It is practically impossible to make a meticulous, and above all, accurate selection of the places to visit in Mexico. Each place that our country houses is unique and beautiful in its own way. Mexico, with its nearly 2 million km², has a large number of scenarios to offer, as well as endless activities to do. Do not lose your way and enter the places to visit in Mexico. In Mexico, apart from the beaches and its famous archaeological sites, there are many other really interesting sites and activities that you should know. In the surroundings of the main cities you will find places full of culture and tradition, where you can spend relaxing, interesting and fun vacations. On your trip through Mexico you cannot stop obtaining souvenirs, the crafts that are made here are of the highest quality and recognized worldwide. A shopping tour cannot be missed.… Read More
Read More »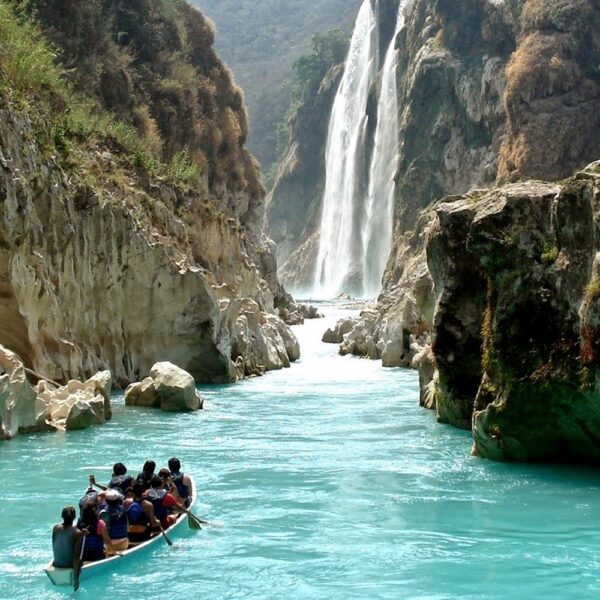 Mexico is one of the best countries for Ecotourism as it has a great variety of flora and fauna, as well as a large number of refuges for extraordinary species. You can enjoy recreational activities of appreciation and knowledge of nature through contact with it, such as: stargazing, observation of natural attractions, wildlife and bird watching. Throughout México there are more than 176 protected natural areas, 5 of them considered by UNESCO as Natural Heritage of Humanity. Just for this and much more, we believe that Mexico is a Paradise for Ecotourism.… Read More
Read More »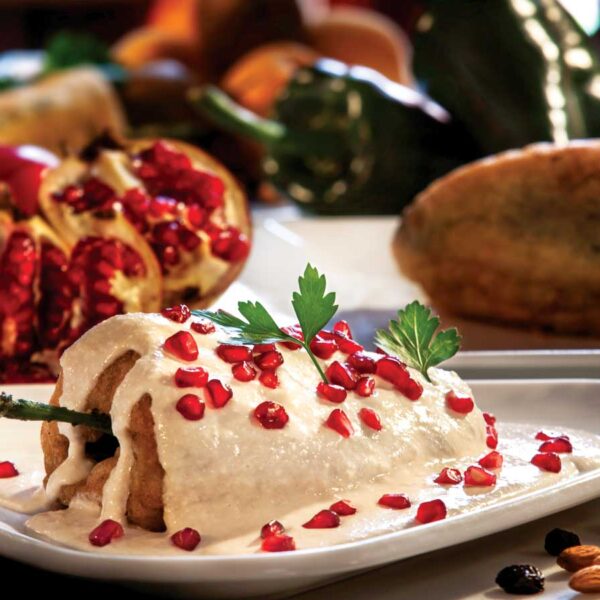 The Gastronomy of Mexico has a great diversity of typical dishes, which is why it was recognized by UNESCO as Intangible Heritage of Humanity. The basic and representative ingredients of Mexican dishes are: corn, coriander, chili, beans, piloncillo, nopal and tomato. Mexican cuisine is also characterized by its sauces, which serve as an accompaniment to traditional dishes, prepared based on spices.… Read More
Read More »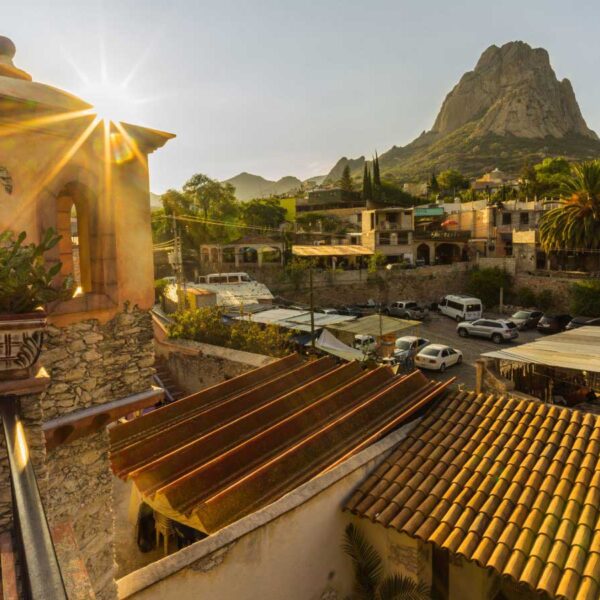 A Magical Town is a place with symbols and legends, towns with history that in many cases have been the scene of transcendent events for our country, they are places that show the national identity in each of its corners, with a magic that emanates from its attractions ; visiting them is an opportunity to discover the charm of Mexico. The Magical Towns Program contributes to revalue a set of populations in the country that have always been in the collective imagination of the nation and that represent fresh and varied alternatives for national and foreign visitors. A town that through time and in the face of modernity, has conserved, valued and defended its historical, cultural and natural heritage; and manifests it in various expressions through its tangible and intangible heritage. A Magical Town is a town that has unique, symbolic attributes, authentic stories, transcendent events, everyday life, which means a great opportunity for tourist use, taking into account the motivations and needs of travelers.… Read More
Read More »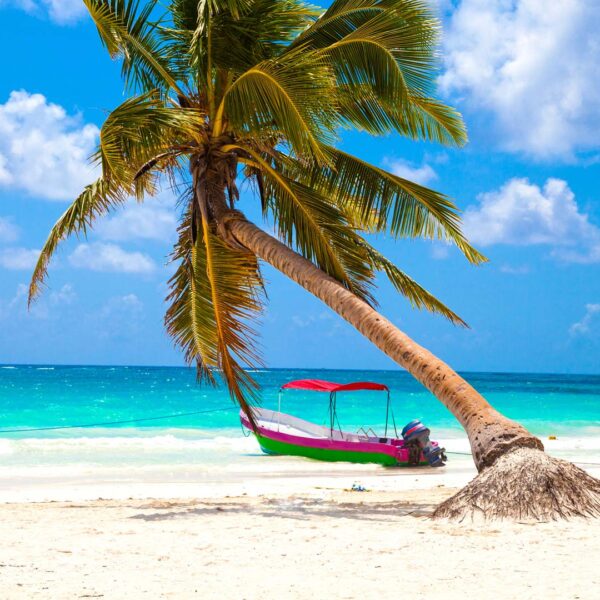 On the Beaches of Mexico you can immerse yourself in the intense blue ocean of the Pacific bays, sunbathe on the shore of the warm and transparent waves of the Caribbean Sea in Quintana Roo or even rest on the beautiful coasts of the Gulf of Mexico. Mexican beaches hide wonderful secrets for the traveler. By visiting them, in addition to enjoying the excellent climate and water activities, you can discover splendid archaeological sites and interesting colonial cities without traveling long distances.… Read More
Read More »