Tourism in the RIVIERA MAYA
Riviera Maya offers wonderful beaches, turquoise waters and fine white sand, archeological sites, picturesque little towns, recreation centers, freshwater lagoons, underwater caves and cenotes, as well as ecological, and food and lodging options ranging from rustic cabins to gleaming condos, five-star hotels, and all inclusive accommodation.
Here you can be seduced by an exquisite culinary tour, experiencing the regional cuisine prepared with the inherited Mayan recipes. About the nightlife, Riviera Maya has an exciting and cosmopolitan options with a wide variety of bars and nightclubs along the beach.
It is an ideal setting for romance, making it a favorite of those who want a beach wedding or an unforgettable honeymoon.


Riviera Maya is a coastal strip that stretches more than 120 km (81 mi). Starts at Punta Brava at the end of Puerto Morelos to Punta Herrero, south of the Sian Ka'an Biosphere Reserve. Playa del Carmen is a must seen destination in the heart of Riviera Maya. North of Playa del Carmen are Playa Paraíso, Playa Secreto, Punta Maroma, Punta Bete and Mayakobá. And south of this famous downtown are several Eco Parks like Xcaret, Xenses, Xplor and Xel-Há, among others; as well as some small coastal towns like Puerto Aventuras, Akumal and Tulum; Boho Chic Beaches like: Paamul, Kantenah and Xpu-Há; and the fabulous Sian Ka'an Biosphere Reserve.
The Riviera Maya was an important commercial and religious center of the ancient Mayas it has many Archaeological Zones, vestiges of this culture are found in Cobá with the tallest pyramids in the Yucatan Peninsula, Muyil surrounded by crystal clear water mangrove-lined channels, and the walled city of Tulum overlooking the Caribbean Sea. Modern Mayans still manage to integrate their old beliefs and traditions in their day-to-day lives. You can visit a local Mayan village and learn more about the ancestral cuisine, as well as the traditional clothing, architecture and language.
Riviera Maya is deeply committed to protecting and preserving the spectacular environmental beauty and delicate eco-system of the destination with sustainable tourism, and eco-friendly actions. There have been notable successes in the region in protecting the coral reefs, the jungle and the crystal clear waters of the cenotes. It is also important to protect the turtles when they are nesting and help the baby turtles to get to the sea.
There are more than 700 km (430 mi) of flooded cave passages within the limits of the Riviera Maya, including the two longest underwater cave systems in the world of Sac Actun and Ox Bel Ha. In this area, the cavern diving is a magical experience and a real challenge. The Riviera Maya is home to the second largest barrier reef in the world, the Mesoamerican Reef, also known as the Great Mayan Reef. This ecosystem host a wide diversity of species of fish, corals, molluscs, sponges, marine worms and crustaceans.
South of Tulum is Sian Ka'an Biosphere Reserve, a 1.3 million acre nature reserve where you can kayak your way through the wetlands or float through the mangroves in translucent water, watching the wildlife, including the exotic and endemic species.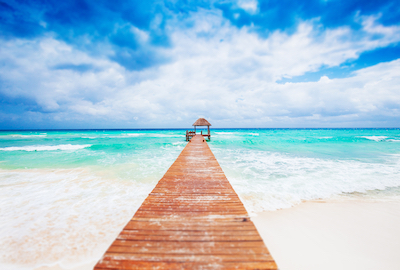 The Riviera Maya is home to a wide range of fun eco-parks with a wide variety of exciting activities for everyone. Get an amazing day enjoying a great bike ride in the middle of the Maya Jungle or use zip lines, canopy bridges, and pathways to explain and show off the diversity of the jungle environment. There are also great places for snorkeling and scuba diving; the destination combines incredible natural beauty with exciting, adventurous activities.
The Riviera Maya is home to a wide range of fun eco-parks with a wide variety of exciting activities for everyone. Get an amazing day enjoying a great bike ride in the middle of the Maya Jungle or use zip lines, canopy bridges, and pathways to explain and show off the diversity of the jungle environment. There are also great places for snorkeling and scuba diving; the destination combines incredible natural beauty with exciting, adventurous activities.
The Riviera Maya has something for everyone. A wide variety of accommodation options are available, you can book luxury boutique hotels in downtown Playa del Carmen to rustic cabins in Tulum. There are also extensive all-inclusive resorts that will let you enjoy a perfect family vacation with fun kids' clubs and babysitting services. If you are planning a romantic getaway or a truly unique gourmet experience Riviera Maya has it all. The destination has more winners of five and four diamonds than anywhere else in North America.
In addition, most of the resorts are located near an impressive collection of marinas, championship golf courses, shopping centers, animal sanctuaries and Mayan-inspired theme parks.
What to Do in the RIVIERA MAYA
Climb 120 steps to top of Nohoch Mul Pyramid at Coba and enjoy the breathtaking view of the mayan jungle, the lagoons, the cenotes and the sacbes (white mayan roads).
Glide through the sky in zip-lines where you will fly over the jungle and splash into a cenote.
Rappel into a cenote and swim in the clear fresh waters surrounded by a magical atmosphere.
Travel through the Mayan jungle, enjoy your private Photo Safari and capture the wildlife in magnificent natural settings home of hundreds of colorful birds.
Visit a nesting beach, from May to November, it is fascinating that female turtles come to lay their eggs in the exact same spot they were born. And from July to October, once the eggs hatch, you can see the baby turtles starting their journey to the ocean.
Swim, snorkel or rest in the only archaeological site located by the sea, Tulum.
Get into the Mexican culture and traditions and enjoy a great adventure in Xcaret.
Snorkel in the largest natural aquarium in the world Xel-Ha.
Get in touch with one of the greatest biodiversity in the world on the Biosphere Reserve of Sian Ka'an, a World Heritage Site.
Spend a memorable evening at Cirque Du Soleil, an award-winning magical theater with gourmet 3-course dinner experience.
History of the RIVIERA MAYA
During the Classic Period (300-1000 AD) and the Post-Classic Period (1000-1550 AD) the Mayans built several cities in this region, some of them consolidated as important commercial and religious centers such as: Chunyaxché, now known as Muyil; Coba, built next to a large lagoon; Tulum, the only Mayan city built by the sea; Polé, (now a heavenly touristic destination) an important Pre-Hispanic commercial port; Xamanhá, today Playa del Carmen, one of the first settlements found by the Spanish conquistadors on their arrival to Mexico in the 16th century; and Xel-ha, known as the first European settlement of the Yucatan Peninsula.
In the next three centuries most of the colonial period, when the Spanish rule in Mexico, the jungle, the pirates, their difficult access and the fierce resistance of the Mayans dissuaded the European incursion into the area. In the twentieth century, because of the abundance of the Chicozapote in the Mayan rainforest, the region became one of the largest producer of gum, the original raw material for chewing gum.
It was not until the decade of 1980's that the region known as the Cancún-Tulum corridor gained in gained in popularity. The tourist infrastructure of the area began improving in the early 1990's and has been growing rapidly. The "Riviera Maya" brand was born in 1997, and its 120 km (86 mi) of scenic Caribbean coastline have not looked back since!

RIVIERA MAYA From North to South
Playa del Secreto & Playa Paraíso
Playa el Secreto is a wide strip of white sand with crystalline Caribbean waters considered one of the most beautiful beaches in the Riviera Maya. The road to Playa del Secreto passes through spectacular mangroves, a unique habitat for various birds and tropical wildlife. In this heavenly place you can
swim, snorkel, long walks and gathering shells.
Playa Paraíso is an spectacular white sandy paradise with turquoise blue waters, coconut tree plantations and an extraordinary coral reef just 54 yd. (50m) from the beach, one of the most recommended places to enjoy the tranquility and beauty of the Caribbean Sea. Along the extensive corridor of 3 miles (5 km) wide that separates Playa Paraiso and Playa del Secreto, you can find countless crabs and hopefully even a turtle spawning. There are several luxury all-inclusive resorts and two incredible golf courses.
Punta Maroma & Punta Bete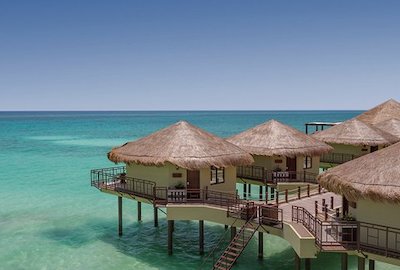 Punta Maroma is a beautiful and quiet white sand beach, rated by Travel Channel as one of the 10 most beautiful beaches in the world. Its crystal clear waters are fed from an underground river that creates a unique ecosystem in the area. It has a small marina where you can rent tours to enjoy a wide variety of activities. A string of resorts has taken advantage of its enviable position.
Across the river is Punta Bete, is another excellent option for sun and sea seekers with the striking contrast of turquoise sea, green palms and white sand. This is a good place for camping, snorkeling and enjoy unique adventures like dolphin encounters, a camel ride, or surf the waves at high speed in a wave runner. In addition to its beautiful scenery, you can visit a small archaeological ruin on the beach.
Mayakoba is the place to create unforgettable memories, explore nature, pamper your palate, stay healthy, and embark on a new adventure. There are experiences on land and at sea for every type of traveler, whether it is a family vacation, a wellness retreat, a couple's escape or a culinary adventure.
Discover 250 hectares of white beaches, lush mangroves and transparent channels, or explore the Caribbean on diving or snorkeling expeditions, or through a variety of water sports or even a private yacht trip. The expert guides team will be in charge of organizing adventures for all tastes.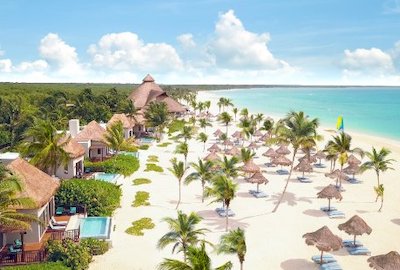 In the heart of the community is the picturesque El Pueblito zócalo, which offers crafts and fashion, gastronomy, live entertainment, seasonal farmers market, interactive game room and El Pueblito Cooking School with interactive classes by the acclaimed chefs from Mayakoba.
Nothing like relaxing and letting yourself go, enjoying a holistically inspired experience at one of the four world-class spas and gyms within Mayakoba. Each one offers a different experience inspired by nature, a menu of therapeutic treatments, the most modern equipment and personalized attention.
From cozy seaside restaurants to elaborate lagoon dinners, Mayakoba offers more than 25 culinary experiences. Guests and residents can enjoy internationally inspired menus with the finest local ingredients, as well as personalized experiences with acclaimed chefs and a wide variety of restaurants to choose from for breakfast, lunch and dinner (Gastronomy of Quintana Roo).
Mayakoba is home to El Camaleón, the first PGA TOUR golf course in Latin America. This Greg Norman-designed masterpiece offers 18 championship holes, spectacular views, the Jim McLean Golf School, pro-shop, practice facilities, and the best gastronomic offerings at the Koba Clubhouse, located on the picturesque 18th hole (Golf Courses in Quintana Roo).
With almost 10 miles (15 km) of beach stretching along the Caribbean coastline, Playa del Carmen has become a tourist development, but it has kept the essence of a warm small town feeling that offers smaller lodgings with personalized service.
The ancient Maya used the beaches of Xaman Ha, Playa's Mayan name meaning "waters of the north" as a launching point for Maya women to honor the Goddess Ixchel on Cozumel Island. This annual spiritual pilgrimage was necessary in the eyes of the Maya for a healthy pregnancy and childbirth. In order to prepare their visit to Kuzamil (today, Cozumel) the pilgrims fasted for several days, prayed and took steam baths to purify their body and soul.
Playa del Carmen has something for everyone. It is blessed with miles of unspoiled beaches, dozens of beach clubs and bars that allow you to enjoy the Caribbean coast to the fullest.
Quinta Avenida ("Fifth Avenue") is Playa del Carmen main drag, over twenty city blocks, and provides an abundance of options for dining and shopping. Here you can find everything from diamonds to colorful crafts. There are modern and unique shopping centers such as Calle Corazón and Quinta Alegría with establishments where you will find the wide range of collections from all the national/international brands. In Calle Corazón, you can also visit L'Aquarium with over 10,000 different animals from more than 200 species and a representation of a magical natural limestone sinkhole (cenote).
There are plenty of great places up to the end of the Fifth Avenue, known as the "New Quinta", with more restaurants, nightclubs and bars ideal for those wanting an relaxed and fun atmosphere. Playa del Carmen is known for its fabulous nightlife and sets itself up as one of the best destinations for going out. There's a little something for almost everyone, from the mariachis to country music, from trendy bars to nightclubs for fun-filled night of dancing and live music.
If you want to know more about the most iconic Mexican artist, Frida Kahlo, you can visit the new museum that integrates technologies to connect the public with Frida through sensory experiences, interactive displays, projections and other multimedia instrument. This museum has been able to combine technology with art.
Bike riding is a fun way to explore Playa del Carmen. 10th Ave has a bike path of 4 km for bikers and tricyclos, it runs parallel to the famous 5th Avenue and there are two trails that connect two commercial corridors: Centro Maya and Plaza Las Américas. If you're feeling more adventurous, there is a new bike path on the highway from the second entrance/exit into Playacar heading south to Xcaret and Xplor adventure parks.
Playa Del Carmen, offers a wide selection of lodging options, there is definitely something for everyone. There are small budget hostels and boutique hotels, some with ocean views and others a few blocks from the beach.
Playacar
South of the main dock is Playacar, a self-contained resort boasting luxury hotels, condos, and an 18- hole golf course design by the famous Scottish
golf course architect Robert von Hagge. It is the ideal place for walks, jogging or cycling among Mayan relics, small temples and cenotes.
With white sand beaches and three beautiful bays, Fátima, Chan Yu Yum y Chac Hal Al, offers numerous attractions. Facing the beach, in the middle of the bay, is an island that serves as a nocturnal sanctuary for thousands of birds. It is master-planned to preserve the natural beauty. Puerto has water channels, a quay and a "malecon". There is also a beach club, spa, hotels, condos, dolphin facility, tennis club, a picturesque shopping arcade and an 18-hole golf course, designed by the renowned PGA player Thomas Lehman in 1991.
The marina in Puerto Aventuras offers full-service repair and boarding operation, private shops, and from here you can rent boats for deep-sea fishing or simply to cruise the Caribbean Sea's tranquil waters; there are regatta races at the Marina during the months of May and June. It is another ideal place for diving, snorkeling, fishing and sailing.
Just in front of a small island you can find the most exclusive jewelry & rug store on the Riviera Maya, as well as some stores with clothing, crafts and all kinds of souvenirs.
Xpu-Há is a beautiful stretch of white powdery sand and limestone inlets. There are important resorts in this area and a restaurant. Just south of Xpu-Há is Kantenáh, a long palm-lined beach. This is a great place to snorkel. Here you can relax in a hammock under a palapa. The water here is usually calm and is one of the best places where you can go snorkeling. There are some all-inclusive resorts in the area.
Xpu-Ha means "estuary of two waters", and it is a beach that is very close to Tulum, where you can practice diving, kayaking, snorkeling, among other activities. Its transparent and fresh waters are perfect for swimming and venturing out to dive in the great reefs that are around this destination. The same managers of the place rent the necessary equipment to practice any activities you want.
To the north of the beach you can find a rocky area and a cove where you have the possibility to appreciate the large number of fish that live there. This same cove also connects with the impressive "Cenote Manatí", one of the most important in the region.
On the shores of the beach there are hammocks, lounge chairs, umbrellas and everything you need to relax and enjoy a delicious break. You can also taste some delicious seafood or various typical dishes of the Peninsula in the restaurant that is located in front of the beach.
Xpu-ha is located just 20 minutes from Playa del Carmen, at km. 265 of Federal Highway No. 307, in the Riviera Maya, between Puerto Aventuras and Akumal beach. On the road there are signs that will take you directly to the destination; It must be taken into account that it is only one road and it is unpaved.
Akumal means "Place of the Turtles" in Mayan, since this stretch of coast is a nesting ground for thousands of turtles every year, and you can get to see huge turtles swimming quite close to shore. Silky white sand submerges into offshore reefs, a real paradise for swimming, snorkeling, fishing and especially for scuba diving, since it has been a favorite dive destination for decades.
The natural beauty of Akumal has attracted visitors even before there were roads leading to this primitive paradise; some of the first visitors came from Cozumel and arrived by boat.
The modern history of Akumal begins when its' founder Don Pablo Bush Romero, a Mexican adventurer and business man, founded a city and along with other divers formed CEDAM (Club of Exploration and Water Sports of Mexico), an internationally acclaimed society dedicated to community service and ecological preservation. Beside, Akumal has another organization concerned with the protection of the environment, Centro Ecológico Akumal (Ecological Center in Akumal).
It has been working to study the coastal and marine ecosystems and their biodiversity, including of course the turtles. Akumal Bay is known for its crystal clear waters sheltered by an offshore reef and the fresh waters of its caves and underground rivers. Akumal offers a very close-knit expat community who has been coming here for years and they all are strongly committed to the environment.
There are shops, art galleries and crafts on sale to take home a unique souvenir. The destination offers several restaurants, bars and comfortable accommodation, from cozy inns and villas to modern condominiums and excellent hotels. The Riviera Maya Golf Club is located south of Akumal.

Yal-Kú Lagoon
It is a hidden, yet enchanting place to dive and enjoy the crystal clear water. Once in the water, you are immediately met by hundreds of colorful fish. Submerged rock formations create a fascinating underwater terrain and the ideal habitat for the exotic marine creatures, which you can see perfectly while snorkeling or diving.
There are composting toilets and snorkel gear and a snorkel vest can be rented on site. Bird watchers will be delighted in the area, which is abundant with various tropical species, among which are: herons, cranes, pelicans, gulls and egrets. It is a magical place with the typical Caribbean atmosphere.

Bahía de la Media Luna (Half Moon Bay)
An idyllic arc of white sand with villas, private homes, beachfront restaurants, and small hotels, here you can snorkel and dive among turtles all year long.

Weddings and Romance in the RIVIERA MAYA
With year-round nice weather, lush tropical jungles and the beautiful Caribbean beaches, Riviera Maya has been recognized as one of the most romantic destination. Celebrate the wedding of your dreams in one of the most beautiful place in the world, either in the beach or in luxury venues with creative cuisine inspired in the Mexican traditions or international fusion.
You can have a Maya Wedding in an ancestral environment like a cenote with mystical moments. A Maya Shaman (spiritual leader) will bless the bride and the groom surrounded by the scent of copal incense, candle lights and flowers.
There are many options, you can stay in a honeymoon suite at a luxury boutique resort, retreat to a hidden intimate bungalow, rent a wonderful room in a all-inclusive resort, even get a private butler. You can also relax and rejuvenate with a special couple spa treatment in one of the many spas of the area, or just indulged in a private sunset cruise.
Tulum is "the place" for a romantic getaway. You can stay in a confortable hotel room in a boutique hotel or in a candle-lit rustic cabin with a thatched roof. The sunrise in this place is one of the most beautiful along the coast.
During the day there are many options to have fun along the Riviera Maya. You can visit the nearby Mayan archaeological sites, enjoy the many activities offer in the ecological parks like ziplining above the jungle, cave spelunking, swimming in a fresh water cenote, swimming with the dolphins or with the sharks, or even swimming alongside with whale sharks.
And for the night, Playa del Carmen offers a vibrant scene with live music, many places to
dance and theatrical performances.

SPAs and Wellness in the RIVIERA MAYA
Holistic experiences with ancient healing therapies. The world's luxury destination spas are the ultimate in stress- free vacationing, and the Riviera Maya offer the best facilities in the country. In several locations you can find the best of the best in Spa services, both in treatments and in idyllic settings.
Imagine receiving a therapeutic and relaxing massage while listening to the sound of the waves, or immerse yourself in the ambiance of a unique sauna and allow the aromatic fragrances transport you into universe of distress. Many focus on holistic wellness with the practice of yoga & meditation or simply pampered yourself with a range of beauty treatments designed to relax and revitalize.
Riviera Maya offers wonderful clean and modern facilities in an alluring environment, as well as highly trained and certified professionals. Many of the treatments are based on techniques that combine ancient Mayan healing rituals with the latest advances in aromatherapy, hydrotherapy and physiotherapy.
Featured treatments include relaxing massages, the latest in aromatherapy, crystal therapy (Crystal Healing), hydrotherapy, reflexology, and physiotherapy all performed with traditional organic methods, or the exotic 'Hammam Bath'. Of course there is the unique experience of Temazcal, a ritualistic treatment that weaves together ancient traditions to leave an overall feeling of cleanliness, calm and inner peace.
Riviera Maya also provides high quality and safe cosmetic procedures, including botox, Mesolift, and High-intensity focused ultrasound (HIFU) for body sculpting, among other treatments.

Dinning in the RIVIERA MAYA
In The Riviera Maya destination cuisine is mostly seafood based, but there is also a region's distinctive cuisine, a delightful combination of
Spanish and Mayan heritage. The traditional cuisine of the Yucatan Peninsula uses a variety of spices, sweet chili, seeds, oregano, achiote, red onion, bitter orange, lime, and xcatic chile.
This premium destination with a cosmopolitan flair has an ever-evolving cuisine as talented chefs use fresh local ingredients and innovative culinary creations to present their signature dishes to the critics and connoisseur of food and drinks. Riviera Maya offers a diverse and attractive dinning experience. If you consider yourself a big foodie or a gourmand, you will find a wide range of culinary choices to suit every taste!
There is a wide variety of award-winning restaurants that offer exquisite fusion food or that serve food from every corner of the world: Italian, Argentine,
Chinese, Japanese, Spanish, Cuban, French, etc. In Riviera Maya the whole family will enjoy the dining experience and sample all types of cuisine.
The Culinary Art of Mayan Cuisine
The regional dishes have a clear Mayan influence; even some of them are still prepared as they were in the pre-Hispanic era. This food is a great addition to any travel experience, you may try:
Papadzules. Tortillas rolled around a filling of hard-boiled eggs and topped with a sauce made of pumpkin seeds and tomato.
Cochinita pibil. Marinated suckling pig wrapped in spices and banana leaves, cooked in a barbecue pit.
Huevos motuleños. Fried eggs served on tortillas with refried black beans and a tomato-based sauce.
Dzotobichay. Tamales with Greens, Pumpkin Seeds and Egg.
Sopa de lima. A broth-like soup made from chicken stock and lima (citrus fruit similar to lime), filled with chunks of chicken and fried tortilla.
Pescado tikinxic. Fish prepared with sour orange, peppers, tomatoes, red onions, and spices grilled over charcoal, and wrapped in banana leaf.
Xtabentun. The traditional Mayan beverage, an anise liqueur made from anise seed, and fermented honey.
The habanero sauce is always available to accompany any dish, but you have to be careful since it is one of the most intensely spicy species of chili peppers.

More Tourist Attractions in QUINTANA ROO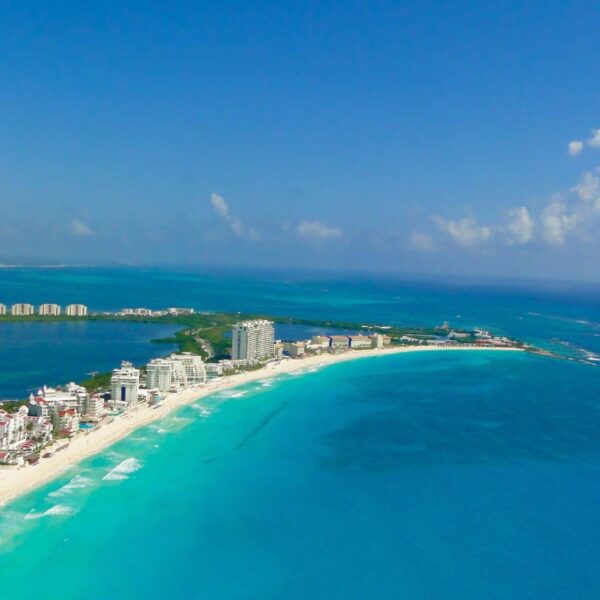 Beaches
Cancun is recognized around the world for its spectacular white sand beaches, its fascinating sea with turquoise blue waters and its unique climate. In addition, it has excellent air and land connectivity, as well as a first-rate hotel infrastructure that places it as one of the best tourist destinations in the world. Year after year Cancun is the destination chosen by national and international visitors thanks to the wide range of attractions and tourist places it offers such as: Mayan culture and history that can be enjoyed in its museums and archaeological sites, water activities, adventure tourism, great variety of gastronomic experiences, spectacular shopping centers as well as seductive entertainment offers for the whole family.… Read More
Read More »

Guided Tours in RIVIERA MAYA

Flights & Hotels in RIVIERA MAYA

More Tourist Attractions in MEXICO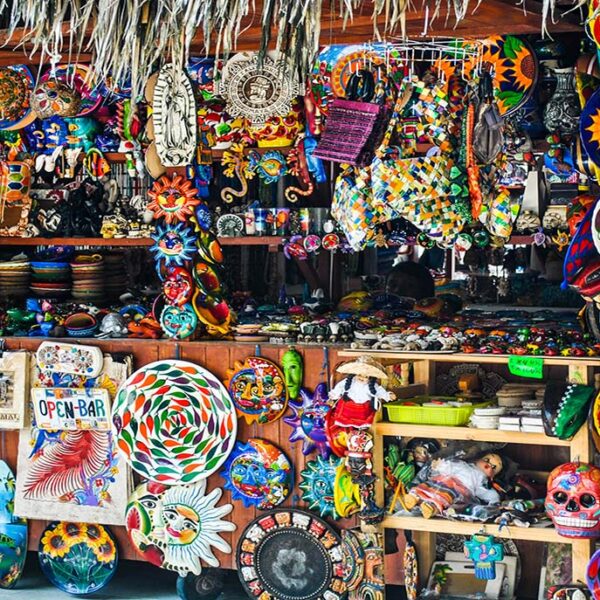 It is practically impossible to make a meticulous, and above all, accurate selection of the places to visit in Mexico. Each place that our country houses is unique and beautiful in its own way. Mexico, with its nearly 2 million km², has a large number of scenarios to offer, as well as endless activities to do. Do not lose your way and enter the places to visit in Mexico. In Mexico, apart from the beaches and its famous archaeological sites, there are many other really interesting sites and activities that you should know. In the surroundings of the main cities you will find places full of culture and tradition, where you can spend relaxing, interesting and fun vacations. On your trip through Mexico you cannot stop obtaining souvenirs, the crafts that are made here are of the highest quality and recognized worldwide. A shopping tour cannot be missed.… Read More
Read More »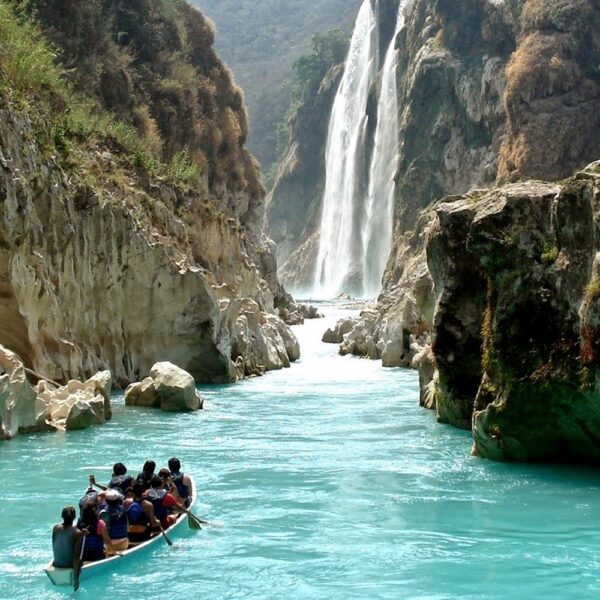 Mexico is one of the best countries for Ecotourism as it has a great variety of flora and fauna, as well as a large number of refuges for extraordinary species. You can enjoy recreational activities of appreciation and knowledge of nature through contact with it, such as: stargazing, observation of natural attractions, wildlife and bird watching. Throughout México there are more than 176 protected natural areas, 5 of them considered by UNESCO as Natural Heritage of Humanity. Just for this and much more, we believe that Mexico is a Paradise for Ecotourism.… Read More
Read More »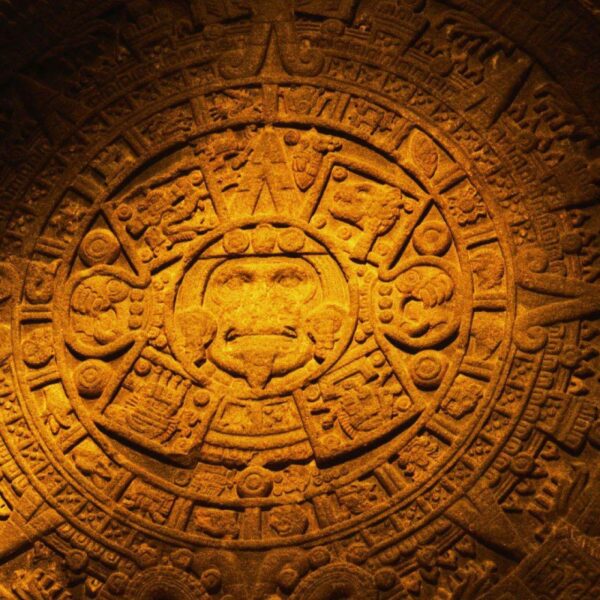 Mexico has an incredible diversity of landscapes, where the beauty of its beaches, internationally recognized, stands out. In its vast territory of coasts, there are beaches of unparalleled beauty, and colorful landscapes. A large network of first-class hotels and tourist services is available to visitors to these beaches. Mexico is also mystical places, dotted with archaeological testimonies inherited from its original inhabitants. Monuments made by the Mayas, Aztecs and Toltecs are located in magical landscapes, like lighthouses in an ocean of natural beauty. They offer visitors buildings that tell their history, and museums that collect their cultural heritage. And that keep alive ancestral traditions, in ceremonies and festivals, where you can enjoy cultural activities and entertainment.… Read More
Read More »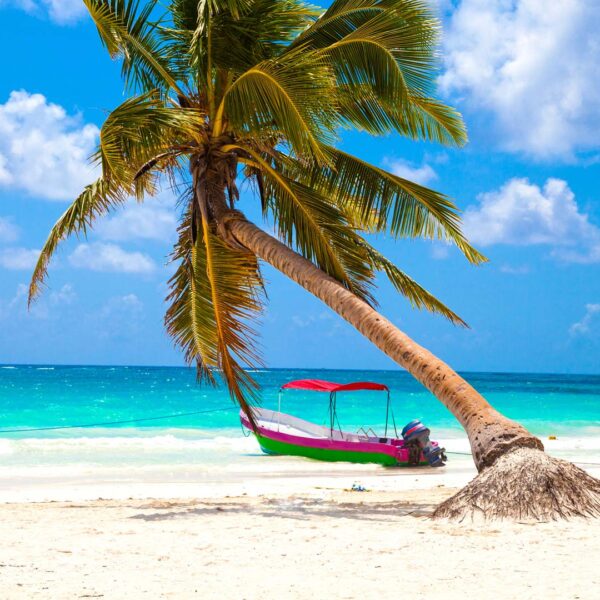 On the Beaches of Mexico you can immerse yourself in the intense blue ocean of the Pacific bays, sunbathe on the shore of the warm and transparent waves of the Caribbean Sea in Quintana Roo or even rest on the beautiful coasts of the Gulf of Mexico. Mexican beaches hide wonderful secrets for the traveler. By visiting them, in addition to enjoying the excellent climate and water activities, you can discover splendid archaeological sites and interesting colonial cities without traveling long distances.… Read More
Read More »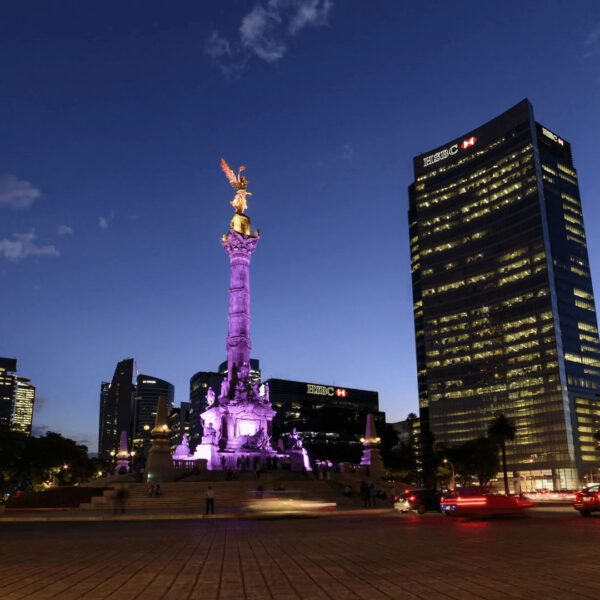 Folklore, gastronomy, literary culture, art and exhibitions, is what you will find in the capitals of the states of Mexico. To the north, colonial Mexico, Puebla, Guadalajara, Guanajuato, the Sonoran desert and the California peninsula. To the east Veracruz and the gulf. To the west Acapulco, Oaxaca and Tuxtla Gutiérrez. And to the south the Riviera Maya and the pyramids of Chichén-Itzá, Tulúm and Cobá in Yucatán, Palenque in Chiapas, the cenotes, and the Central American jungles.… Read More
Read More »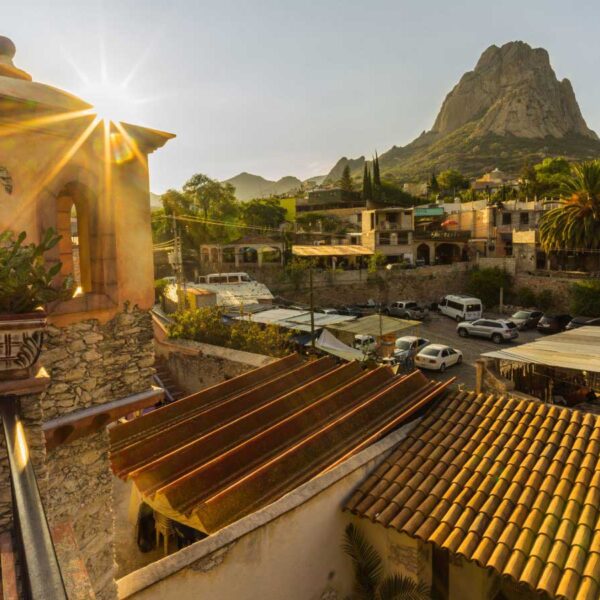 A Magical Town is a place with symbols and legends, towns with history that in many cases have been the scene of transcendent events for our country, they are places that show the national identity in each of its corners, with a magic that emanates from its attractions ; visiting them is an opportunity to discover the charm of Mexico. The Magical Towns Program contributes to revalue a set of populations in the country that have always been in the collective imagination of the nation and that represent fresh and varied alternatives for national and foreign visitors. A town that through time and in the face of modernity, has conserved, valued and defended its historical, cultural and natural heritage; and manifests it in various expressions through its tangible and intangible heritage. A Magical Town is a town that has unique, symbolic attributes, authentic stories, transcendent events, everyday life, which means a great opportunity for tourist use, taking into account the motivations and needs of travelers.… Read More
Read More »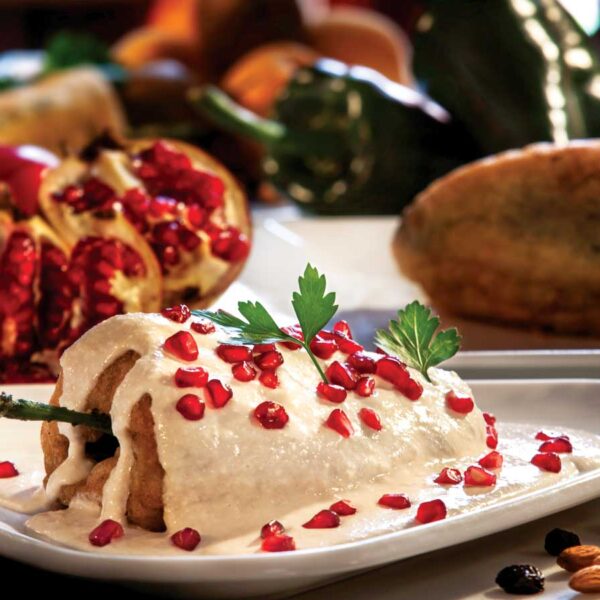 The Gastronomy of Mexico has a great diversity of typical dishes, which is why it was recognized by UNESCO as Intangible Heritage of Humanity. The basic and representative ingredients of Mexican dishes are: corn, coriander, chili, beans, piloncillo, nopal and tomato. Mexican cuisine is also characterized by its sauces, which serve as an accompaniment to traditional dishes, prepared based on spices.… Read More
Read More »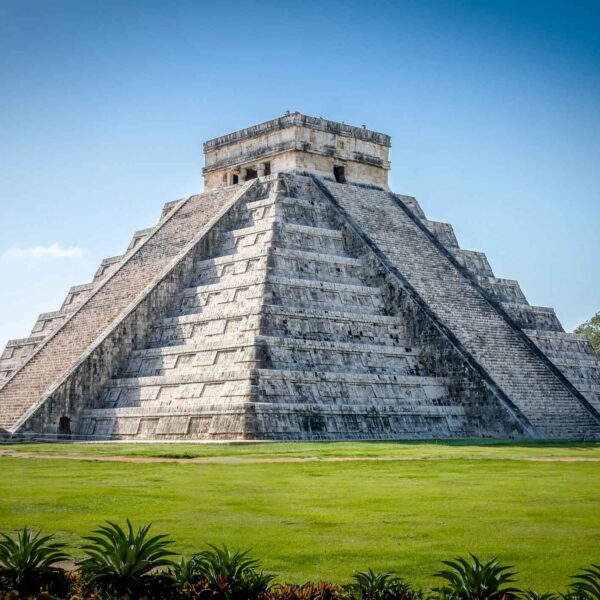 The Archaeological Zones are the cultural past of every Mexican. You will be amazed at the ambient, nature and the environment that surrounds them. Climbing to the top or being around it will take us back in time to admire every detail. México is a country of culture and traditions, many of which we have inherited from the pre-Hispanic inhabitants of this vast territory, although it is true that there were more settlements in the central and southern part of the country, it is also possible to find some archaeological remains in the north.
… Read More
Read More »