The state of Jalisco has an amazing diverse and delicious cuisine, it is arguably one of the most traditional regions of Mexico. When Spanish settlers came to the region they introduced several ingredients to the Mexican diet. This fusion of cuisines and ingredients has made Mexican cuisine one of the most extensive and nuanced cuisines in the world.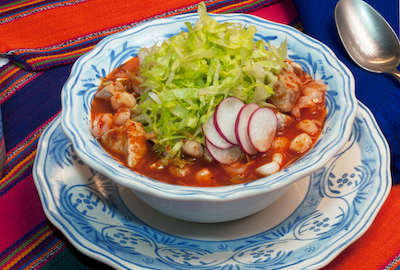 Classic dishes for the area include the Birria, a dish made of beef, goat, or lamb baked in a sauce with several spices, hot peppers, and chopped onion, prepare it is in a barbecue, in a hole in the ground; the pozole, stewlike soup of pork or chicken, hominy, mild chili peppers, and coriander leaves; the pipian, a sauce served as a condiment or marinade sauce for poultry, seafood, pork, and vegetable dishes; tostada de pata, fried tortilla with beef meat; enchiladas tapatías, a corn tortilla rolled around a filling and covered with a creamy poblano chile and tomato sauce; and the famous tortas ahogadas, a sandwich made of a special bread called "birote" (saltier than bread rolls) stuffed with pork covered or "drowned" in a spicy sauce prepared with tomatoes and hot peppers.
If you enjoy the desserts, here you will find a wide variety of sweets like: arroz con leche, rice simmered with condensed milk and flavored with cinnamon sticks and raisins; the capirotada, a type of bread pudding with syrup and fruits; jericallas, a cross between flan and creme brulee; glorias, burned milk candy with nuts; cocadas, made with grated fresh coconut; cajeta de membrillo, a thickened syrup with quince fruit; and sweetened tamarind pulp, amog others.
Jalisco is known worldwide for it's production of high quality tequila. The famous drink is made from agave grown in the town of Tequila, located less than an hour from Guadalajara.
If you are looking for something softer and a refreshing drink, you can try the tejuino, a cold beverage made from fermented corn.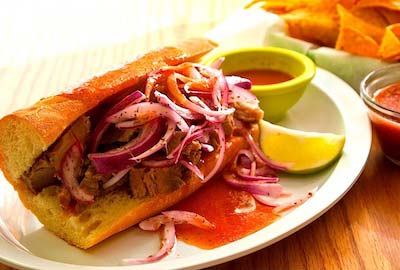 Torta Ahogada
It is a classic of Guadalajara cuisine that has spread throughout Jalisco and Mexico. It is prepared with birote bread, with a firm interior and crunchy shell, which is filled with Jalisco-style carnitas and then dipped in a sauce based on Yahualica's chile de arbol, which imparts its peculiar flavor. Another ingredient that cannot be missing from the torta ahogada is the flaked onion.
The onion is deflected by boiling it, adding lemon after it settles. According to Guadalajara legend, the dish was invented by a hungry laborer who came home and all he got to eat was a beer, some carnitas and an unknown sauce. He improvised a torta and was so delighted that he later told his wife to make the same sauce for him.
Carne en su Jugo (Meat in its juice)
It is a beef stew whose presence in restaurants is relatively recent, since it was created in 1967 by the chef Roberto de La Torre. The first thing to do is to brown pieces of bacon in a clay pot, so that they cook in their own fat. Small cubes of beef, about a centimeter on a side, minced onion, and other seasonings are then added. When the meat is about to cook, add previously softened beans and bean broth, waiting about 7 minutes until everything is well integrated.
Pozole Tapatio
Pozole is a tasty broth whose main ingredient is the grains of a variety of white corn called cacahuazintle, which is native to Mexico. The pozole can be white or red, depending on the ingredients. The Tapatío-style red pozole is colored with guajillo chili and has pork or chicken meat.
Frijoles Charros (Charro beans)
The charro is one of the most popular characters in Mexican culture and the charrería originated in Jalisco long before it became a national and international show. Each region has its own particular touch for preparing charro beans, but in all of them, the recipe that best identifies with the horsemen with wide-brimmed hats and typical costumes, is a succulent broth with the popular grains, dressings and some animal component.
The most frequent additions are usually chili, garlic, onion, tomato, coriander, pork, bacon, chorizo, pork rinds, ham and sausages. The people of Jalisco also make a version of dry charro beans to which they add a ranchero sauce prepared with tomato, onion and green chili.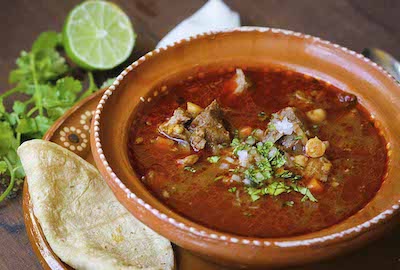 Birria
The most traditional meat to make the typical Jalisco birria is goat, although lamb is also frequently used. Beef birrias are a resource given the lack of the two main meats, at the price of losing the Jalisco spirit of the dish. The goat meat is bathed in a sauce based on chili peppers, dressings and spices and is wrapped in maguey leaves. It is placed in a clay bowl and placed in a hole for traditional cooking on hot volcanic stones. The broth that results from cooking is delicious and serves as a sauce to eat, although you can add another dressing when served.
Menudo Jalisciense
The paternity of the Mexican Menudo recipe, whose basic ingredient is beef belly, is disputed by Jalisco, Michoacán and Guanajuato. There is a legend about the Mexican often that the set was popularized by a case of indigenous discrimination. A butcher refused to sell good cuts to the Indians, telling them they had to settle for the giblets of offal and legs. The indigenous people made such tasty paunch stews that soon white people and mestizos found out about the recipe and began to prepare it. The people of Jalisco make a delicious red menudo, which is one of the dishes most appreciated by the people of Guadalajara.
Borrego al Pastor (Lamb al pastor)
It is another typical dish of Jalisco, being one of the gastronomic emblems of the municipality of Tapalpa. It is prepared on a stick by roasting the whole piece over the embers of wood embers, in a similar way to how the kid is made. Many people go to the Sierra de Tapalpa to enjoy a splendid climate while tasting a lamb al pastor in establishments that have been preparing it for decades.

Sopes
Also called pellizcadas and picaditas, are thicker and smaller corn tortillas than usual, which are fried with butter and eaten with a topping that can be made of cheese, pork rinds, meat or vegetables, sprinkled with a spicy sauce. They are edged to more easily retain the filling, especially its liquid part. The sopes or soups from Guadalajara include chorizo, grated fresh cheese, refried beans and lettuce.
Caldo Michi (Michi broth)
This fish soup cooked in its juices is traditional in the Jalisco municipality of Ocotlán, on the southern border with Lake Chapala. The term "michi" means "fish" in the Nahua language. The most widely used fish are catfish and tilapia, and the broth is seasoned with serrano pepper, chipotle pepper, tomato and green tomato. The most used vegetables are potatoes, chayote and zucchini.
Cuachala
Cuachala is originally from the Jalisco town of Ciudad Guzmán and is a very popular dish in Jalisco and Colima. It is a broth that is prepared with shredded chicken or pork, with pasilla or cascabel peppers, adding corn balls to give the soup more consistency.
Camarones Embarazados (Pregnant Shrimp)
It is a dish from the coastal area of Jalisco, particularly from Puerto Vallarta. On the beaches of Jalisco, it is common to see street vendors with their rods of 5 or 6 pregnant shrimp and lemon slices. The shrimp are marinated in a sauce made of garlic, roasted tomatoes, pasilla chili, onion, orange juice and spices, and then they are roasted whole. They are eaten with lemon, salt, chili and mayonnaise.
Pachola
The pachola is a minced or ground meat pancake, whose invention is attributed to the Jalisco municipalities of Mazamitla, Tlaquepaque and Lagos de Moreno. The meat is prepared in a metate, mixed with ground ancho chili, garlic, bread and spices, especially cumin. Then small cakes are made that are fried or roasted on a comal or grill.
Jericallas
Sometimes a kitchen forgetfulness ends in a lucky discovery. The legend of the jericalla tells that in the 19th century, a Spanish nun from Hospicio Cabañas, in the old San Juan de Dios neighborhood of downtown Guadalajara, was very concerned about the malnourished appearance of the children of the orphanage. The nun decided to give the boys something sweet and nutritious, and made a kind of flan, mixing milk, eggs, sugar and cinnamon.
The nun put the preparation to bake, but forgot it and when she remembered it, she thought it had burned. She tasted it and it was burnt but so tasty that she decided to honor Jérica, her place of birth in Spain, with the name. We hope you enjoyed our gastronomic walk through Jalisco. See you very soon for another delightful culinary tour of Mexico.
Tejuino
Tejuino from Guadalajara is a refreshing drink made from sprouted corn, typical of Guadalajara, which can be found in different parts of the city and other Jalisco towns. It is sweetened with brown sugar and sugar and lemon is added. The refreshing tejuino must be differentiated from tesguino, in which the corn is allowed to ferment to the maximum to make a liqueur. Tesguino is a typical drink of the Tarahumara ethnic group.
Capirotada
The Spanish capirotada is a savory dish that includes cheese, eggs and often partridge. Instead, the Mexican capirotada is a dessert that is prepared in several states, including Jalisco. Toast bread is used for the capirotada or the one that has become hard, which is cut into slices, which are cooked with fruit pieces such as banana, raisins and guava, also adding nuts or peanuts, and covering the preparation with a syrup piloncillo and grated cheese.

More Tourist Attractions in JALISCO
Beaches
Located in the Bay of Banderas, in the state of Jalisco, the city of Puerto Vallarta is considered the second most important tourist destination in the Mexican Pacific, its spectacular mountain, beach and mangrove landscapes offer its visitors endless activities and tours. Puerto Vallarta was a traditional town before becoming an international tourist destination. The Spanish conquerors in 1525 named it Bahía de Banderas, based on the name of the culture that had settled here. After the Independence of Mexico it was renamed Las Peñas de Santa María Guadalupe and later shortened to Puerto Las Peñas during the years of the silver mining boom near San Sebastián and Mascota.… Read More
Read More »

Guided Tours in GUADALAJARA

Flights & Hotels in GUADALAJARA

More Tourist Attractions in MEXICO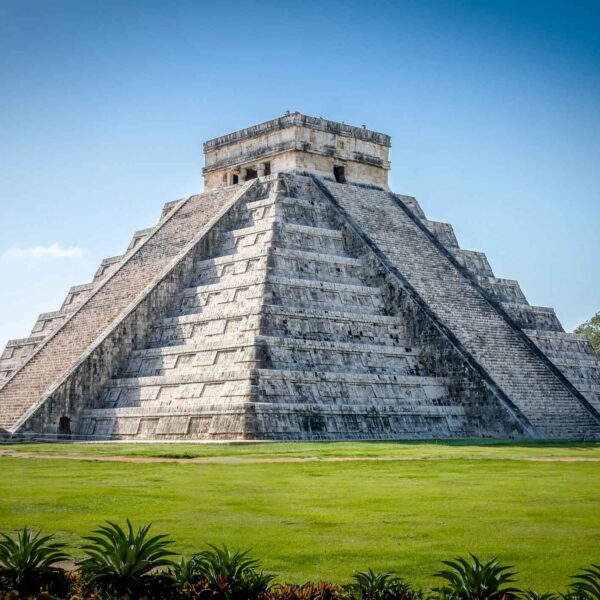 The Archaeological Zones are the cultural past of every Mexican. You will be amazed at the ambient, nature and the environment that surrounds them. Climbing to the top or being around it will take us back in time to admire every detail. México is a country of culture and traditions, many of which we have inherited from the pre-Hispanic inhabitants of this vast territory, although it is true that there were more settlements in the central and southern part of the country, it is also possible to find some archaeological remains in the north.
… Read More
Read More »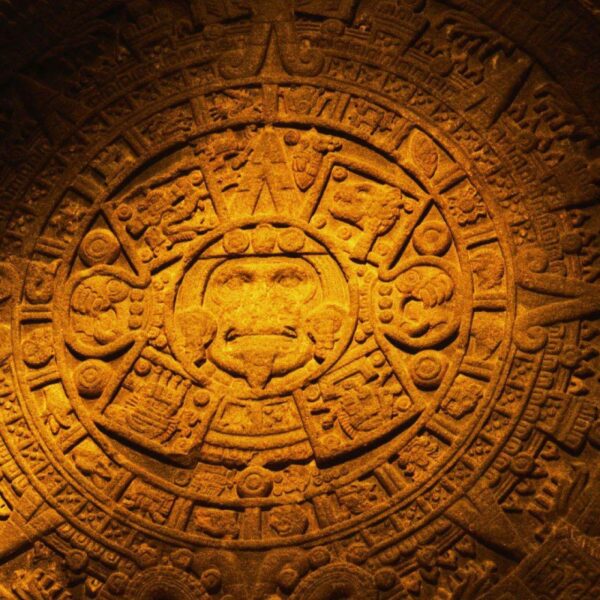 Mexico has an incredible diversity of landscapes, where the beauty of its beaches, internationally recognized, stands out. In its vast territory of coasts, there are beaches of unparalleled beauty, and colorful landscapes. A large network of first-class hotels and tourist services is available to visitors to these beaches. Mexico is also mystical places, dotted with archaeological testimonies inherited from its original inhabitants. Monuments made by the Mayas, Aztecs and Toltecs are located in magical landscapes, like lighthouses in an ocean of natural beauty. They offer visitors buildings that tell their history, and museums that collect their cultural heritage. And that keep alive ancestral traditions, in ceremonies and festivals, where you can enjoy cultural activities and entertainment.… Read More
Read More »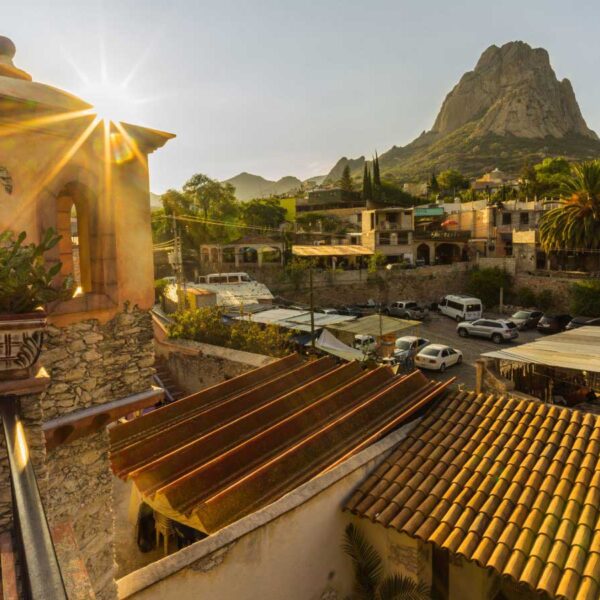 A Magical Town is a place with symbols and legends, towns with history that in many cases have been the scene of transcendent events for our country, they are places that show the national identity in each of its corners, with a magic that emanates from its attractions ; visiting them is an opportunity to discover the charm of Mexico. The Magical Towns Program contributes to revalue a set of populations in the country that have always been in the collective imagination of the nation and that represent fresh and varied alternatives for national and foreign visitors. A town that through time and in the face of modernity, has conserved, valued and defended its historical, cultural and natural heritage; and manifests it in various expressions through its tangible and intangible heritage. A Magical Town is a town that has unique, symbolic attributes, authentic stories, transcendent events, everyday life, which means a great opportunity for tourist use, taking into account the motivations and needs of travelers.… Read More
Read More »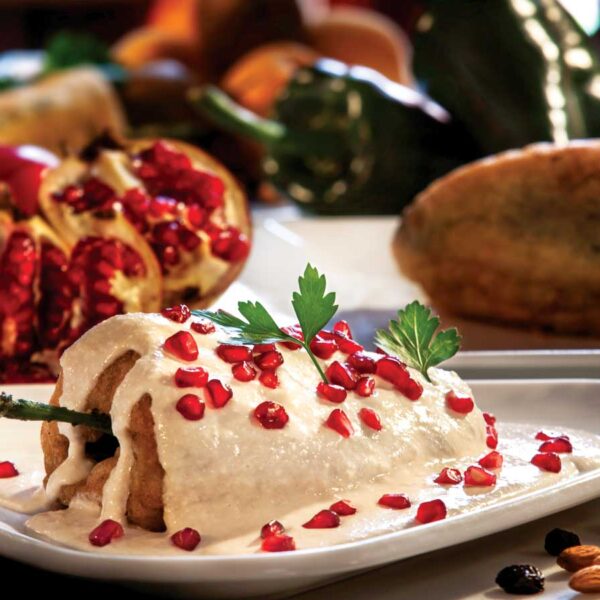 The Gastronomy of Mexico has a great diversity of typical dishes, which is why it was recognized by UNESCO as Intangible Heritage of Humanity. The basic and representative ingredients of Mexican dishes are: corn, coriander, chili, beans, piloncillo, nopal and tomato. Mexican cuisine is also characterized by its sauces, which serve as an accompaniment to traditional dishes, prepared based on spices.… Read More
Read More »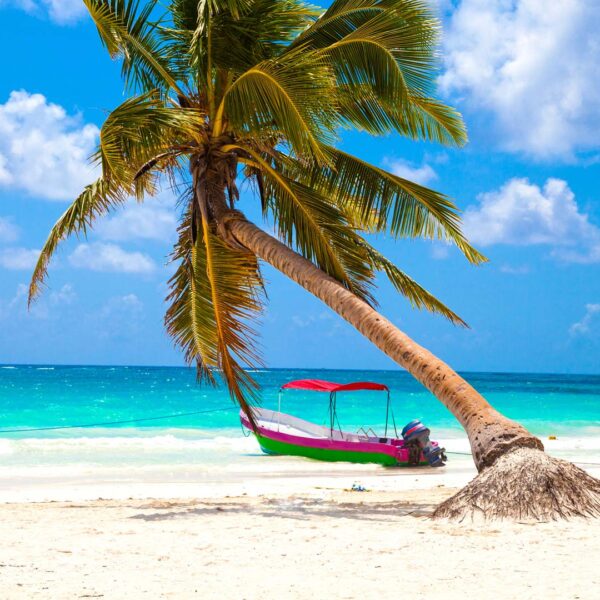 On the Beaches of Mexico you can immerse yourself in the intense blue ocean of the Pacific bays, sunbathe on the shore of the warm and transparent waves of the Caribbean Sea in Quintana Roo or even rest on the beautiful coasts of the Gulf of Mexico. Mexican beaches hide wonderful secrets for the traveler. By visiting them, in addition to enjoying the excellent climate and water activities, you can discover splendid archaeological sites and interesting colonial cities without traveling long distances.… Read More
Read More »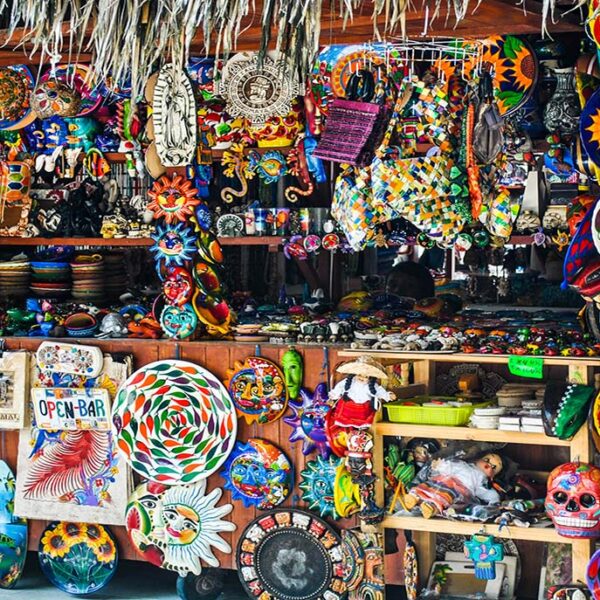 It is practically impossible to make a meticulous, and above all, accurate selection of the places to visit in Mexico. Each place that our country houses is unique and beautiful in its own way. Mexico, with its nearly 2 million km², has a large number of scenarios to offer, as well as endless activities to do. Do not lose your way and enter the places to visit in Mexico. In Mexico, apart from the beaches and its famous archaeological sites, there are many other really interesting sites and activities that you should know. In the surroundings of the main cities you will find places full of culture and tradition, where you can spend relaxing, interesting and fun vacations. On your trip through Mexico you cannot stop obtaining souvenirs, the crafts that are made here are of the highest quality and recognized worldwide. A shopping tour cannot be missed.… Read More
Read More »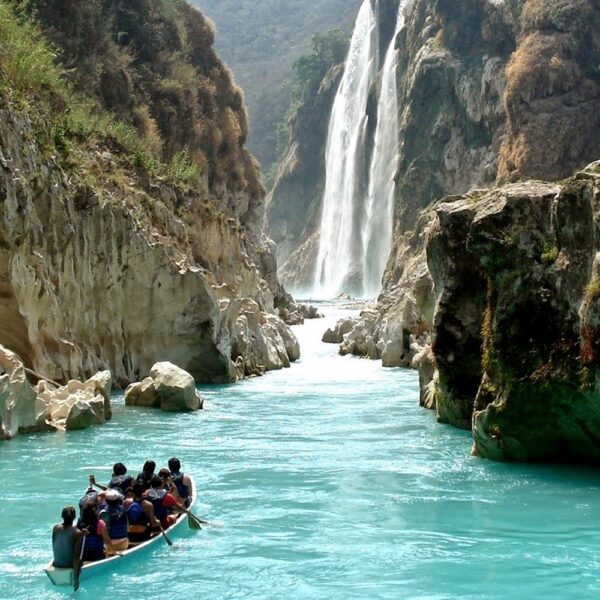 Mexico is one of the best countries for Ecotourism as it has a great variety of flora and fauna, as well as a large number of refuges for extraordinary species. You can enjoy recreational activities of appreciation and knowledge of nature through contact with it, such as: stargazing, observation of natural attractions, wildlife and bird watching. Throughout México there are more than 176 protected natural areas, 5 of them considered by UNESCO as Natural Heritage of Humanity. Just for this and much more, we believe that Mexico is a Paradise for Ecotourism.… Read More
Read More »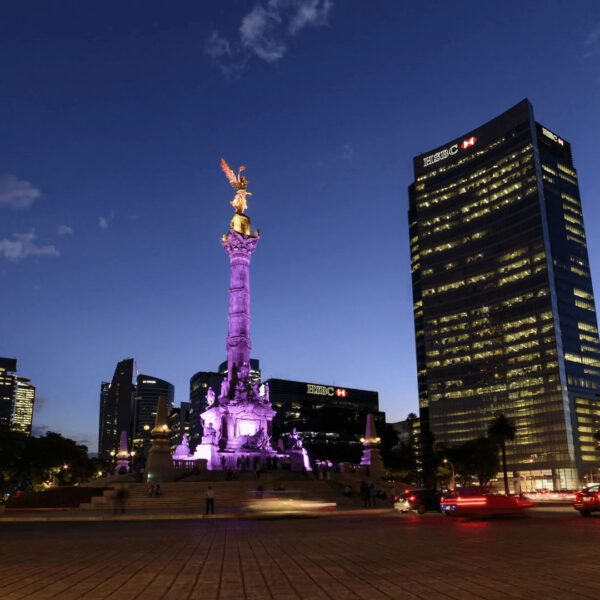 Folklore, gastronomy, literary culture, art and exhibitions, is what you will find in the capitals of the states of Mexico. To the north, colonial Mexico, Puebla, Guadalajara, Guanajuato, the Sonoran desert and the California peninsula. To the east Veracruz and the gulf. To the west Acapulco, Oaxaca and Tuxtla Gutiérrez. And to the south the Riviera Maya and the pyramids of Chichén-Itzá, Tulúm and Cobá in Yucatán, Palenque in Chiapas, the cenotes, and the Central American jungles.… Read More
Read More »