Tourism in SAN MIGUEL DE ALLENDE
The city was founded in 1542, this is one of the most beautiful colonial cities in Mexico. San Miguel has meant the careful conservation of the town's charming architecture and cobblestone streets, as well as its culture and traditions, and that is why it has become a UNESCO World Heritage site.
Besides it offers the warm and friendliness of the people, the charming small cafes, bars, haute-cuisine restaurants and unique nightspots blend into the beautiful streets of this cosmopolitan town.
San Miguel boasts more "fiestas" than any other Mexican town. There are religious, cultural or sports events; some of them include international performances like the International Jazz Festival and the Chamber Music Festival; and some others are traditional celebrations like the "Sanmiguelada" (Running of the Bulls), the National Brass and Wool Fair and the Holy Week, with a solemn procession of the Holy Burial, among others.
The weather is mainly temperate and dry and its average temperature oscillates between 16°C (60.8°F) and 22°C (71.6°F), with cold winters. San Miguel has become a haven for many foreigners, specially Americans and Canadians because of the excellent weather and the distinctively, remarkably comfortable, Mexican ambiance.

Tourist Attractions in SAN MIGUEL DE ALLENDE
Jardín Principal (Main Garden)
This square is well-known by visitors and residents as the heart of San Miguel de Allende. A nice place to relax on the wrought iron benches shaded by trees, in an atmosphere enriched by the harmonies of musicians who play in the central kiosk.
Casa de las Conspiraciones (Conspirations House)
This 17th century manor house belonged to Ignacio Allende's brother, Domingo Allende. Here, the insurgents held secret meetings to conspire against the viceregal government. It is privately owned and not open to the public.
This is a beautiful ecological reserve. Its name comes from a natural well squeezed at the bottom of a large ravine. There are scattered ruins of aqueducts and some other ancient hydraulic systems between brushes and thickets. It houses of one of the most comprehensive botanical gardens in Mexico with over 1,000 different types of cacti. Hours: Daily from 9:00 to 18:00 hrs.
Neoclassic style building. Its enormous wooden carved main door has beautiful baroque details. This is a wonderful example of the 18th century architecture. This magnificent building has been turned into a Cultural Center with a number of exhibitions. Hours: Monday to Friday from 9:00 to 18:00 hrs. Saturdays and Sundays from 10:00 to 18:00 hrs.
It is located in a venerable mansion built in 1735. Currently, the house is used as a cultural institute, which offers Spanish and art classes. There is also a gallery with exhibits by student artists.
A center of art and design with about 50 galleries, some antique shops, furniture stores, and a couple of restaurants and cafes. Hours: Daily from 11:00 to 18:00 hrs.
Plaza Cívica (Civic Plaza)
It was originally built in 1555 next to the Plaza de la Soledad, and the place was the hub of the town's activity during the colonial times.
Angela Peralta Theater
This beautiful neoclassic construction dates back to the 19th century.
Mirador de San Miguel de Allende (Viewpoint)
It is surrounded by property owned by the tenor Pedro Vargas. From this point, you can admire the splendor of the city.
Parque Benito Juárez and Lavaderos del Chorro
The park was designed in French style, with fountains, ponds, wrought iron benches, old bridges and wide pathways. There is also a playground, basketball courts and picnic areas. Right next to the park is an area known as Lavaderos, a place where people previously washed their clothes in a communal way.

Churches and Temples in SAN MIGUEL DE ALLENDE
Templo de San Francisco
Located in a small plaza, this temple has the most beautiful Churrigueresque façade in the city. San Francisco houses the Tercera Orden Chapel and the convent cloister. The interior has a neoclassical style with beautiful paintings.
Templo de la Inmaculada Concepción (Las Monjas)
The majestic convent was also built in 1755, and it is best known as "Templo de las monjas" (Nuns Temple). Its main feature is the two-story dome, a replica of the cupola at Les Invalides in Paris. Its interior is decorated with some work of the famous artist Miguel Cabrera. Nowadays it houses the Centro Cultural Ignacio Ramirez "El Nigromante" (National Institute of Fine Arts), which offers classes in painting, drawing, sculpture, music and dance. Some of the stunning murals in the courtyard were painted by the famous artist David Alfaro Siqueiros.
Parroquia de San Miguel Arcángel (San Miguel Arcangel Parish)
This spectacular church was built at the beginning of the 18th century with a Neogothic façade. The marvelous pink granite parish with a unique style has become San Miguel's most famous landmark. Its interior is decorated with paintings of the famous artist Juan Rodríguez Juárez and other remarkable artists of the colonial period. The back of La Parroquia on the left (east) side contains a small chapel and a crypt below the main altar design by Francisco Tresguerras, the famous artist, in 1786. The emperor Maximilian described the crypt as a place worthy of a king.
Atotonilco
Historical place where the priest Miguel Hidalgo having given the "grito" (shout) for independence in Dolores and rushing with a group of followers toward battle, took up the banner of the Virgin of Guadalupe as the insurgency's unifying coat or arms. The church is located just eight kilometers from San Miguel de Allende. The sanctuary built between 1740 and 1748, is an exceptional work of art in a baroque style and it has been named UNESCO World Heritage Site.
The walls and ceilings of the interior are nearly entirely covered in mural work, sculpture, inscriptions and oil paintings in a style called Mexican folk Baroque, most of the mural work was done by Miguel Antonio Martínez de Pocasangre, ver a period of thirty years. This mural work has led the complex to be called the Sistine Chapel of Mexico. On the south side there are six annexes of note, but the most important are: the Chapel of the Holy Burial (1763), Our Lady of the Rosary and its chamber (1766) and the Calvary Chapel (1774-1778). Hours: Monday to Sunday from 10:00 to 18:00 hrs.
Templo de Nuestra Señora de la Salud (Church of Our Lady of Health)
This temple dates back to the 18th century, and it has a Baroque façade with its huge shell shape carved in stone. The dome is covered with yellow and blue tiles. Inside, one can appreciate paintings and other pieces of sacred art.
Oratorio de San Felipe Neri
The enormous building was constructed in 1712. Its pink quarry façade is a beautiful and original example of baroque architecture, and its interiors contain beautiful neoclassic altars as well as works of art by Miguel Cabrera. It is a very interesting building because of its incredibly ornate décor with the walls covered with China, Valenciana and Puebla talavera tiles, along with beautiful baroque altarpieces.
Templo de San Rafael
It was built in the 18th century. The interesting architectural component is the bell that is in imitation Moorish style.

Museums in SAN MIGUEL DE ALLENDE
This baroque style colonial house dates back to the 18th century and was the birthplace of insurgent hero, Don Ignacio Allende y Unzaga. It currently houses the Historic Museum which exhibits archaeologi- cal artifacts, historical documents from the city's founding, works of contemporary art and of course a tribute to the man himself. Open Tuesday to Sunday from 9:00 to 17:00 hrs.
A museum of Mexican folk toy, with over 1,000 toys on display from various states such as Oaxaca, Chiapas, Guerrero, among other places. Hours: Wednesday to Saturday from 10:00 to 18:00 hrs. Sundays from 10:00 to 15:00 hrs.
The cultural center of the National Institute of Fine Arts has di- fferent exhibitions in the galleries on the ground floor. It is housed in a beautiful colonial building with a large central courtyard and fountain. Make sure not to miss the mural by David Alfaro Siqueiros. Hours: Monday to Saturday from 10:00 to 18:00 hrs. Sundays from 10:00 to 14:00 hrs.
This museum has a unique display of over 500 Mexican ceremonial dance masks. The gallery has more than 300 masks on sale.

Map of SAN MIGUEL DE ALLENDE

More Tourist Attractions in GUANAJUATO
Magical Towns
Guanajuato is one of the most picturesque and historic states in all of Mexico. If you are planning a visit in these directions, we recommend that you start with one of these Magical Towns. All of them will surprise you with their gastronomy, architecture and variety of cultural activities. It is not necessary to travel to another country to see a world completely different from yours. Proof of this are the Magic Towns of Guanajuato, they have everything, history, gastronomy, colors, folklore, but above all, human warmth that awaits you on your next visit.… Read More
Read More »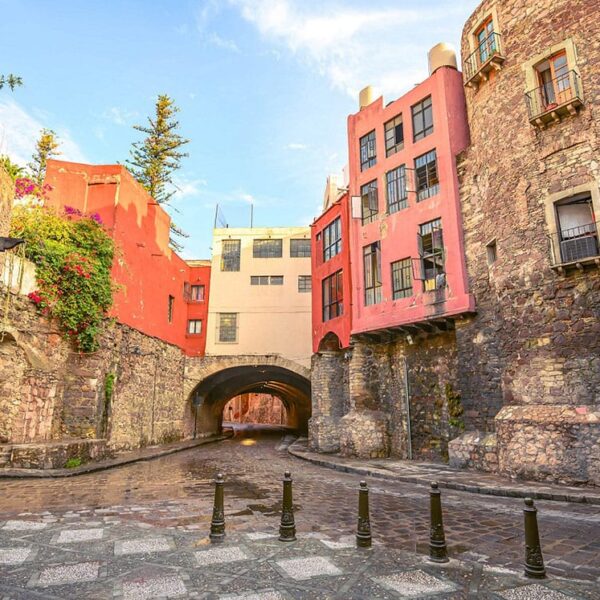 Capital City
Guanajuato, is the cradle of Independence, and invite us to stroll along the romantic cobblestone streets full of legends and history. The pied pipers call themselves estudiantinas. They wander the city, playing traditional music, singing old favorites, telling the city's stories and giving this magic atmosphere of this unique place. Once one of the greatest mining cities in Mexico, Guanajuato has a rich history and it is a UNESCO World Heritage site. The setting of the city is very beautiful: it stands in a narrow gorge amid wild and striking scenery. The whimsical trace of its streets, its peaceful squares, gardens, "estudiantinas" (strolling student minstrels), and the beauty of its houses and buildings give to Guanajuato a magic ambiance and an evocative and romantic touch.… Read More
Read More »

Guided Tours in SAN MIGUEL DE ALLENDE

Flights & Hotels in SAN MIGUEL DE ALLENDE

More Tourist Attractions in MEXICO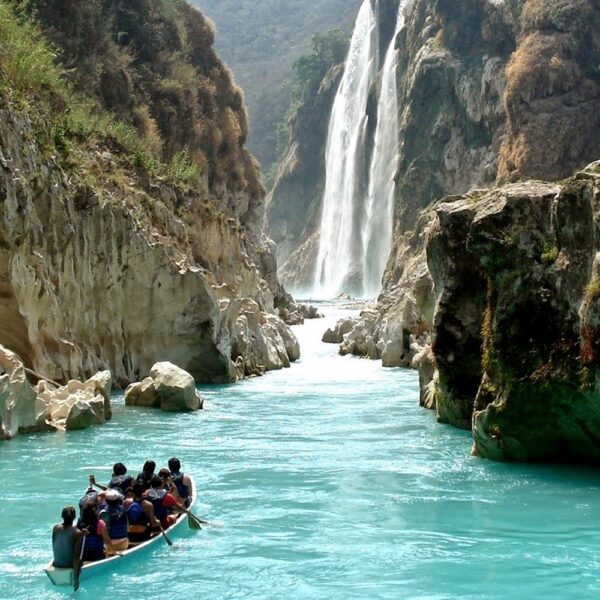 Mexico is one of the best countries for Ecotourism as it has a great variety of flora and fauna, as well as a large number of refuges for extraordinary species. You can enjoy recreational activities of appreciation and knowledge of nature through contact with it, such as: stargazing, observation of natural attractions, wildlife and bird watching. Throughout México there are more than 176 protected natural areas, 5 of them considered by UNESCO as Natural Heritage of Humanity. Just for this and much more, we believe that Mexico is a Paradise for Ecotourism.… Read More
Read More »