Once one of the greatest mining cities in Mexico, Guanajuato has a rich history and it is a UNESCO World Heritage site. The setting of the city is very beautiful: it stands in a narrow gorge amid wild and striking scenery. The whimsical trace of its streets, its peaceful squares, gardens, "estudiantinas" (strolling student minstrels), and the beauty of its houses and buildings give to Guanajuato a magic ambiance and an evocative and romantic touch.
Guanajuato, is the cradle of Independence, and invite us to stroll along the romantic cobblestone streets full of legends and history. The pied pipers call themselves estudiantinas. They wander the city, playing traditional music, singing old favorites, telling the city's stories and giving this magic atmosphere of this unique place.
Theater, dance, and musical performances abound in the city, as well as museums and galleries. The first three weeks in October Guanajuato celebrates the "Festival Internacional Cervantino", the most important festival in Latin America. It features high-level performers and artists from 36 countries, they present different expressions of art like opera, drama, and dancing. Mimes and jugglers are a common sight, and strolling minstrels guide visitors along the city's winding, narrow streets, their joyful music carrying above high colonial walls.
Temperatures in the winter drop to about 7ºC (45ºF) with mild temperatures in the summer rising to 26ºC (80ºF).

Tourist Attractions in GUANAJUATO CITY
This is a magnificent Neoclassical building constructed from 1798 to 1809. This granary was the scene of crucial events during Independence war. Today the Alhóndiga houses a museum which exhibit important collections which trace the evolution of Mexico since the pre-Hispanic period. Open Tuesday to Saturday from 10:00 to 14:00 and from 16:00 to 18:00 hrs. Sunday from 9:00 to 15:00 hrs.
Palacio Legislativo (State Congress Palace)
It was built in 1903 and inaugurated by President Porfirio Diaz. Its façade is neoclassical and its interior shows Art Nouveau influence.
Calle Subterránea Miguel Hidalgo (The Underground Street Miguel Hidalgo)
This underground street has become a symbol for the city. Following the course of the old Guanajuato River, it runs nearly three kilometers beneath the city. Its lay out was adopted according to its natural configuration and the large stoned arches were kept as they were; they are today one of its main attraction.
Designed by the architect Francisco Eduardo Tresguerras, this mansion is considered one of the purest examples of neoclassical architecture in Mexico.
In 1732 was originally used as a hospice, in 1744 it acquired the school rank, and since 1945 the school was elevated to the rank of University. This beautiful neoclassic building of green quarry stone is characterized by its impressive outdoor staircase with a wonderful panoramic view of the city.
Puente del Campanero y cuesta del Tecolote (Bell Ringer Bridge and Tecolote Slope)
It is a small colonial bridge in the downtown area with a curious history, it connects two houses by the windows. The Campanero street is surrounded by restaurants, cafes and hostels is surrounded by restaurants, cafes and hostels.
Jardín del Cantador (Park of the Singer)
A lovely 19th century park enclosed within a wrought-iron fence and pink stone columns. There are multiple entrances, all of which lead through walking paths, stone fountains and a nice gazebo.
Jardín Unión
A beautiful triangular- shaped park located in the center of the city, surrounded by cafes and restaurants.
Funicular Panorámico Pípila (Panoramic Funicular)
This ride is an spectacular way to enjoy the city. The Funicular stations are just behind the Juarez Theater and at the top of the mountain where the statue of the "Pipila" is located. Open Monday to Saturday from 9:00 to 22:00 hrs. Sunday from 10:00 to 21:00 hrs.
Callejón del Beso (Alleyway of the Kiss)
A romantic alcove created by two balconies separated only by 69 centimeters (27 inches), full of legends. It is said that couples who kiss while standing on the third stair are guaranteed seven years of happiness.
Callejón de la Condesa (Alley of the Countess)
Beautiful and unique alley with an interesting legend.
Mines
There are many mines to see in Guanajuato, some of them are: The Experimental Mine El Nopal, it is dedicated to educating residents and visitors and providing guided tours. The Rayas Mine, discovered in 1550, this was the first mine and one of the richest in Guanajuato, its 1400 foot mineshaft is considered one of the longest in the world.
Guadalupe de Cata Mine, this mine is the site of a lovely church built in the 17th century. Garrapata (The Tick) Mine, an old construction in the middle of mountains and hills. The Valenciana Mine, this was the most productive mine in the city, and it is still in operation.
It is located just 13 km (7 miles) from Guanajuato and combines culture, education and entertainment. This recreational space has approximately 14.5 acres and it is a magnificent venue for all kind of educational and cultural activities.

Churches and Temples in GUANAJUATO CITY
Basílica de Nuestra Señora de Guanajuato (Basilica of Our Lady of Guanajuato)
A baroque constructions of the 17th century. In the interior there is a statue of the Patron Virgin of the city which was a gift from King Charles I of Spain in 1557. The Mariana Gallery has five different rooms filled with sacred art of the colonial period.
Iglesia de San Francisco
Located very near from the Juarez Theater, the beautiful edifice was built with pink quarry rock in 1728.
It was built in 1775 with a Churrigueresque façade. The interior has beautiful altarpieces.
Its construction began in 1747 and ended in November of 1765. It is the biggest temple in the city with a splendid churrigueresque façade. The sacristy houses important pictorial works with a collection from the 17th to the 19th century with painters like Miguel Cabrera.
Templo de San Cayetano o de la Valenciana
This Churrigueresque church, built of pink quarry stone in 1788, features three wooden altarpieces covered in gold leaf.
Templo de Mineral de Cata
Built in 1725 displays a wonderful Barroque facade.
Templo de San Diego
This is an important example of Churrigueresque architecture in Guanajuato. It was built between 1756 and 1784.

Museums in GUANAJUATO CITY
Located in a magnificent 18th-Century residence, this is one of a kind museum. It exhibits a collection of more than 800 pieces: paintings, prints, drawings, tapestries, coins, sculptures, and porcelain artwork dedicated to Don Quijote, the famous Spanish fictional character. Hours: Tuesday to Saturday 9:30 to 18:45 and Sunday 12:00 to 18:45 hrs.
This museum is located in a 17th century building and exhibits art from the eighteenth and nineteenth centuries and a unique collection called Art in Miniature. The building has a Churrigueresque chapel decorated with murals painted by the artist José Chávez Morado and serves as an auditorium for conferences and concerts. Open Tuesday to Saturday from 10:00 to 19:00 hrs. Sunday from 10:00 to 15:00 hrs.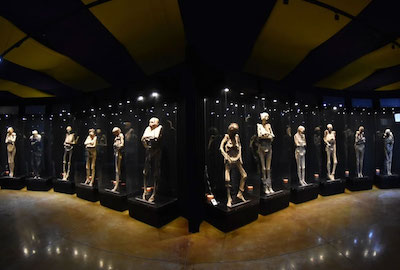 On display are 119 mummified bodies and 4 heads which have been preserved in perfect condition as a result of the high mineral content of the soil. Hours: Monday to Thrusday 9:00 to 18:00 hrs. Friday to Sunday from 9:00 to 18:30 hrs.
The internationally renowned muralist Diego Rivera was born in this colonial house. A collection of near 175 original paintings are on display. You can also visit the mini stamp collection, which has works by renowned artists such as José Luis Cuevas, among others. Open Tuesday to Saturday 10:00 to 19:00 hrs and Sunday 10:00 to 15:00 hrs.
Museo de Mineralogía (Mineralogy Museum)
This museum houses one of the finest mineralogy collections. It has 20.450 different mineral samples from all over the world on display, one of the largest collections of any museum of its kind. Open Monday to Friday 8:00 to 18:00 hrs.
A guided tour of a "haunted house", which relives the horror stories of those who lived there, and of those who allegedly still live there. Open Monday to Sunday from 11:00 to 18:00 hrs.
Located in the ex Hacienda, a magnificent building of the 17th century. The property houses an art collection devoted to the culture and art of the Guanajuato region. There are paintings, antique furniture, handcrafted lanterns and sculptures. Today it is a cultural center. Open Monday to Saturdaty from10:00 to 15:00 hrs. Enjoy the nice concerts on Sunday at 13:00 hrs.
Museo de la Santa Inquisición o del Purgatorio (Holy Inquisition Museum)
It exhibits instruments of torture and old torture chambers used by the Spanish inquisition, as well as representations of the dungeons and robes of religious dedicated to the "Holy Office". Open daily from 10:00 to 19:00 hrs.
An interesting exhibition of the region's animals and plants from the 19th century, on the grounds of the University of Guanajuato. Open Monday to Saturday from 10:00 to 18:00 hrs. Sunday from 10:00 to 14:00 hrs.
Museo Ex Hacienda San Gabriel de Barrera
This museum exhibits furniture and painting from the 17th century. The beautiful hacienda also has a cafe restaurant and a handcraft store definitely worth a visit. Hours: Mondaty to Sunday from 9:00 to 16:00 hrs.
One of the most beautiful theaters in Mexico built between 1872 and 1903. The façade is Doric-Roman and it also has a hall smoker (foyer) style art nouveau.
It is a new concept in wax museums, with figures made by Victor Hugo Yáñez that will surprise the visitor with their hyper-realism. It displays pieces that represent the history of Guanajuato, Diego Rivera and Frida Kahlo, Sor Juana Ines de la Cruz and John Paul II, traditions of Guanajuato and, of course, cinema and terror. Open from Monday to Sunday from 9:00 to 18:00 hrs.
Museo Dieguino (Ex-Convent Dieguino Museum)
It exhibits the history of the city during its four and a half centuries of existence, as well as the religious architecture during the 17th century. Hours: Daily from 10:00 to 18:00 hrs.
Originally the home of these two internationally renowned artists, now it houses a large collection of their paintings and works of art of the 16th to 19th century. The 16th Century building exhibits a collection of furniture and some pre-Hispanic pieces, as well. Hours: Tuesday to Saturday 10:00 to 18:00 hrs. Sundays from 10:00 to 15:00 hrs.
An old hacienda that takes you back in time. This entrance leads into the Valenciana, the most important mine of the viceroyalty period. You can go down up to 60 meters and see the silver mother lode, the richest in the world during the 16th century. There is an exhibit of minerals and some work tools used in mines. Open Monday to Sunday from 10:00 to 19:00 hrs.
Brings to life Guanajuato ́s legends with life-like animated replicas of the city's tragic and humorous myths. The visitors could know at first hand the most famous histories and legends of Guanajuato. Open Monday to Sunday from 11:00 to 18:00 hrs.
Pinacoteca del Templo de La Compañía (Art Gallery at the Church of La Compañía de Jesús)
Built from 1747 to 1765, it houses an important collection of paintings and vestments, recently restored, from the seventeenth, eighteenth and nineteenth centuries. Open Tuesday to Saturday from 11:00 to 18:00 hrs and Sunday from 11:00 to 15:00 hrs.


More Tourist Attractions in GUANAJUATO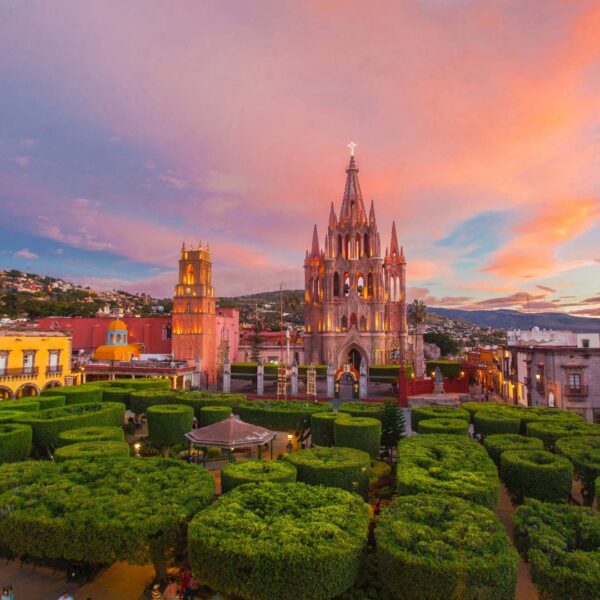 Interesting Sites
San Miguel de Allende was founded in 1542, this is one of the most beautiful colonial cities in Mexico. San Miguel has meant the careful conservation of the town's charming architecture and cobblestone streets, as well as its culture and traditions, and that is why it has become a UNESCO World Heritage site. Besides it offers the warm and friendliness of the people, the charming small cafes, bars, haute-cuisine restaurants and unique nightspots blend into the beautiful streets of this cosmopolitan town. San Miguel boasts more "fiestas" than any other Mexican town. There are religious, cultural or sports events; some of them include international performances like the International Jazz Festival and the Chamber Music Festival; and some others are traditional celebrations like the "Sanmiguelada" (Running of the Bulls), the National Brass and Wool Fair and the Holy Week, with a solemn procession of the Holy Burial, among others.… Read More
Read More »
Magical Towns
Guanajuato is one of the most picturesque and historic states in all of Mexico. If you are planning a visit in these directions, we recommend that you start with one of these Magical Towns. All of them will surprise you with their gastronomy, architecture and variety of cultural activities. It is not necessary to travel to another country to see a world completely different from yours. Proof of this are the Magic Towns of Guanajuato, they have everything, history, gastronomy, colors, folklore, but above all, human warmth that awaits you on your next visit.… Read More
Read More »

Guided Tours in GUANAJUATO

Flights & Hotels in GUANAJUATO

More Tourist Attractions in MEXICO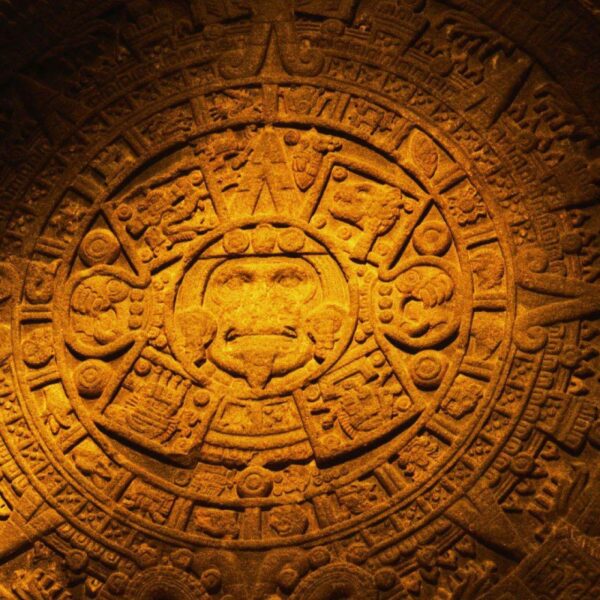 Mexico has an incredible diversity of landscapes, where the beauty of its beaches, internationally recognized, stands out. In its vast territory of coasts, there are beaches of unparalleled beauty, and colorful landscapes. A large network of first-class hotels and tourist services is available to visitors to these beaches. Mexico is also mystical places, dotted with archaeological testimonies inherited from its original inhabitants. Monuments made by the Mayas, Aztecs and Toltecs are located in magical landscapes, like lighthouses in an ocean of natural beauty. They offer visitors buildings that tell their history, and museums that collect their cultural heritage. And that keep alive ancestral traditions, in ceremonies and festivals, where you can enjoy cultural activities and entertainment.… Read More
Read More »