ECOTOURISM AND ADVENTURE IN ACAPULCO
Acapulco as well as different destinations in Mexico have decided to have a new vision and be part of a positive change by being sustainable tourist destinations; In other words, each destination now seeks to reduce the impact it generates on the environment and above all to generate benefits for the host communities.
Ecotourism consists of visiting natural areas without disturbing them and thereby achieving the preservation of heritage and the awareness of visitors. Acapulco has always been characterized as being preferred by national and foreign tourists due to its paradisiacal beaches and various attractions, however it has a vast biodiversity. It should be noted that Guerrero is in the 4th national place in this area.
If we mix the great offer of meetings and the biodiversity that the destination has, surely any event held in Acapulco will be unmatched.

Scuba Diving and Snorkel in ACAPULCO
The underwater landscape of Acapulco has a wide diversity that includes caves, walls, sunken ships and rocky reefs. November to May is considered the best season to dive because the sea conditions in the Pacific are calmest and the pelagic species are most easily seen during these months, beside divers have the chance of spotting the rare whale shark or even a migratory whale; however, visibility is not very good for the plankton blooms.
The average water temperature is approximately 24ºC (75ºF). The visibility changes from one day to another because of the water currents, though the average visibility is from 18 to 38 feet (5 to16 meters). June to October the visibility is at its peak and the water warms significantly, reaching 75ºF (24ºC), especially during August and September. There are about 20 or so sites, for every level of diver, but the best spots are:
El Bajo
Depth: 8 mts – 50 mts. (15 ft – 150 ft). It is located just one kilometer from La Quebrada the site of the famous cliff divers performance. It a huge rock formation covered with corals, mollusks and nudibranchs, among others. The peak of the mountain is located about 8 mts. (15 ft.) deep and extends to a depth of 50 m. (150 ft.). You can dive at different depths through different geological areas of the wall. It is highly recommended for those who like photography for its great biodiversity.
Depending on the visibility and the current. You'll find a huge school of fishes, green moray, boxfish, octopus, ballonfish and sometimes when it's season humpback whales and whale sharks.
Casa de Fabbri
Depth: 5 mts – 30 mts. (15 ft – 100 ft). It is a unique place with rock formations in the shape of pyramids and you can see a lot of fish at different depths. Only for Certified Divers with some experience.
Siete Pulpos (Seven Octopuses)
Depth: 15 mts – 26 mts. (45 ft – 78 ft). In this site there are nice canyons and rock formations that reach a depth of up to 20 m (60 ft.). You can find a great variety of species among which are various nudibranchs and seahorses. Is a site for certified divers.
Casa del Árabe (Arab's House)
Depth: 10 mts – 16 mts. (30 ft – 48 ft). This site has a sandy bottom with some rock formations. It is ideal for drift diving and beginners. It's perfect for snorkel.
Los Suizos (The Swiss)
Depth: 5 mts – 15 mts. (15 ft – 50 ft). It is a place for drift diving and you can observe different rock formations, eagle rays, turtles, octopuses and large schools of fish.
El Canal (The Channel)
Depth: 10 mts – 20 mts. (30 ft – 60 ft). It is located the channel between the coast and the Roqueta Island. Depending on the season the current can be strong and you can have a drift dive. Not uncommon to see schools of fish among the rock formations.
Palmititas
Depth: 3 mts – 10 mts. (9 ft – 30 ft). It is an ideal place for beginners and for snorkeling. In this site you can find some parts of a sunken ship.
Palmitas
Depth: 8 mts – 12 mts. (25 ft – 40 ft). A great shallow dive or snorkel site with sandy bottoms and small formations of coral, eagle rays, mottled moray eels and butterfly fish, among others. It is ideal for beginners and usually done as a second dive for certified divers.
El Rincón (The Corner)
Depth: 5 mts – 15 mts. (15 ft – 45 ft). This is an exciting site with artificial reefs and a tunnel where a large number of fish live. Divers of all experience levels can enjoy this place and it is also a nice option for snorkeling.
El Jardín (The Garden)
Depth: 8 mts – 15 mts. (24 ft – 45 ft). This site offers easy dives that start on shallow, sandy bottoms with gradual descents over hard and soft corals that are ideal for beginners and snorkeling. Here you will find eagle rays, surgeons, spotted moray eels, butterfly fish, turtles and balloon fish, among others. Usually done as a second dive.
El Guano
Depth: 15 mts – 40 mts. (45 ft – 120 ft). It takes its name from the rock totally covered with "guano" (accumulated excrement of seabirds). This is a site with strong currents and great visibility recommended for experienced divers. The site offers a great diversity of underwater life and you can easily see eagle rays, snappers, schools of tarpons, surgeons and barracudas. During the winter months is not unusual to spot stingrays, whale sharks and some humpback whales.
Las Cuevas (The Caves)
Depth: 10 mts – 40 mts. (30 ft – 130 ft). This is a site only for Advanced Certified Divers with experience in drift and current dives with many swim through tunnels and caves where you can expect to see an array of marine creatures like eagle rays, stone fish, octopuses, mottled and green moray eels, mackerels, snapper and stingrays, among others. This site is a photographer's paradise. It is highly advisable to dive early in the morning for the strong currents.
El Bufadero
Depth: 5 mts – 40 mts. (15 ft – 120 ft). It is a place with huge rock formations and a great marine diversity. The current is very strong so it is only for experienced divers.
Marina & Labyrinth
Depth: 5 mts – 30 mts. (15 ft – 100 ft). You can only dive in this site from October to May when the waters are shallow and it is only for experienced divers with a guide as there are several canyons where the divers can get lost. However, is a good place for snorkeling on the surface.
Hawaii
Depth: 5 mts – 27 mts. (15 ft – 80 ft). This site is available only when the conditions are acceptable; it has strong currents and is only for advanced divers. Dive along some huge rock formations and you can spot abundant marine life.
Reina de los Mares o la Virgen (Queen of the Seas or the Virgin)
There is an underwater-stylized sculpture of the Virgin of Guadalupe placed in the bottom of the sea near the islet of the Yerbabuena. The bonze statue is more tan eight feet and weight almost a thousand pounds. There are numerous glass bottom small boats, allowing you to observe the sea life as well as a submerged statue of the Virgin.
Boca Chica
Depth: 8 mts – 20 mts. (24 ft.) (60 ft.). It is located in a small bay, so it is also a good place for snorkeling.
SDA Beach
Depth: 2 mts (6 ft.) – 14 mts. (42 ft.). It is an ideal site for night dives and for the beginner diver.
El Acapulco
Depth: 3 mts – 22 mts. (10 ft – 70 ft). This former American boat was sunk a few hundred feet from shore due to bad weather. This wreck diving site is interesting because the vessel is vertical and the bow remained just below the surface.
Corsario(Privateer)
Depth: 5 mts (15 ft.) – 15 mts. (45 ft.). This is of the most popular dive sites in Acapulco, where you can explore the wreck of a luxury yacht. The boat crashed into rocks in 1950 and today you can dive thought the skeleton, the unique rock formations and a multitude of fish.

Río de la Plata
Depth: 15 mts – 30 mts. (45 ft – 90 ft). This is another wreck diving site. This boat was Argentinian and sank in 1944 after catching fire; with time it has transformed into a habitat for an array of species. It is a site for experienced divers where it is recommended to go with local divers. This area is teeming with school of tarpons, grunts and eagle rays.
Punta Bruja
Depth: 10 mts – 35 mts. (30 ft – 115 ft). The wall terraces and rocky formations allows for great dive at your desired depth. The wave-carved granite cliffs are the refuge of a great amount of fish, anemones and sea stars.
Punta Sirena
It is a small secluded cove with the sandy bottom. This site is rarely visited because the currents can be very strong. The landscape is similar to "Las Cuevas" in the Roqueta Island and you can find an enormous variety of fish and invertebrates. The maximum depth is 40 m (130 ft.).
Morro de Puerto Marqués
The dive site is located just off shore, about 600 feet from the cost in the bay of Puerto Marques. It is an interesting place to dive with rock formations that form small caves, as well as massive richly colored sponges, giant sea fans and teeming with a large array of marine life.
Piedra Gallo
Only very experienced divers should attempt to dive here. The wave action here is powerful most of the year, and diving can be done only with extreme caution. The depths between 49 to 65 feet highlight an abundance of marine life. It is one of the best places in Acapulco for underwater photography.
The diving conditions can change very fast; the visibility can vary widely and shift abruptly in minutes. The best season to visit is from November to January very early in the morning.

One of the best places for fishing in the Pacific coast all year round, although the best time of the year to go fishing goes from December to August.
For deep-sea fishing, sailfish abounds during December to January, and during June and July; the black marlin in January, May, and December; the blue marlin and the yellowfin tuna in August and from November to January; wahoo in January, February, November, and December; grouper, snook, barracuda, Spanish mackerel, bonito, pompano, shark, red snapper, and other species abound all year long.
The Coyuca Lagoon and Tres Palos Lagoon are just perfect for freshwater fishing. Fishing trips can be arranged through your hotel, downtown at the "Pesca Deportiva" near the dock, across from the zócalo, or through a local tour operator.
Fishing Calendar in ACAPULCO

Surf
Playa Revolcadero and Playa Pie de la Cuesta, are some of the best places for surfing with waves ranging between two and eight meters high (six feet to twelve feet). Playa Revolcadero is a wide sand beach with the best-shaped waves and a sandy bottom, a nice place for beginners.
Playa Bonfil, the waves break all day all year round right and left, with a size of three to six feet during November to February, and five to ten feet from June to October; the waver are fast, powerful and has hollow sections and it has sandy bottom.
Kitesurf
If you want to kitesurf, there are different kite beaches, such as: Playa Revolcadero, Playa Bonfil, and Playa Barra Vieja. Usually the wind picks up in the afternoon after the 13:00 hrs.
Paddle Surf
The calm waters of Acapulco Bay are perfect for the Stand Up Paddle Board, a new sport that uses tables longer and wider than those used in the surf. It is an easy and enjoyable sport for the whole family that can be practiced along the bay, especially in the area of Roqueta Island, Pie de la Cuesta Lagoon and the Coyuca Lagoon.
Skimboard
This is a fun sport that is practiced in shallow waters and has become very popular in Acapulco in the recent years. You can skimboard all along the bay coast and the best time is during the afternoon.
Windsurf
Rentals are available in Playa Revolcadero and Playa Bonfil. Other places to practice this sport are: Playa Icacos, Playa Condesa and Playa Tamarindos are ideal for beginners.
Parasailing
This activity was invented in Acapulco and this is probably the best way you can admire the bay.
Sailing
Acapulco has a Yacht Club with all the services and the new International Marina, a megaproject with a Nautical Club, slips for 332 boats, and condominiums.
Water Sports
Waterskiing, it was virtually invented in Acapulco; beginners will love the gentle waters of the Pie de la Cuesta Lagoon and Puerto Marques. Swimming, the beaches along the bay are all wonderful, but Caleta, Caletilla, Hornos and Roqueta Island beach are the best for swimmers. Other sports, banana rides, jet ski and motor boat rides are available at most of the beaches along the bay.
Kayak
One option is Lagoon for nature lovers, though you can also kayak along the bay.
Zipline
Xtasea, is a breathtaking outdoor attraction. An over-water zip line more than 1968 yards long that will let riders reach speeds of up to 74.5 mph at an altitude of 328 feet. The zip line crosses Puerto Marquez Bay and is the world's longest ziplines suspended over water.
It is also the only zip line that offers six completely different experience for riders: the traditional flight, ride with a partner, sitback in a chair-style harness and enjoy the landscape, you can have a thrilling zip line tour in the dark during the night, you may try a hammock chair suspended on a zip-line over the ocean, or if you are really adventurous you can try a stunning 65 feet high jump.
Tennis
The destination is home to the Mexico Open tennis tournament, an ATP World Tour 500 event. The tournament brings together the world's best players. There are several tennis academies open to the public, and excellent facilities in several hotels.

More Tourist Attractions in GUERRERO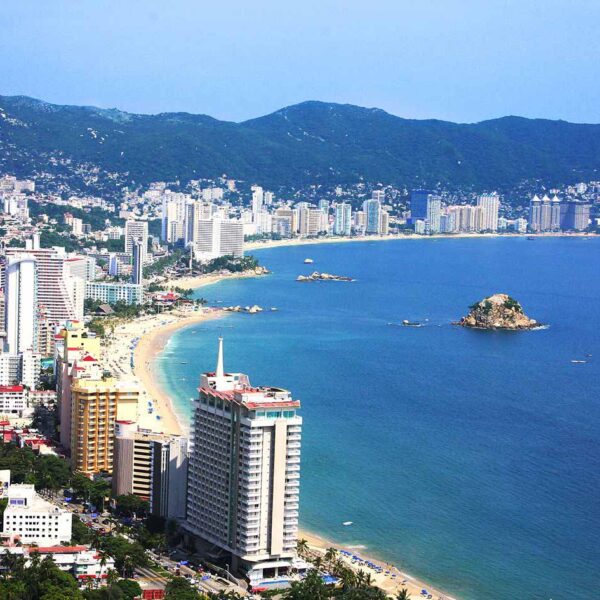 Beaches
Blessed by warm waters and sunshine 365 days a year, gorgeous beaches, a scenery of unrivaled beauty, and hospitable, friendly people, Acapulco offers a casual, relaxed atmosphere. It has one of the most stunning bay views offered by any coastal resort. In Traditional Acapulco, you can stroll along the Malecón or the newly remodeled fisherman's walk and the Zócalo. Visit the cathedral, gazebo, bookstands, street vendors and sidewalk cafés surrounded by barnyard trees. This area is for those who are in search of nostalgia and an authentic encounter with the classic beach destination where to live with the locals. In contrast, Zona Dorada features a multitude of hotels, exotic nightclubs, glitzy restaurants, art galleries, jewelry stores, boutiques, shopping malls and traditional markets with all sorts of handicrafts.… Read More
Read More »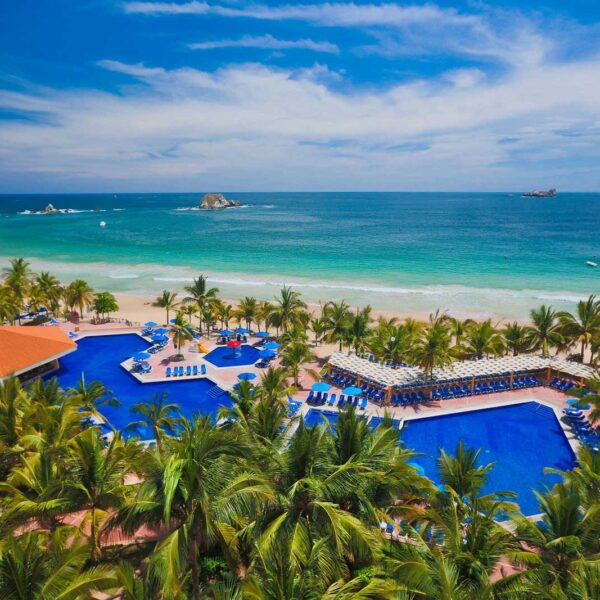 Beaches
Ixtapa is one of Mexico's most compact planned resorts created in the 1970s, with a hotel strip along the Playa del Palmar, a two- mle long stretch of beautiful white sand. Here you will find world-class resorts equipped with enough restaurants, pools, and activities to keep families occupied for weeks. There is also a pair of golf courses and a modern marina with slips for 600 vessels and upscale seafood restaurants. Ixtapa also offers shopping malls, excellent boutiques, jewelry stores, handicraft shops and a nautical atmosphere.… Read More
Read More »
Ecotourism and Adventure
In Ixtapa-Zihuatanejo you will enjoy all water sports… ski, parachute ride, snorkeling, scuba diving, jet-ski, banana boat ride, sail-boards, surfing and many, many more. Sports available on Playa La Ropa, Playa Las Gatas, Playa El Palmar and Playa Linda beaches and also at the Island. Of course, you don't need to rent anything to have a fun time swimming, jogging, playing beach volleyball or soccer, among the many other activities that you can do in Ixtapa-Zihuatanejo.… Read More
Read More »

Guided Tours in ACAPULCO​

Flights & Hotels in ACAPULCO

More Tourist Attractions in MEXICO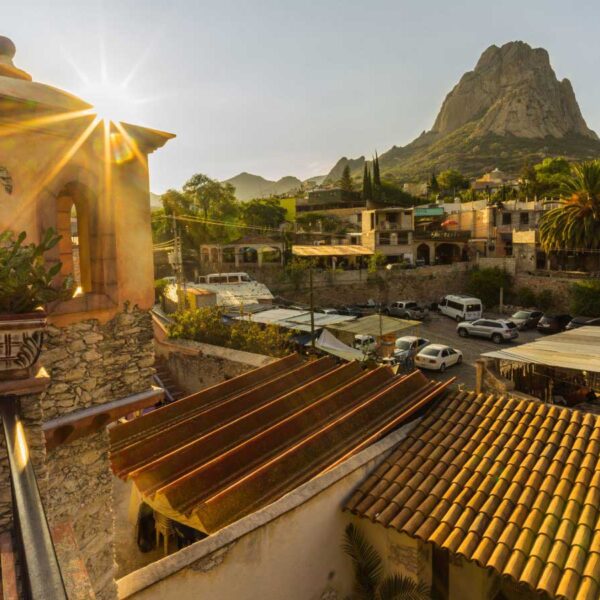 A Magical Town is a place with symbols and legends, towns with history that in many cases have been the scene of transcendent events for our country, they are places that show the national identity in each of its corners, with a magic that emanates from its attractions ; visiting them is an opportunity to discover the charm of Mexico. The Magical Towns Program contributes to revalue a set of populations in the country that have always been in the collective imagination of the nation and that represent fresh and varied alternatives for national and foreign visitors. A town that through time and in the face of modernity, has conserved, valued and defended its historical, cultural and natural heritage; and manifests it in various expressions through its tangible and intangible heritage. A Magical Town is a town that has unique, symbolic attributes, authentic stories, transcendent events, everyday life, which means a great opportunity for tourist use, taking into account the motivations and needs of travelers.… Read More
Read More »