Tourism in IXTAPA-ZIHUATANEJO
You may think in Ixtapa-Zihuatanejo as the twin paradises, both towns are just a short drive from one another. This double destination has 16 miles of coast and satisfies totally different needs, from authenticity-seeking adventurers to languorous sun worshippers. Among the things this destination has to offer are: stunning white-sand beaches, crystal clear waters for all kind of water sports, luxury hotels, placid bays, and the taste of small-town Mexican life.
Ixtapa is one of Mexico's most compact planned resorts created in the 1970s, with a hotel strip along the Playa del Palmar, a two- mle long stretch of beautiful white sand. Here you will find world-class resorts equipped with enough restaurants, pools, and activities to keep families occupied for weeks. There is also a pair of golf courses and a modern marina with slips for 600 vessels and upscale seafood restaurants. Ixtapa also offers shopping malls, excellent boutiques, jewelry stores, handicraft shops and a nautical atmosphere.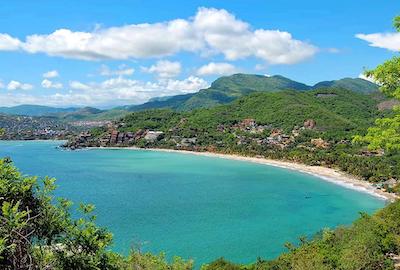 On the other hand, Zihuatanejo is a fishing village in a lovely bay that offers visitors the opportunity to see the more traditional side of Mexico. The original name was Cihuatlán which means "land of women" in nahuatl, because the social organization was a matriarchy. This place was a sacred sanctuary for the prehispanic nobility, and there are vestiges of very old civilizations as the Olmecs who lived 3000 B.C.
The quaint and pleasant village features single-story white houses and cobblestone streets lined with nightspots, shops, hotes, and restaurants that run the gamut from casual to ultraluxurious. This nice environment combine with the traditions and charm of local people, is always an invitation to get around the town. Visitors have the option to stay in one of the inviting little hotels in the center of town, or in one of the small luxury hotels nestled along its lovely beaches.
More than 150 restaurants offer plenty of delicious choices, but Zihuatanejo is the best place to try regional fish specialties like "Tiritas", made of thin fish strips marinated in lemon with red onions and sliced hot peppers, the regional favorite, the "pescadillas", "ceviche", fish and shrimp tacos, and "pescado a la talla".
The average temperature is 82 ̊ F and sunshine 300 days a year. Even during the June-September rainy season showers are brief and usually in the late afternoon or evening.
Ixtapa-Zihuatanejo is just three-hour drive from Acapulco and 40-minute flight from México City. The superhighway Century XXI that connects Ixtapa-Zihuatanejo with Morelia, Michoacán, conveniently facilitates quick access by car: from Mexico City in 6 hours, from Toluca, Querétaro and León in 5 hours, and from Morelia in only 3 and a half to 4 hours.

Map of IXTAPA-ZIHUATANEJO

Tourist Attractions in IXTAPA-ZIHUATANEJO
Ecotourism Park "La Chanequera"
Here you can take a tour aboard a trajinera through the estuary. The park is an ecological reserve that consists of 50 hectares covered with mangroves and is ideal for nature lovers to observe the birds, iguanas and crocodiles of the place. The water ride lasts approximately an hour and a half.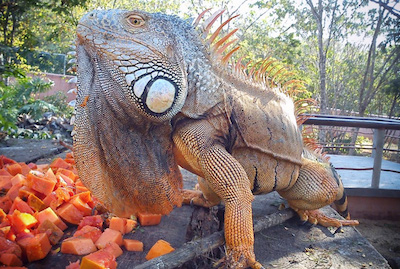 It is located in the low deciduous forest of the coastal region of Playa Blanca, about 25 kilometers from the tourist area of Ixtapa-Zihuatanejo. These forests are known for their high number of endemic species of plants, reptiles, mammals and invertebrates.
The ecological park has: a 15 meter high Panoramic View Observation Tower; a Tropical Path, where native plants can be seen on the interpretive trails; a Butterfly Farm, with ponds, streams and waterfalls; an Iguanario, with green and black iguanas; a Macaw Refuge, with a wild pond; and a Hummingbird Refuge, with abundant plants. Hours: Daily 9:00 a.m. to 5:00 p.m.
King of Kings
There is a bronze sculpture made with keys of a Christ submerged on the shores of the destination. It weighs approximately one and a half tons, has a height of 4 meters and is submerged in front of Playa Las Gatas.
Crocodile Reserve
Surrounded by lush vegetation, this lagoon-estuary next to Playa Linda is home to native wildlife, like iguanas, birds and the amazing crocodiles which can reach up to 6 meters (20 feet).
Museo Arqueológico de la Costa Grande (Archeology Museum)
This small but highly recommended archaeology museum has 6 rooms set around a central courtyard that illustrate human evolution from prehistory to pre-Hispanic era. It provides the most relevant information about the 54 archeological sites discovered in the "Costa Grande" area where there are traces of the Olmec, Teotihuacan, Tarascan and Mexica cultures. Schedule: Tuesday to Sunday from 10:00 to 18:00 hrs.
Parque Aventura (Adventure Park)
This is a ranch surrounded by lush vegetation with exotic animals in ther natural habitat. The adventure consists in a walk in the trees from 4 to 9 meters (13 to 26 feet) altitude, going threw by different techniques: a hung bridge, a liana, a footbridge, rocking trunks, to finish flying threw the trees by zip-line. Open daily in high season and during the weekends the rest of the year, from 10:00 to 17:00 hrs.
It gives visitors the chance to swimm with dolphins and know these animals better. It has several programs: Swim with dolphins, Encounter with dolphins, Delfiniti Kids, and Baby Dolphin. All activities are carefully designed and monitored by marine biologists, veterinarians and qualified personnel.
The park main objective is to conserve and protect native species. It includes an Insectarium, a botanical garden with over 100 varieties of plants, flowers and fruit trees, an impressive waterfall of more than 37 meters (121 feet) high, and the Iguana Sanctuary with a unique atmosphere. The journey ends at the reserve where you can watch animals in their natural habitat. Schedule: Monday to Sunday from 9:00 to 17:00 hrs.
"Magic World" Acuatic Park
It has a number of swimming pools, waterslides, a pirate ship, a village, toboggans, jacuzzies and many other fun things to do for kids. Schedule: Daily from 10:30 to 17:30 hrs.

Surroundings of IXTAPA-ZIHUATANEJO
Petatlán
Picturesque town with a beautiful plaza and the Padre Jesus de Petatlan Church, a world-famous religious center. In font of the church is an important jewelry market, where the craftsmen sell attractive gold pieces. In Petatlán you can enjoy authentic Regional Cuisine, delicious local sea food dishes.
La Barrita Beach
Beautiful beach located 15 minutes from Petatlán. You will find several restaurants where you can enjoy the taste of regional cuisine. It is one of the better places for surfing along this coast of Guerrero.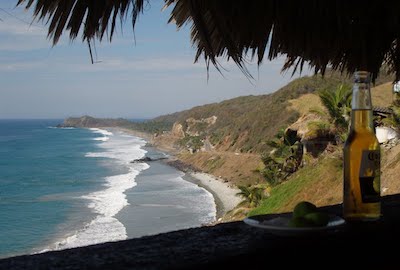 Calvario Beach
Located 20 minutes south from Petatlán. It has a large veranda with many seafood restaurants. The surf is strong and swimming is not recommended, however, is excellent for just enjoying the view while sunbathing.
Icacos Beach
This quiet beach is an ideal camping destination. Located in Juluchuca, south to Petatlan. The pristine beach is a nesting spot for the Garapacho and Golfina turtles protected by the "La Tortuga Feliz" turtle camp. Here you can participate in the liberation of turtles throughout the year. There are some restaurants and you should try the sweets produced out of coconut.
The largest site excavated in the coast of Guerrero and considered a treasure of the Costa Grande, located in a small comunity named Soledad de Maciel, 20 minutes north of Zihuatanejo. It is believed that this was a ceremonial center used by various cultures including the Tomiles, the Cuitlatecos and and the Tepoztecas.
According to the finds, the site had been occupied for more than 3,000 years and had contact with a number of other Mesoamerican cultures. It has a site museum with 800 archeological pieces. One of the most important pieces is a glyph, which is believed to relate to the original name of the city, Xihuacan.
Cerro de los Brujos (Witches Hill)
The name refers to the clay pieces found in the place, because it is belived that they belong to the ancient shamans. From a point named "Piedra del Encanto" (Charming Stone), you can enjoy a panoramic view of the Lagoon of Potosí. On the top of the hill, there is a flat rock engraved with what seems to be a map of the town.
There is a cave under the Stone, where explorers have found traces of traces of quartz and jade, in the background there is ample space with cave paintings. However, it should be noted that access to the cave is complicated.
In this region, you can buy the tobacco by kilo, or buy a great cigar full of flavor.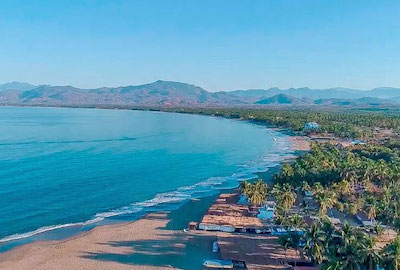 This small fishing village is located at the far tip of Playa Blanca's seemingly endless, palm-fringed sandy-white beach and at the mouth of the Laguna de Potosí, a saltwater lagoon, home to different kinds of birds and the sanctuary of local wildlife. Locals offer 90-minute boat tours or kayak tours of the lagoon.
The unspoiled beach backed by an almost unbroken line of palm trees is a beautiful place to enjoy a horseback riding and beautiful sunsets. The beachfront is lined with small restaurants that serve marvelous freshly-caught sea food along with traditional Mexican dishes.
In front of this beach are the impressive Morros de Potosí, a cluster of massive rocks about 20 minutes offshore, a favorite place for divers.
Valentin Lagoon
This is one of the few places in the country where both, a river and a lagoon, meet the sea. An excelent place for fishing, where you can catch snook, snapper and mackerel. There is a turtle camp in this beach.

Playa El Palmar
The waves are usually moderate but can become quite strong. The beach is in the Ixtapa hotel area and offers excellent facilities, including gear rental for all kinds of water sports, and fine eateries. Ixtapa's main beach, Playa Palmar, is a lovely white-sand arc on the edge of the Hotel Zone, with dramatic rock formations silhouetted in the sea. A broad stretch of pleasantly-soft sand, a walkable 2.3 kilometers (1.5 miles) long. It is known as the "Ixtapa Hotel Zone" because the majority of the hotels in Ixtapa are in this zone.
The surf can be rough; use caution, and don't swim when a red flag is posted. The seascape here is punctuated by Ixtapa's signature islets called Los Morros, just offshore. It is important to mention that beside from being one of the most beautiful beaches is the longest beach in Mexico and has been certified by the National Environment Commission as one of the cleanest beaches in the country.
At its west end, Las Escolleras has waves that attract surfers from around the world, while on the opposite end (toward Zihuatanejo) waters are protected by large rocks and the water is very calm.
Isla Grande or Isla Ixtapa
This is a worthwhile day trip. This is a small island with 4 beautiful beaches, a great place for snorkeling, relaxing on the beach, or sitting under shade supplied by the seafood restaurants lining the shore.
Playa Cuachalalate, is the arrival point and the most popular beach in the island. It has a selection of papala-topped restaurants where you can enjoy a cold dring or delicious seafood; you can also rent kayaks or snorkel equipment, or just swim in the clear waters of this natural cove.
Playa Varadero, with calm clear waters is the favorite for snorkeling, sailing and windsurfing; it also has restaurants and is one of the best places to enjoy the sunset.
Playa Coral, wihich true to name, offers the most varied groupings of underwater coral in the area, is an excellent choice for snorkeling and diving, especially in a place called "Morro Colorado" with beautiful crystal clear waters; there are some informal restaurants.
Playa Carey, to the left of the Playa Cuachalalate dock is this secluded beach where you can sunbathe with privacy or have an unforgettable picnic. The ten-minute boat ride to Ixtapa Island leaves from Playa Quieta.
There is also the option to take a boat from the municipal pier of Zihuatanejo, which will take about 30 minutes. Both routes offer frequent departures starting from 10:00, with the last return at 17:00 hrs.
Playa Quieta
The waters in this beach are calm year-round and excellent for swimming, snorkeling, and kayaking. It is acoss Isla Grande (Big Island), also known as Isla Ixtapa. Three major beachfront hotels are located here, making this area a "second hotel zone".
Playa Linda
A 10-minute drive from the Ixtapa Hotel Zone. Set in the middle of a splendid landscape, this beach offers pleasant and tranquil surf. There are inexpensive water taxis ferry passengers to Isla Ixtapa. Playa Linda is the primary out- of-town beach, with watersports equipment and horse rentals available. Beside the road is a beautiful mangrove and the famous Crocodile Farm, where you can see crocodiles swimming and resting in the sun.

Playa Principal (Main Beach)
The beach borders the edge of town, flanked by the pedestrian Paseo del Pescador ("fisherman's walkway") which extends about a half kilometer from the Municipal Pier to the Archeology Museum. The charming, tree-shaded Paseo is lined with shops, craft stands and restaurants. Along the beach there are restaurants with fresh seafood.
Next to the beach, there is the Pier where you can take a boat to Las Gatas Beach, rides run continuously until the18:00 hrs. You can also charter a small panga boat or a large, luxury fishing yacht for fishing or snorkeling trips.
This beautiful beach is ideal for swimmers, sunbathing and there is usually a small group of boogie boarders and surfer on the east end enjoying the surf. The beach has an eclectic range of restaurants and small inns.
Playa Blanca
Located 10 minutes from Zihuatanejo, is a beach overlooking the open sea. A pristine stretch of beach with few rustic seafood restaurants, beach houses and small hotels. It is ideal for running and horseback riding.
Playa la Ropa (Clothes Beach)
The longest beach in the area, and the most beautiful beach on Zihuatanejo Bay and the Costa Grande. A wide selection of fresh seafood restaurants, and water sports are available along the beach, but you can just lay down on the beach. Conditions and waves are usually fairly mild, and there is not a large risk of undertow here, so it is a great place for a swim.
There are also hotels and residential properties both in the beach and in the hills of La Ropa area. It is a perfect place to watch the sunset and moonrise place, which sometimes occur simultaneously, especially when the moon is full.
Playa las Gatas (The Cats Beach)
The name "Las Gatas" is a reference to the harmless nurse sharks that used to swim here. The shallow water is especially tranquil because of a legendary protective "breakwater" of sunken boulders just offshore. The small coral reef just offshore is a nice spot for snorkeling and diving, and a little dive shop on the beach rents gear. The waters at Las Gatas are exceptionally clear, without undertow or big waves.
Admire the wall King Calzontzin had built when he chose the area as a retreat for the royal family. The beach is also popular for its casual restaurants specializing in grilled lobster and other exotic dishes of Guerrero, including iguana and armadillo. This lovely and secluded beach is only accessible by "panga. Small pangas or lanchas (boats) with shade run to Las Gatas from the Zihuatanejo town pier, a 10-minute trip.

THINGS TO DO IN IXTAPA-ZIHUATANEJO
The golf course at Marina Ixtapa is an 18-hole course designed by Robert Von Hagge. It has been rated as one of Mexico's top courses by Golf Digest. The course is par 72, 6793-yard course with, 12 bridges, dunes-style topography and three kilometers of canals that snake their way though the landscape, creating a challenge for even the best of golfers.
This spectacular course requires skill and precision in order to navigate the rolling terrain, expansive sand traps and the wide saltwater inlets that come into play on 13 of the 18 holes. Should you hit your ball into one of the inlets or lagoons, take heed: these are crocodile habitats.
The Golf Club also offers a pro shop, a Mediterranean-style club house, shower and locker facilities, bar, restaurant and lounge, tennis courts, meeting rooms and an on-course beverage cart.
The 18-hole Palma Real Golf Course was design by Robert Trent Jones Jr. This par 72- 6,898 yards golf course is in perfect harmony with the environment. The manicured rolling fairways run through a jungle and coconut plantation with natural lakes, lagoons and lush tropical vegetation along the Pacific coastline. It is also a wild reserve with a variety of birds and some alligators in the lakes.
Golfers see and hear a variety of exotic birds such as parrots, macaws, cardinals, and a rare and peculiar species of eagle called pescador ("fisherman") because it feeds exclusively on fish from the lakes. Seen but not heard are rabbits and "giant" iguanas. Do not attempt to retrieve balls from the water hazards because crocodiles live in some of them! They usually repose submerged and out of sight, however they do stroll around at dawn.
This is a complete golf club, including pro shop, driving range, locker facilities, club house, five lighted tennis courts, swimming pool, restaurant and bar.
To talk about dining at this beautiful destination, is to talk about pleasure. Ixtapa-Zihuatanejo offers over 200 restaurants to suit all tastes and budgets, where you can enjoy the best international cuisine, or regional dishes. All dishes are prepared with the freshest and most delicious delicacies of the coast.
Zihuatanejo is known for its "Fish Strips" (strips of fish marinated in lemon finely chopped with onions and peppers), the dish was created by a fisherman on the dock of this picturesque village. Other typical dishes are: Zihuatanejo Red Clams, Oysters, Octopus, Snapper and the "Seafood Plate Special" (specialty of some restaurants, usually for 2 people, including a little of all seafood delicacies offered in the destination).
Nightlife
Ixtapa-Zihuatanejo offers entertainment 24 hours a day. You can choose from small and cozy bars in Zihuatanejo, to a sophisticated lounge bar overlooking the bay, or a picturesque bar in downtown Zihuatanejo that offers live salsa music and dancing, or romantic boleros. Whatever you
choose, you will have an unforgettable experience.
For those who love the intense nightlife, there are several clubs and bars that are located next to the Boulevard. In addition, there are also sites that offer live music to dance the night away.
The destination offers original and magical weddings on the beautiful beaches of Ixtapa-Zihuatanejo, with the best year-round weather. In addition, there are a variety of hotels and restaurants that offer various facilities and trained personnel to carry out the entire wedding without any problem.
This is one of the most romantic destinations where you can stroll hand in hand on the warm sand watching a breathtaking sunset, or go horseback riding together into an oasis of palms.
If paradise is your idea of a dream honeymoon, you can fly to Ixtapa Zihuatanejo.
Ixtapa-Zihuatanejo is certainly the ideal place to indulge in some of the best and most exclusive Spas in Mexico. Both Ixtapa and Zihuatanejo offer exquisite spas, all within amazing and exclusive hotels that will make your stay an experience full of peacefullness.
Most of these spas offer services that combine facials, hydration, microdermoabrasion, radio frequency, hot stone massage, thai bai, vinotherapy and
thalaso, among many others.
Shopping
Both, Ixtapa and Zihuatanejo, offer irresistible and wonderful opportunities for shopping and have a very wide selection in terms of items and prices.
There is a handicraft market located in Ixtapa (in the eastern part of the Hotel Zone) and one in Zihuatanejo (next to the church, on the street Cinco de Mayo). In each one of them, there are hundreds of stalls with an irresistible array of colorful handicrafts made in ceramic, brass, wood and mats, hammocks and beautiful textiles.
Ixtapa-Zihuatanejo is the ideal place for successful organization of conventions, conferences, exhibitions, and all kind of events. The destination provides quality services and infrastructure. It also has the advantage of offering two destinations in one.
It features spectacular oceanfront hotels, golf courses surrounded by natural beauties, excellent traditional and international cuisine, recreational options for those who like adventure and those who enjoy relax and indulge in beautiful scenery.
It is also important to mention direct air connectivity from major cities in Mexico, USA and Canada. Ixtapa Zihuatanejo is very well connected for those who travel by car, with the new "Autopista Siglo XXI" connecting this destination with Mexico's central region and the federal highway 200 which facilitates connection to Mexico City.

More Tourist Attractions in GUERRERO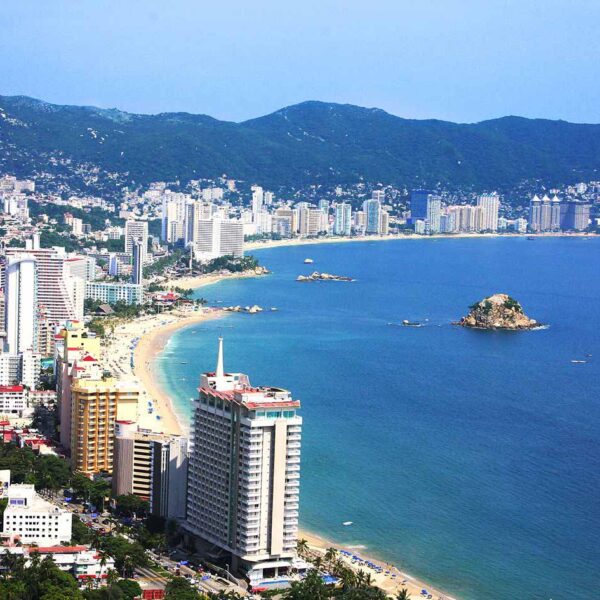 Beaches
Blessed by warm waters and sunshine 365 days a year, gorgeous beaches, a scenery of unrivaled beauty, and hospitable, friendly people, Acapulco offers a casual, relaxed atmosphere. It has one of the most stunning bay views offered by any coastal resort. In Traditional Acapulco, you can stroll along the Malecón or the newly remodeled fisherman's walk and the Zócalo. Visit the cathedral, gazebo, bookstands, street vendors and sidewalk cafés surrounded by barnyard trees. This area is for those who are in search of nostalgia and an authentic encounter with the classic beach destination where to live with the locals. In contrast, Zona Dorada features a multitude of hotels, exotic nightclubs, glitzy restaurants, art galleries, jewelry stores, boutiques, shopping malls and traditional markets with all sorts of handicrafts.… Read More
Read More »
Ecotourism and Adventure
In Ixtapa-Zihuatanejo you will enjoy all water sports… ski, parachute ride, snorkeling, scuba diving, jet-ski, banana boat ride, sail-boards, surfing and many, many more. Sports available on Playa La Ropa, Playa Las Gatas, Playa El Palmar and Playa Linda beaches and also at the Island. Of course, you don't need to rent anything to have a fun time swimming, jogging, playing beach volleyball or soccer, among the many other activities that you can do in Ixtapa-Zihuatanejo.… Read More
Read More »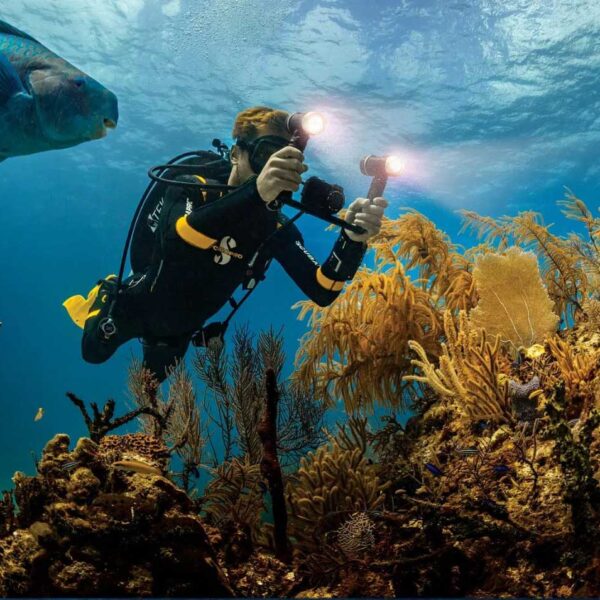 Ecotourism and Adventure
Acapulco as well as different destinations in Mexico have decided to have a new vision and be part of a positive change by being sustainable tourist destinations; In other words, each destination now seeks to reduce the impact it generates on the environment and above all to generate benefits for the host communities. Ecotourism consists of visiting natural areas without disturbing them and thereby achieving the preservation of heritage and the awareness of visitors. Acapulco has always been characterized as being preferred by national and foreign tourists due to its paradisiacal beaches and various attractions, however it has a vast biodiversity. It should be noted that Guerrero is in the 4th national place in this area. If we mix the great offer of meetings and the biodiversity that the destination has, surely any event held in Acapulco will be unmatched.… Read More
Read More »

Guided Tours in IXTAPA-ZIHUATANEJO

Flights & Hotels in IXTAPA-ZIHUATANEJO

More Tourist Attractions in MEXICO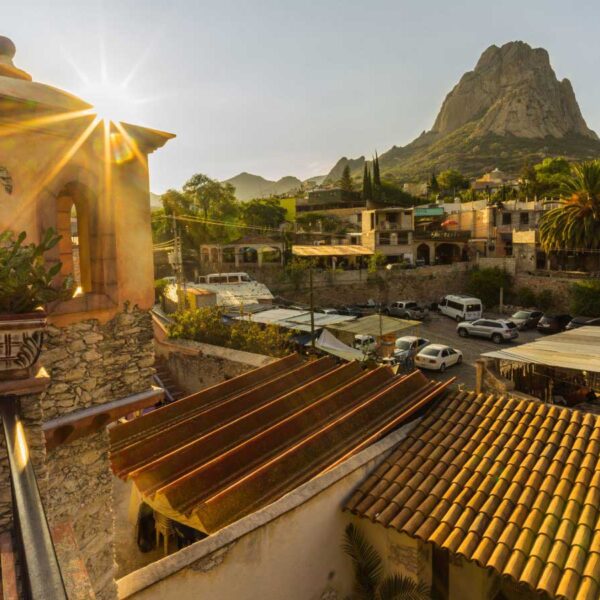 A Magical Town is a place with symbols and legends, towns with history that in many cases have been the scene of transcendent events for our country, they are places that show the national identity in each of its corners, with a magic that emanates from its attractions ; visiting them is an opportunity to discover the charm of Mexico. The Magical Towns Program contributes to revalue a set of populations in the country that have always been in the collective imagination of the nation and that represent fresh and varied alternatives for national and foreign visitors. A town that through time and in the face of modernity, has conserved, valued and defended its historical, cultural and natural heritage; and manifests it in various expressions through its tangible and intangible heritage. A Magical Town is a town that has unique, symbolic attributes, authentic stories, transcendent events, everyday life, which means a great opportunity for tourist use, taking into account the motivations and needs of travelers.… Read More
Read More »