Blessed by warm waters and sunshine 365 days a year, gorgeous beaches, a scenery of unrivaled beauty, and hospitable, friendly people, Acapulco offers a casual, relaxed atmosphere. It has one of the most stunning bay views offered by any coastal resort.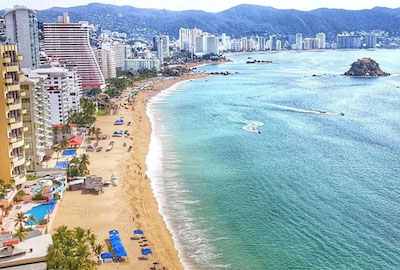 In Traditional Acapulco, you can stroll along the Malecón or the newly remodeled fisherman's walk and the Zócalo. Visit the cathedral, gazebo, bookstands, street vendors and sidewalk cafés surrounded by barnyard trees.
This area is for those who are in search of nostalgia and an authentic encounter with the classic beach destination where to live with the locals. In contrast, Zona Dorada features a multitude of hotels, exotic nightclubs, glitzy restaurants, art galleries, jewelry stores, boutiques, shopping malls and traditional markets with all sorts of handicrafts.
The newest area is called Acapulco Diamante and extends from the Naval Base to Barra vieja offers first-class resorts, residential developments, modern shopping malls, spectacular 18-holes golf courses, and one of kind tourist complex offering relaxation, business, entertainment and wellbeing, all in a single destination with a luxurious hotel, an spa, an avant-garde performance and entertainment venue, and a modern Convention and Exposition Center.
The climate is tropical and humid with sun the greater part of the year, the rainy goes from June to October. The average temperature is 33°C and the minimum is 22°C. Today this beach destination is experiencing a renaissance like no other because private investments include opening hotels, spas, restaurants, malls and new attractions, improving infrastructure and tourism services.


Attractions & Sightseeing in ACAPULCO
The Dolores Olmedo House is noted for the murals by Diego Rivera. It is also known as "La Casa de los Vientos" (The House of Winds) and was created in 1956, made with colored mosaics, stones and seashells. You can appreciate the mural located on the outside wall called Exekatlkalli, a sculpture-painting
where the Gods Quetzalcoatl and Tlaloc, important deities of the Aztec culture, can be appreciated.
This is the most historic building in Acapulco, originally built in 1616 to protect the city from pirate attacks, since the luxury items brought from Asia attracted the attention of English and Dutch pirates. In the present times, the star-shapedfortservesasmuseum(Acapulco'sHistory Museum), illustrating Acapulco's past, and is the most important historical monument of the Port.
The 12 exhibit room displays objects that relate not only to the history of San Diego Fort but also to the city and its cultural influences. Open daily from 9:30 to 6:00. Closed Mondays.
The Old Acapulco district is a particularly historic part of the city and filled with character. It is also known as the "Acapulco Naútico" (Nautic Acapulco). Many of the main attractions lie within Acapulco's Traditional Zone, such as: La Quebrada, the Yacht club, the San Diego Fort, and many restaurants, among others.
Dominates the Zócalo Plaza with is imposing architecture, twin towers and white facade. It was built in 1930 decorated in a simple Byzantine style.
Roqueta Island
Located just 10 minutes from Playa Caleta or Caletilla by boat. Take the glass bottom boat and admire the rich marine life and the underwater shrine of the Patron Saint of Fishermen, the Virgin of Guadalupe submerged in the bottom at just 7 m (23 ft).
On the island, the trail leads to the lighthouse, and then to the restaurants. This tropical paradise has quiet beaches where you can practice kayak and paddleboard, and 9 small coves teeming with colorful tropical fish, ideal for scuba diving and snorkeling. It is also a nice place for trekking.
At this water wonderland and fun-filledpark, children will go wild over the water slides, big wave pool, giant water slide, and live show with seals and dolphins, and swim with dolphins.
Another attraction is the Skycoaster, diving from more than 100 feet and falling to the earth at 130 kilometers per hour. Schedule: Daily from 10:00 to 18:00 hrs.
La Quebrada
The popular show, features spectacular dives from a high cliff where divers, sometimes in pairs, plunge 135 feet into an inlet that is only 22 feet wide and 13 feet deep. The tradition started in 1934. Enjoy this spectacular sight daily at 13:00, 19:30, 20:30, 21:30 y 22:30 365 days a year. In the last dive, they carry flaming torches.
Papagayo Park
It is a protected natural area with more than 218 thousand square meters. It has rides, skating rink, auditorium, and three artificial lakes, paddle boats and bicycle path.
Papagayo Adventure Park, offers new experiences as climbing wall, free jump, aqua splash, euro bungee, spider zone and xtreme course, among others. Open Tuesday to Sunday from 12:00 to 20:00 hrs.
Better known as Acapulco Bay is ringed with high-rise hotels and surrounded by mountains covered in tropical vegetation. The bay has incomparable scenic beauty and it is compared to Rio de Janeiro and Hong Kong.
The Chapel of Peace
Located on Las Brisas, 402 meters above sea by lush vegetation with a beautiful level, the cross rises 42 meters. It is surrounded panoramic view of the bay.
Puerto Marqués
It is a heaven for water sports enthusiasts. Exuberant vegetation and tropical birds surround the bay. Here you will find a number of colorful restaurants  serving regional specialties. Among the best beaches along the bay are: Majahua and Pichilingue.

Natural Wonders in ACAPULCO
Coyuca Lagoon
Located only 10 kilometers from the Bay of Acapulco the lagoon is 17 kilometers long and a maximum width of 5 kilometers. This jewel hides tow little islands: Los Pájaros and La Montosa. The exuberant tropical vegetation and mangroves are home to over 250 bird species and 14 species of edible fish.
It is an excellent place for water sports like water ski, weakeboard or fishing. You can take a trip through the mangroves with a native boat and catch a glimpse of tropical birds and turtle, a unique experience.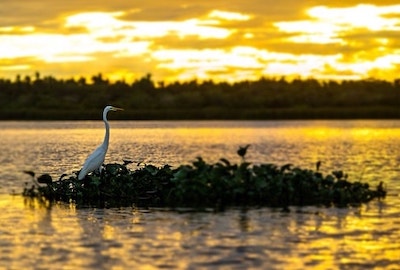 Tres Palos Lagoon
It is located between Puerto Marqués and the international Airport, across from Barra Vieja beach. This huge freshwater lagoon (9 miles long and 3.6
miles wide) is surrounded by an impressive mangrove and is home to several species of fish as well as a diverse species of tropical birds, in fact this is one of the best places for bird watching in Acapulco.
Several small boats are at hand to take a tour of the lagoon with a guide who will show you the unspoiled nature of the area. Try on this tour, a deeper cleansing experience with a facial mud exfoliator, the mud is taken from deep within the lagoon and it will not only exfoliate, it also helps in eliminating toxins and restoring moisture to your skin.
In case you are more adventurous, you can rent your own jet ski and explore the canals around the lagoon. There is also horseback riding in the surrounding area. This huge lagoon was used as a set in the first Tarzan movie for its intact nature.
Turtle Protection Program
From June through December, visitors can observe the nightly arrival of female turtles that leave the ocean to lay their eggs at Revolcadero Beach and in Pie de la Cuesta beaches.
And from October through March you can watch the small turtles returning to the sea. There is a Turtle Camp in Playa Larga, where you can meet, learn much more about the sea turtle.

Culture and Leisure in ACAPULCO
Acapulco Cultural Center
Features cultural exhibits, paintings and photographs,as well as collections of artifacts and relics of ancient cultures of the State of Guerrero. Located in Av. Costera Miguel Alemán 4834, Fracc. Costa Azul.
It is located in the Southern Sierra Madre Mountains, which surround Acapulco at an altitude of between 660 and 1300 feet (200 and 400 meters) above sea level. The garden includes 6 hectares of subtropical deciduous forest.
It has very comfortable trails where you can observe the two creeks, a collection of palms and cycads, desert plants, hardwoods as well as flowering and fruit trees, shrubs, heliconias and gingers, bromeliads, aeroids, ferns and vines among others. Along the trails you can also watch the regional fauna. There is a souvenir shop and an amphitheater used for concerts and conferences. Open daily from 9:00 to 18:00 hrs. Entrance is free on Sundays.
Acapulco Philharmonic Orchestra
The orchestra is one of the port city's most enjoyable assets and one of the best orchestras in the country. The orchestra relies on 90 talented and experienced professional musicians. The Philharmonic Orchestra performs approximately 25 concerts each year in the Juan Ruíz de Alarcón Theater located in the International Convention Center of Acapulco, in addition to sixty or more concerts for children and performances in other venues.
It has shared the stage with world-class artists such as Plácido Domingo, José Carreras, Vadem Brodsky, Eugene Fodor, Fernando de la Mora and Tania Libertad, among others.
Supported entirely by a government grant, its concerts are free to the general public. To find out about the concert schedule, check the web site http://www.ofa.org.mx.

Acapulco is a port with a rich and vibrant cultural history and a lovely corridor has been created with wide and attractive spaces to promote the cultural, artisanal and tourist development of the entity, offering a new product for residents and visitors.
Masks Museum
The museum is designed to introduce into the richness of the mask tradition of the State of Guerrero, and offer a perspective of other masks from Mexico and the world. This site shows the diversity of artistic and artisan manifestations of diverse cultures that reflect their identity on the mask.
With a collection of more than 500 masks, the museum exhibits 285 pieces from various regions of the State of Guerrero and other states of Mexico, as well as other countries such as Egypt, United States, Indonesia, Italy, Thailand , China, Japan, Ceylon, India, Portugal, Spain, Germany and Canada.
Museum of the Seven Regions
The museum has been created to promote and disseminate the culture of the State of Guerrero. It has a nice space where painters, sculptors, writers, artisans and artists in general of this entity could exhibit their works.
Naval Museum
The Naval History Museum is a Naval Museum site created with the purpose of disseminating the heritage of the maritime history of Acapulco and the Mexican Pacific.
It exhibits Colonial-era Spanish galleon replica and scale models; the museum also has a library with hundreds of documents and specialized books tracing the history of the port, as well as various ship plans. Another area of this museum is the model workshop where you can learn about the process of building a galleon.

Archaeological Sites in ACAPULCO
Located a short distance from the state of Guerrero's capital city of Chilpancingo, and about an hour from Acapulco, this ancient site is on a hill surrounded by taller mountains. It was occupied from about 650 and 1300CE.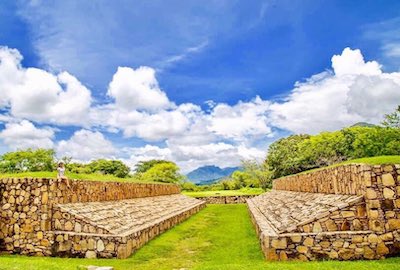 The site was a ceremonial center with a plaza surrounded by various pyramid bases and other structures with a distinct construction style, which consists of boulders with spaces between them filled in with layers of flat rock and red clay.
The site has four aspects, areas with rock etchings, the surrounding mountain terrain, pyramidal structures and caves in the hills with offerings. There are various tours and scheduled trips.
Palma Sola
The archaeological site is located in El Veladero National Park on a mountainside high above Acapulco.
There are a total of eighteen carved rocks in the area dating from 800 BC to 750 AD. You will spot dozens of designs ranging from anthromorphological to zoomorphological images created by the first settlers in the area.
A steep, sturdy trail winds 400m uphill past the petroglyphs, all marked by Spanish and English signs, and ending with wonderful city views at 1200-to-1300 feet above sea level, definitely worth the visit. It's about a 25-minute taxi ride from Old Acapulco.

Acapulco has plenty of unique beautiful beaches, along the bayside, in the Traditional or Nautical area, the Golden Zone, the exclusivity of Pichilingue, the comfort of Punta Diamante, or the secluded beaches in Barra Vieja. Acapulco's beaches are world renowned for their beauty and their services. Beside four beaches have been recognized by the Foundation for Environmental Education's (FEE) Blue Flag program.
Pie de la Cuesta
It is about 45 minutes north of Acapulco, is a lovely stretch of tropical beach that extends for 17 kilometers between the Pacific Ocean and the beautiful Coyuca Lagoon. It has extremely high and dangerous waves, and it has hosted surfing events. Sometimes, you can spot some whales and dolphins, making this beach a unique place to admire the sunsets. You'll find many local resorts and seafood restaurants, perfect for couples seeking secluded romance or for nature lovers.
Playa Langosta
It is a small beach located in a small cove opening directly into the Pacific Ocean beneath towering mountain cliffs. It's much less crowded than other beaches and generally too rough for swimming, though is a great place to watch the sunset.
Caleta y Caletilla
They are two of the most known and visited beaches of Acapulco located in the Traditional zone. Twin beaches separated by a small outcropping of land that sparkle brightly in the Old Acapulco. Here you will find thatched-roofed seafood restaurants and watersports equipment for rent. Since the beaches have gentle waves, they both are great to practice snorkel, paddle board and kayak. There are also glass bottom brightly painted boats that ferry passengers to Roqueta Island.
Playa Roqueta
These are two small beaches amidst a hilly forested terrain in the Roqueta Island. Playa Roqueta has thatched-roof restaurants where you can enjoy a snack and a cold beer, and Playa Marín is a more secluded beach with emerald waters. You can get here by boat departing from Playa Caleta.
Playa Tamarindos
It extends for about 700 meters and is located northwest of the Santa Lucía Bay close to Acapulco's Traditional Zone. There are rows of large coconut palms and several good beach restaurants with the typical tropical style of old Acapulco. The water is somewhat calmer than in the beaches farther to the east in the Golden Zone.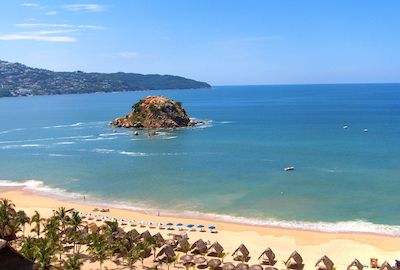 Playa Condesa
With strong waves that are perfect for skiing and parasailing, Condesa Beach is the liveliest in the bay, famous for its restaurants, clubs, bars and discos. You can find parasailing and jet ski rental, though it is not very recommended for swimming.
Playa Icacos
A wide strip of sand with gentle waves, a family-friendly beach lined with high-rise hotels. Here the swimmers and water sports lovers can have a lot of fun. The beach was recognized by the Foundation for Environmental Education's (FEE) Blue Flag program.
Playa Hornos
Lined with coconut palms, this beach offers calm waters to swim and some restaurants to enjoy seafood and a cold drink.
Playa Hornitos
This long stretch of beach is located near the Papagayo Park is an ideal place for all family members.
Playa Tlacopanocha
This small beach (only about 100 meters long) lies along at the end of the city's Malecon (sea walk) and across from the Maritime Terminal. It's probably the most popular spot for families with very small children for the little wave activity. Popular with locals, it's a good place for observing fishermen, yachts and cruise ships.
Playa Majahua / Puerto Marqués
Located in the small bay of the same name, is considered one of the top choices for beach swimming in Acapulco. The bay is sheltered, so the waters are a beautiful emerald green color and the waves are calm, ideal for water sports. There is a row of thatched-roof beachfront restaurants offering the local seafood.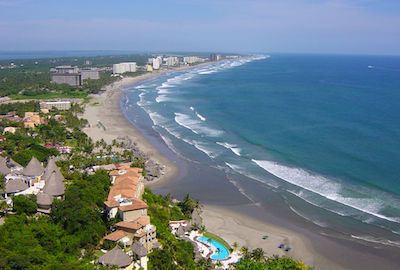 Playa Revolcadero
Lovely wide stretch of sandy beach. Waves are large and surfing is popular here, especially in summer, but a strong undertow makes swimming dangerous. It is ideal for horseback riding. The beach has seen a recent explosion in luxury tourism and residential development. The beach was recognized by the Foundation for Environmental Education's (FEE) Blue Flag program.
Playa Tres Vidas
Here there's an exclusive 18- hole golf course, many holes along the coastline, and a luxury boutique hotel. Big Wave Beach, excellent for surfing.
Playa Larga
This long stretch of beach is a great place for people who love nature and long walks. Here is located a turtle protection camp where you can meet, learn and help to take care of sea turtles.
Playa Bonfil
A popular beach with surfers, since the wave quality is described as "regional classic". It is also ideal for walking or horseback riding. Additionally, it has excellent seafood restaurants where you can enjoy the famous "pescado a la talla".
Barra Vieja
A long beach that stretches for miles. Small restaurants that offer delicious "pescado a la talla" surround the beach. You can enjoy a horseback riding, or ATV riding, or just walk along the beach and watch the beautiful sunset.

If you are looking to relax playing golf, you will find exactly what you need in Acapulco. The destination has 4 wonderful 18-hole professional golf courses, all surrounded by warm tropical nature ideal for practicing this game. In all the clubs you will have the comfort and exclusivity of the World of Golf.
We invite you to explore all what Acapulco has to offer, and enjoy your favorite sport.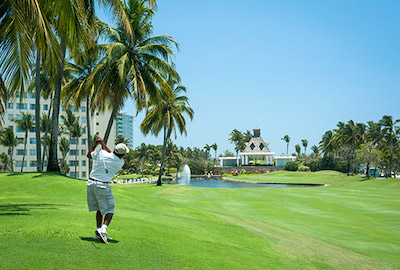 It is a pleasure to travel through its 18 holes par 72, and 6,156 yards. Surrounded by lush vegetation, breathtaking landscape with impressive palm trees, and beautiful lakes, this course blends harmony with the delicate architecture of one of the most spectacular courses on the Mexican Pacific coast. Copra hosts important professional events such as the traditional Night Tournament held every year during the Holy Thursday.
Architect and craftsman, Tripp Davis, designed Turtle Dunes Country Club. It is 7200 yards long with a par 72 rating located on the grounds of the legendary Princess Mundo Imperial Hotel. Built on sand dunes formed over time and surrounded by a tropical lush sanctuary, the field has extensive and impressive lakes and tall parota trees covering 18 holes of golf filled with splendor.
The course has 13 holes with lakes and 56 sand bunkers. The Club offers a world-class clubhouse, a modern gym, driving range, putting green, caddy program, Pro-Sop, Snack Bar, access to spas, pools, exclusive beach area, tennis courts and access to the recreational facilities of Mundo Imperial hotels.
The course has 9 fairways with different tee boxes for an 18 hole round. It has a restaurant, bar, swimming pool, dressing rooms, sauna, driving range, tennis court, Pro-Shop, golf car rentals, beauty salon and party rooms.
This par-72 golf course has nine lakes and it is considered one of the best courses in the world. The magnificent oceanfront Tres Vidas Golf Course, newly remodeled and refurbished by renowned designer Robert Von Hagge. Awaiting Club Members and resorts guests is a spectacular 72,000 square foot beachfront clubhouse featuring dining rooms, lounges, a fully provisioned golf shop, locker rooms, full-service spa and fitness center.
This magnificent course plays to 7,209 yards from the championship tees and features emerald Tifdwarf greens and Tifton-carpeted fairways. Tres Vidas has a luxury boutique hotel.
In Acapulco many of the most modern spas have incorporated the use of herbal techniques used in our country since pre-Hispanic times. Cultures such as the Aztec and Mayan were experts in the chemical and medicinal qualities of herbs. Mexico has great competitive advantages due to their ancient homeopathic techniques and its wonderful climate.
In Acapulco, spas, activities and services ranging from skin care and body treatments, through ancient tradition techniques such as the Temazcal, hot springs, seaweed wraps and herbs. There are also advanced medical services capable to evaluate the nutritional status and physical condition.
Undoubtedly, Acapulco is the ideal place to relax and forget about your worries and stress, offering the peace of mind and surrounded by the beauty of nature, sun, sand and glorious sea. In Acapulco find the best and most renowned spas located in some hotels of the destination, which will fit anyone's budget and taste.
Awaken Your Senses, re-energize your body, and enjoy the peace and calm of the sea and the natural beauty of this destination. Take a moment to improve mental and physical health.
Give yourself the opportunity to find the balance between your mind and body. Acapulco is the best option to recover your energy by the seashore…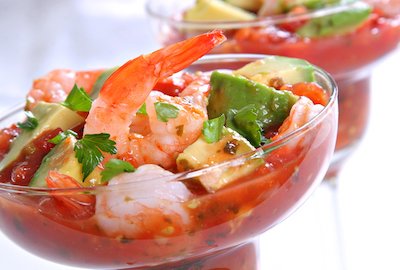 The variety offered in Acapulco restaurants make this resort one of the most appealing beach destinations in the world. Most of the restaurants have an outdoor terrace and many have spectacular views of Acapulco Bay. The port's typical food is an inspiring crossbred gastronomy which conjugates pre-Hispanic and European tastes.
A result of this crossbred is the famous pozole, a weighty bowl (pozolero) overflowing with a white broth comprising lemon, oregano, onion, avocado, green chilli and crackling fried delicious sardines. This dish is served traditionally on Thursdays in many restaurants.
Of course, you can also find excellent sea food, and some of the most popular are: "Vuelve a la Vida" (Come to life), consists of fish, shrimp, snails, octopus and clams, marinated in lime juice, and "A la Talla Fish" (grilled fish Acapulco style).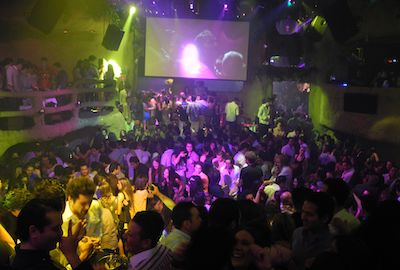 Acapulco is definitely the place to go out and have a good time! Acapulco is home to world-class nightlife and clubs, and they open late and may stay open until sunrise. Many of the bars keep the same closing hours. Some of the most important are:
Baby'O, Palladium, Believe, among others.
One way to start the night is enjoying the spectacular dive show at La Quebrada, with the divers climbing a rocky crag about 115 feet above sea level; the majestic dive at night is with lit by torches. The dive schedules are 13:00, 19:30, 20:30, 21:30 and 22:30 the latter with torches.
Besides, you can enjoy Acapulco's dazzling and sophisticated restaurants and night clubs with a one of a kind view of Acapulco Bay, with its millions of lights reflecting in the water.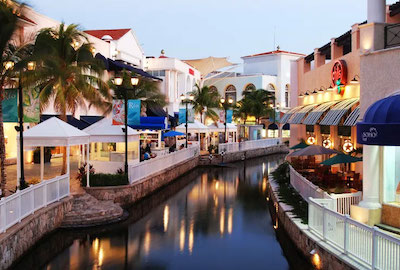 In Acapulco shopping is a major pastime. The Costera is lined with many boutiques selling high-fashion designs, jewelry stores, shoe stores, endless numbers of shops and open-air markets where you can buy many different artcrafts.
There are also nice and fabulous shopping malls like La Isla Shopping Village, the ideal shopping destination that gathers its residents and tourists for shopping and entertainment, with exclusive boutiques, theme and specialty restaurants, cafés, cinemas, bars and nightclubs.
Guerrero State is known for hand-painted ceramics, objects made from palo de rosa wood, bark paintings depicting scenes of village life and local flora and fauna, and embroidered textiles. You can also find very good silver jewelry.
Acapulco has more than 260 hotels and 18,000 available rooms, of which 6500 are four stars and up hotels, ideal for business tourism.
Acapulco International Center is strategically located in the heart of the hotel zone of Acapulco. It can serve up to 15,000 people. One of the rooms has an area of 6.320 meters column-free square. It also has two multi-purpose rooms for 5,000 meter each an outdoor theater with a capacity of 2,000 people, an indoor theater with capacity for 1,200 people and gardens and terraces that can be used for large dinners and other events.
The Forum Entertainment Center, features leading-edge technology, specially designed acoustics, 4,000 seats and it presents world-class shows. The Congress, Convention and Event Center, acknowledged as Mexico's convention and exhibition center with the largest column-free area and featuring the most modern equipment and technology in Latin America.
It has an area of over 22,000 square meters for fairs, exhibitions, conferences, seminars and all kinds of meetings. The complex has a spectacular hotel, a promenade and a spa. Additionally, there are several hotels that have the facilities and infrastructure for conventions, trade shows and events.

More Tourist Attractions in GUERRERO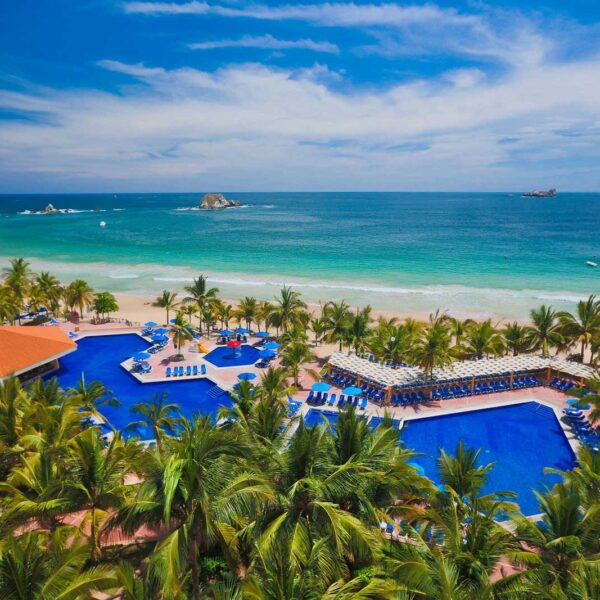 Beaches
Ixtapa is one of Mexico's most compact planned resorts created in the 1970s, with a hotel strip along the Playa del Palmar, a two- mle long stretch of beautiful white sand. Here you will find world-class resorts equipped with enough restaurants, pools, and activities to keep families occupied for weeks. There is also a pair of golf courses and a modern marina with slips for 600 vessels and upscale seafood restaurants. Ixtapa also offers shopping malls, excellent boutiques, jewelry stores, handicraft shops and a nautical atmosphere.… Read More
Read More »
Ecotourism and Adventure
In Ixtapa-Zihuatanejo you will enjoy all water sports… ski, parachute ride, snorkeling, scuba diving, jet-ski, banana boat ride, sail-boards, surfing and many, many more. Sports available on Playa La Ropa, Playa Las Gatas, Playa El Palmar and Playa Linda beaches and also at the Island. Of course, you don't need to rent anything to have a fun time swimming, jogging, playing beach volleyball or soccer, among the many other activities that you can do in Ixtapa-Zihuatanejo.… Read More
Read More »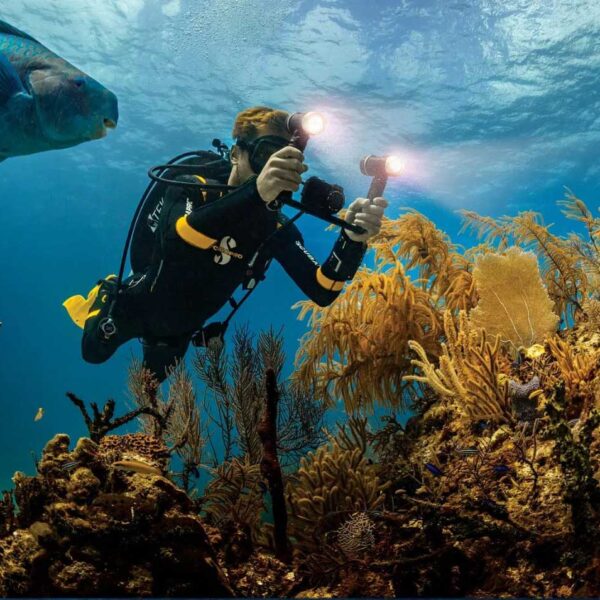 Ecotourism and Adventure
Acapulco as well as different destinations in Mexico have decided to have a new vision and be part of a positive change by being sustainable tourist destinations; In other words, each destination now seeks to reduce the impact it generates on the environment and above all to generate benefits for the host communities. Ecotourism consists of visiting natural areas without disturbing them and thereby achieving the preservation of heritage and the awareness of visitors. Acapulco has always been characterized as being preferred by national and foreign tourists due to its paradisiacal beaches and various attractions, however it has a vast biodiversity. It should be noted that Guerrero is in the 4th national place in this area. If we mix the great offer of meetings and the biodiversity that the destination has, surely any event held in Acapulco will be unmatched.… Read More
Read More »

Guided Tours in ACAPULCO​

Flights & Hotels in ACAPULCO

More Tourist Attractions in MEXICO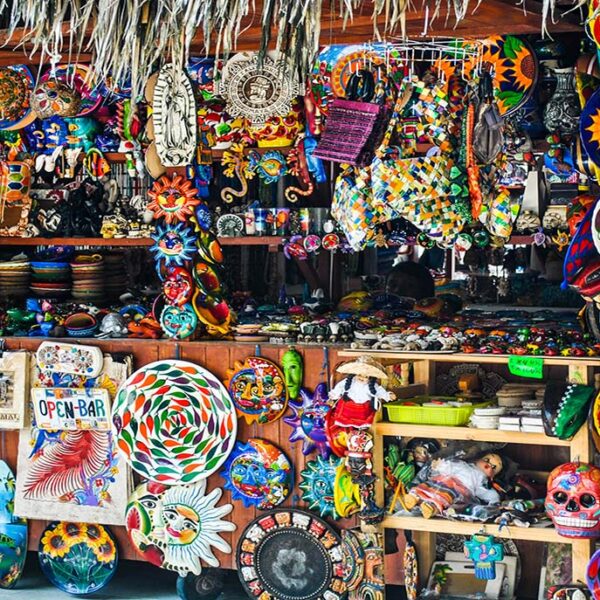 It is practically impossible to make a meticulous, and above all, accurate selection of the places to visit in Mexico. Each place that our country houses is unique and beautiful in its own way. Mexico, with its nearly 2 million km², has a large number of scenarios to offer, as well as endless activities to do. Do not lose your way and enter the places to visit in Mexico. In Mexico, apart from the beaches and its famous archaeological sites, there are many other really interesting sites and activities that you should know. In the surroundings of the main cities you will find places full of culture and tradition, where you can spend relaxing, interesting and fun vacations. On your trip through Mexico you cannot stop obtaining souvenirs, the crafts that are made here are of the highest quality and recognized worldwide. A shopping tour cannot be missed.… Read More
Read More »