Ecotourism, Nature and Adventure in NAYARIT
Ecotourism activities in the Riviera Nayarit are consolidated as an option to the "sun and beach" product. The destination offers new market niches such as Alternative Tourism for those visitors who seek to enjoy nature safely and reliably.
In the region there are a wide variety of companies dedicated to Adventure Tourism, Ecotourism and Rural Tourism, which offer countless tours with outdoor activities such as hiking, canyoning, rappelling, and even gastronomic experiences of typical regional cuisine, thus enriching the tourist offer of the destination.

Map of Ecotourism in NAYARIT

One of the most amazing attractions in Riviera Nayarit is turtle releasing.
Turtle Release Program
Thousands of Olive Ridley Turtles who were born on the region's beaches return every year to build nests and lay their egg. Turtle farms dedicated to the harvesting, hatching and releasing of baby sea turtles are a fascinating interactive attraction that delights visitors. There is a tour that combines a visit to "El Quelele", a marshy lagoon where crocodiles live in a protected environment.
Sea Lion Encounter
Sea lions are friendly, fun loving and provide an unforgettable nature encounter for adults and children alike. Getting nose to whisker and interacting with these energetic creatures is sure to be a unique experience.
Whale Watching
Every year, from mid-December to the end of March, vacationers to Riviera Nayarit can enjoy one of the most spectacular whale watching one can experience anywhere in the world. The popular whale-watching excursion takes you up close to see and photograph the action.
Swimming With Dolphins
Along the coast of Riviera Nayarit you can often see Pacific bottlenose dolphins jumping, playing and even heard "laughing" in their natural ocean environment. There are several dolphin programs that are available so you are sure to find one that is perfect for every age group and activity level. Interacting with dolphins in Riviera Nayarit is sure to create memories that will last a lifetime.
Riviera Nayarit is the perfect place to explore and discover birds.
Bird Watching
Today there are around 350 species of birds in Riviera Nayarit's ecosystems.There are a variety of bird watching excursions available. You can visit mangroves, waterways, mountains and forests. A tour that includes exploring Quelele Lagoon Birds is a perfect way to enjoy a nature encounter and the beauty of a Purple Gallinule, an American Coot or a Green Heron.
Near creeks and in forests, you may come across Vermilion Flycatcher, Rufous-backed Robin, Squirrel Cuckoo and even most likely see lots of Orange-fronted Parakeets. Very near San Blas, there are riverboat trips to La Tovara Mangroves where bird watchers are able to see Rufous-necked Wood-rail, Puaraquees, Purple Gallinules, Bare-throated Tiger Heron, and Northern Potoo, Northern Jacanas, Mangrove Warbler and Vireo, the impressive Boat-billed Heron nesting and lots of Green Kingfishers.

There are so many beautiful places to be experienced in Riviera Nayarit.
Horseback Riding
There are a variety of guided excursions available, for beginners or for experienced riders. And there are romantic Sunset Horseback riding options as well. You can head into the jungle and riding trails that have you traverse streams and rivers and even include stops for swimming in natural pools under waterfalls!
ATV Tour
Racing down trails into the jungle, splashing through rivers and kicking up the mud as you navigate across plantations and farmlands is an incredible way to enjoy adventure and the beauty of the countryside in Riviera Nayarit. There are a variety of ATV excursions available including one that combines canopy zip lining, and another that features an 8-wheel Amphibian ATV.
Rapel Adventure
This excursion has all kind of adventures: a wild rush across the treetops through the jungle, canopy on a diverse series of zip lines, rappelling down waterfalls, zipping across streams, and a splash down into natural river pools.

The destination is among the top sport-fishing spots in Mexico.
Two world fishing records have been established here in Mexico's Riviera Nayarit, one for wahoo, and one for a marlin weighing in at 709 pounds (322.2 kilos). The destination has been the host of important events like the International Sport Fishing Tournament in San Blas, this year is the 53rd edition with over 250 sport-fishing enthusiast; and International Fishing Tournament at La Cruz de Huanacaxtle in its second edition. Fishing boats from beach rental pangas to large cruisers can be rented in Nuevo Vallarta, Bucerias, La Cruz, Punta Mita, Sayulita, Lo de Marcos and San Francisco.
The warm crystal waters with a rich marine life are a paradise for diving enthusiasts.
There are programs for both beginner and experienced divers. Among the best places are:
Las Marietas Islands Marine Reserve is part of an underwater mountain range. This site became famous worldwide after hosting dives and explorations by Jacques Cousteau during the 1970's. It is a great place for beginners, with depths of 25-75ft/7.5-23m and an average visibility of 39ft/12m.
El Morro is a diverse dive site suited to small groups of certified divers. The site is a comprised of a series of rock pinnacles. Below the surface they provide a diverse mix of technical dive challenges including 150 foot depths, wall diving, caves and a 50 foot tunnel. The area is home to abundant marine life like tropical fish, lobsters, turtles, octopus, dolphins, sailfish, moray eels and manta rays, among others.
Los Anegados, it is a rock bank that provides a shallower dive filled with caves and interesting rock formations that begins at about 30 feet below the surface. This is a great spot for open water qualified divers to experience the generally gentle nurse sharks that are often sighted in this area. With a 30-80ft/9-25m depth and 30-90ft/9-28m visibility, these warm Pacific waters make for a great day of diving.
The coast of the Riviera Nayarit has several beaches ideal for different levels of surfers. Among the best places are:
The Cove and El Faro
in Punta de Mita. The tide is high and gets shallow on low tide. Bottom is sandy with rock. The normal lengh is 50 to 150 m. Good waves off the beach near the end of the point in Banderas Bay.
El Anclote
Type, longboard, right reef-rocky. Good beginner break. Mellow pitch, slow, and long, usually 2-4 ft, right. On lower tides the inside section gets shallow. The direction is right and in the bottom there is coral and sharp rocks. The normal length is 50 to 150 m.
La Lancha
Type, longboard, most rights some left. Good longboard wave. Best on incoming tide, then outgoing tide. Shallow on low tide. Watch out for Coral heads and sharp rocks, especially near the take off. The normal length is 150 to 300 m.
Punta Burros
Great, favorite break in the area. The hight tide is best, but works on most anything. Left is steeper and throws a bit. Right is longer with a mellower pitch. Bottom is flat rocks with sand. The normal length is 50 to 150 m. Wave is consistent and fun. Good beginner/intermediate spot.
Sayulita
Decent wave that goes without much swell. Longboard, shortboard. Mostly rights. Right off the main beach is a consistent swell that's great for beginning surfers and long boarders.
Los Veneros or Dinosaurs
This is a classic reef break with a long right. It is a great short board wave, but long boarders enjoy it too.
The Pools
This is a fast hollow right that pitches big time. The easiest way to get to the break is to simply paddle over to it. The bottom has coral and sharp rocks. This is a hollow fast wave that should only be tried by experienced surfers or spongers.
It is a Rivermouth. The direction is right and left. Bottom is sandy. The length is long, 150 to 3000 m.
This is a deep water peak that unwinds down a perfect left point. Long rides on steep and perfect walls follow a stimulating drop and bottom turn on the peak.
Reputed to be the longest ride-able wave in the world, Matenchen Bay offers an excellent long right point over a cobblestone and sand bottom.
Breaks more frequently and offers a wonderful right point with hollow sections. Las Islitas was once famous for the longest wave in the world. The direction is right and left. The bottom is sandy with rock. The normal length is very long from 300 to 500 m. A great a place to beginners.
Riviera Nayarit is recognized as one of the worlds' premier sailing destinations. With its beautiful coastline, Pacific waters, its prevailing currents and its friendly winds, it provides the perfect setting for all types of sailing excursions. There are a variety of sailing tours for all tastes and levels of experience.
You can try some small catamarans that provide wet thrilling rides. Or, you can set sail on a Luxury Sailing excursion aboard a sophisticated Beneteau sailboat and visit secluded bays and picture perfect beaches where you can just lay back or swim, snorkel and relax with great food and drink.
Canopy Zip Lining
Experiencing the beauty of the emerald mountain forest, combined with zip lining across the jungle canopy from treetop to treetop, is an unforgettable experience. Your exploration will take you on jungle paths, suspended walkways and platforms, up ladders and down via rappels.
Your adrenaline will pump and you'll feel the rush while zip lining high above the jungle floor from platform to platform amidst giant tropical trees and an abundance of wild orchids and native birds. The Aqua Adventure Park with it's a half-day of short hikes on jungle paths and plenty of zip lining "whooshes", is a nice way to enjoy this thrilling experience.
There is a vast array of marine life and beautiful underwater scenery to delight snorkelers of all skill levels. Giant manta rays, sea turtles, exotic tropical fish and reefs with beautiful coral formations are plentiful in the bays and coastline.
Organized snorkeling excursions often combine several activities including sailing or cruising to the snorkeling site, swimming, kayaking and keeping a watchful eye out for playful dolphins, whales and indigenous colorful tropical birds, a real tropical paradise experience.

More Tourist Attractions in NAYARIT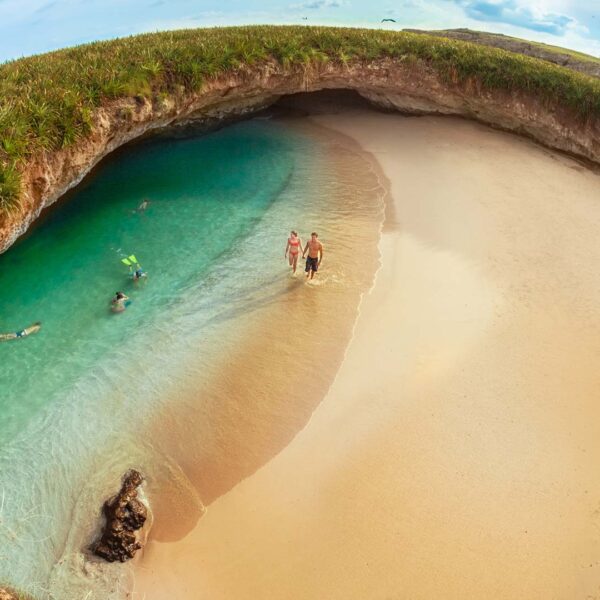 Beaches
Just north of Puerto Vallarta Mexico and spanning over 190 miles along the Pacific coast of Nayarit, Mexico's Riviera Nayarit extends from the northern border with Sinaloa, in the municipality of Tecuala, to the mouth of the Ameca River, on the boundary with Jalisco. This exceptional destination holds magic pictoresque towns, the Sierra de Vallejo Biosphere Reserve with coastal lagoons, mangroves and wetlands, home of crocodiles, sea turtles, and endemic birds; the Isabel Island and Marietas Islands, both National Parks; the archeological vestiges in Altavista; and allure beaches where sensational days of sun and water sports can be enjoyed. The Riviera Nayarit has family tours, services and infrastructure for all kina of events, and a growing number of all inclusive and other resorts, from value-priced to luxury, excelent spas and world-class golf clubs. The temperatura here is warm and humid, with an annual average of 77oF, and the rainy season goes from June to October. … Read More
Read More »


Flights & Hotels in NAYARIT

More Tourist Attractions in MEXICO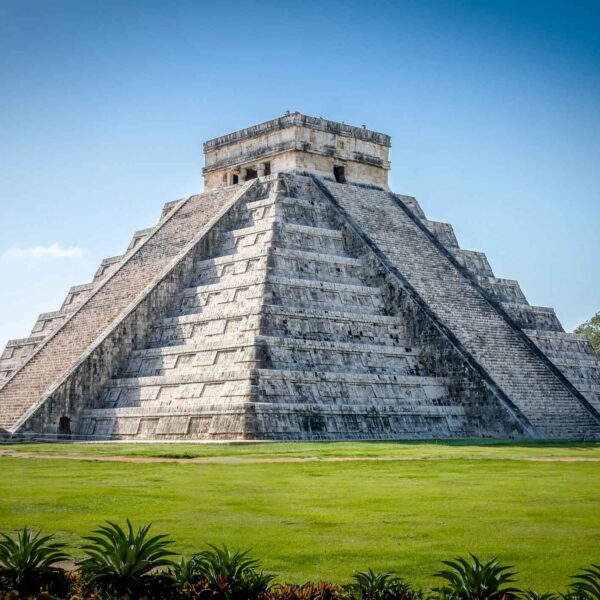 The Archaeological Zones are the cultural past of every Mexican. You will be amazed at the ambient, nature and the environment that surrounds them. Climbing to the top or being around it will take us back in time to admire every detail. México is a country of culture and traditions, many of which we have inherited from the pre-Hispanic inhabitants of this vast territory, although it is true that there were more settlements in the central and southern part of the country, it is also possible to find some archaeological remains in the north.
… Read More
Read More »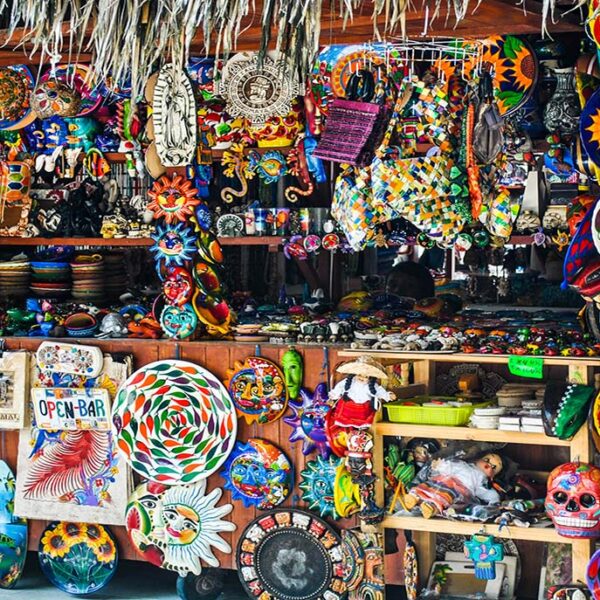 It is practically impossible to make a meticulous, and above all, accurate selection of the places to visit in Mexico. Each place that our country houses is unique and beautiful in its own way. Mexico, with its nearly 2 million km², has a large number of scenarios to offer, as well as endless activities to do. Do not lose your way and enter the places to visit in Mexico. In Mexico, apart from the beaches and its famous archaeological sites, there are many other really interesting sites and activities that you should know. In the surroundings of the main cities you will find places full of culture and tradition, where you can spend relaxing, interesting and fun vacations. On your trip through Mexico you cannot stop obtaining souvenirs, the crafts that are made here are of the highest quality and recognized worldwide. A shopping tour cannot be missed.… Read More
Read More »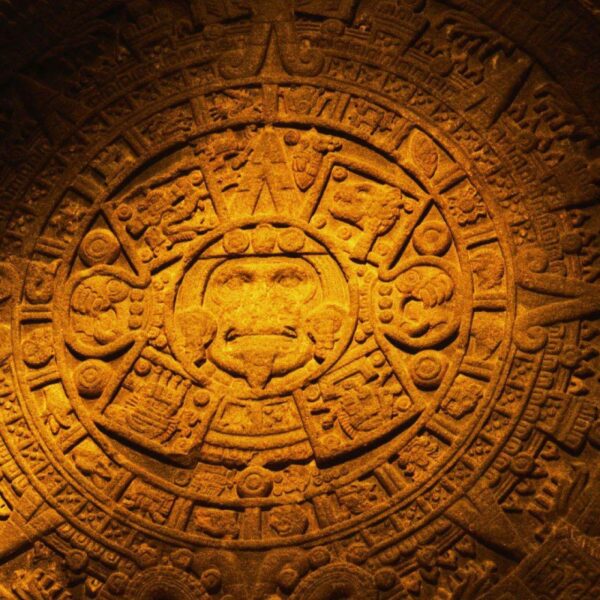 Mexico has an incredible diversity of landscapes, where the beauty of its beaches, internationally recognized, stands out. In its vast territory of coasts, there are beaches of unparalleled beauty, and colorful landscapes. A large network of first-class hotels and tourist services is available to visitors to these beaches. Mexico is also mystical places, dotted with archaeological testimonies inherited from its original inhabitants. Monuments made by the Mayas, Aztecs and Toltecs are located in magical landscapes, like lighthouses in an ocean of natural beauty. They offer visitors buildings that tell their history, and museums that collect their cultural heritage. And that keep alive ancestral traditions, in ceremonies and festivals, where you can enjoy cultural activities and entertainment.… Read More
Read More »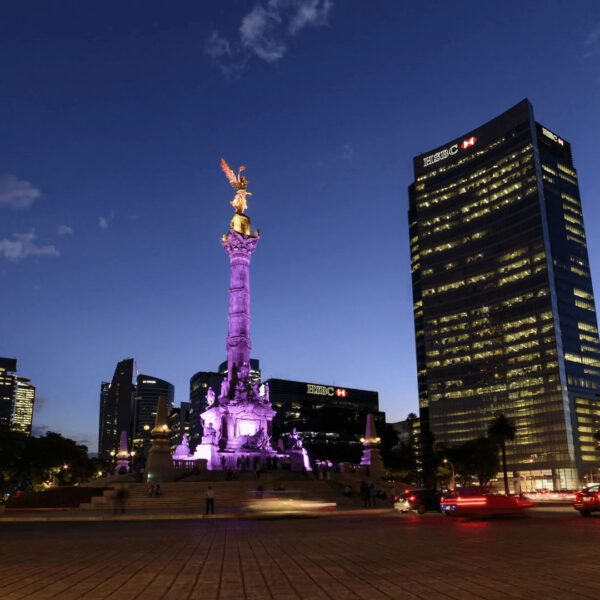 Folklore, gastronomy, literary culture, art and exhibitions, is what you will find in the capitals of the states of Mexico. To the north, colonial Mexico, Puebla, Guadalajara, Guanajuato, the Sonoran desert and the California peninsula. To the east Veracruz and the gulf. To the west Acapulco, Oaxaca and Tuxtla Gutiérrez. And to the south the Riviera Maya and the pyramids of Chichén-Itzá, Tulúm and Cobá in Yucatán, Palenque in Chiapas, the cenotes, and the Central American jungles.… Read More
Read More »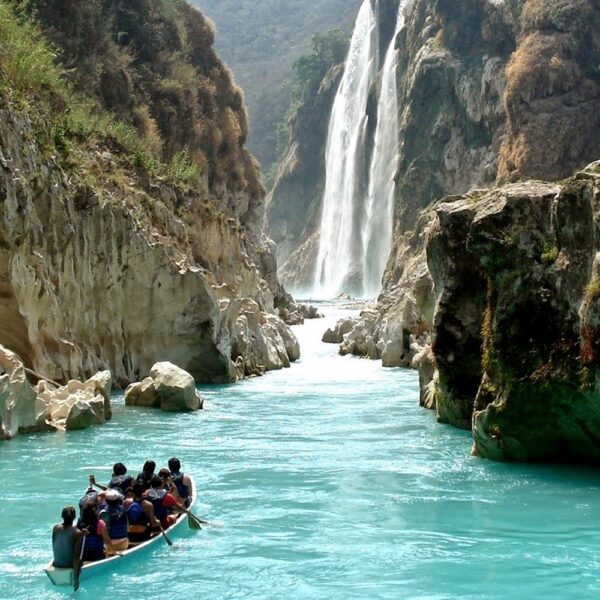 Mexico is one of the best countries for Ecotourism as it has a great variety of flora and fauna, as well as a large number of refuges for extraordinary species. You can enjoy recreational activities of appreciation and knowledge of nature through contact with it, such as: stargazing, observation of natural attractions, wildlife and bird watching. Throughout México there are more than 176 protected natural areas, 5 of them considered by UNESCO as Natural Heritage of Humanity. Just for this and much more, we believe that Mexico is a Paradise for Ecotourism.… Read More
Read More »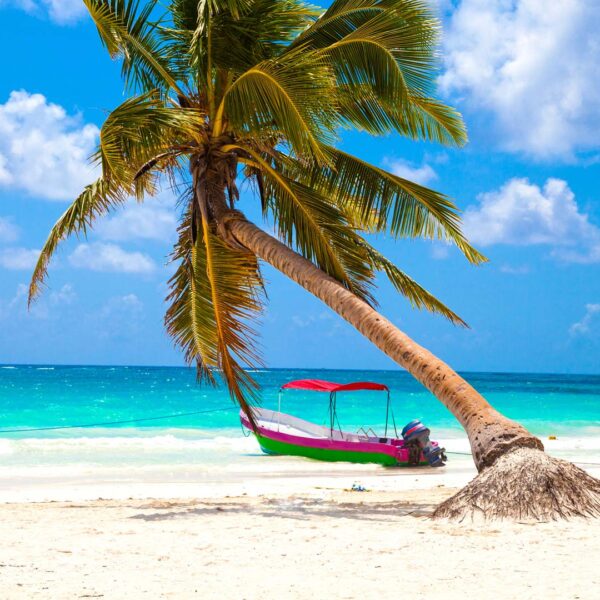 On the Beaches of Mexico you can immerse yourself in the intense blue ocean of the Pacific bays, sunbathe on the shore of the warm and transparent waves of the Caribbean Sea in Quintana Roo or even rest on the beautiful coasts of the Gulf of Mexico. Mexican beaches hide wonderful secrets for the traveler. By visiting them, in addition to enjoying the excellent climate and water activities, you can discover splendid archaeological sites and interesting colonial cities without traveling long distances.… Read More
Read More »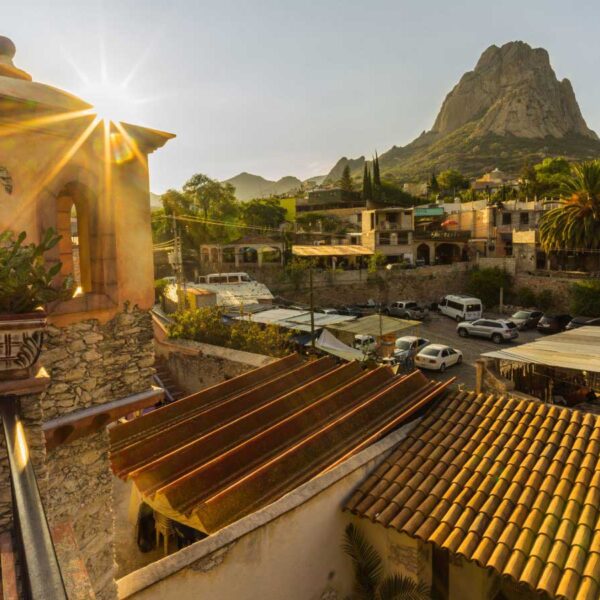 A Magical Town is a place with symbols and legends, towns with history that in many cases have been the scene of transcendent events for our country, they are places that show the national identity in each of its corners, with a magic that emanates from its attractions ; visiting them is an opportunity to discover the charm of Mexico. The Magical Towns Program contributes to revalue a set of populations in the country that have always been in the collective imagination of the nation and that represent fresh and varied alternatives for national and foreign visitors. A town that through time and in the face of modernity, has conserved, valued and defended its historical, cultural and natural heritage; and manifests it in various expressions through its tangible and intangible heritage. A Magical Town is a town that has unique, symbolic attributes, authentic stories, transcendent events, everyday life, which means a great opportunity for tourist use, taking into account the motivations and needs of travelers.… Read More
Read More »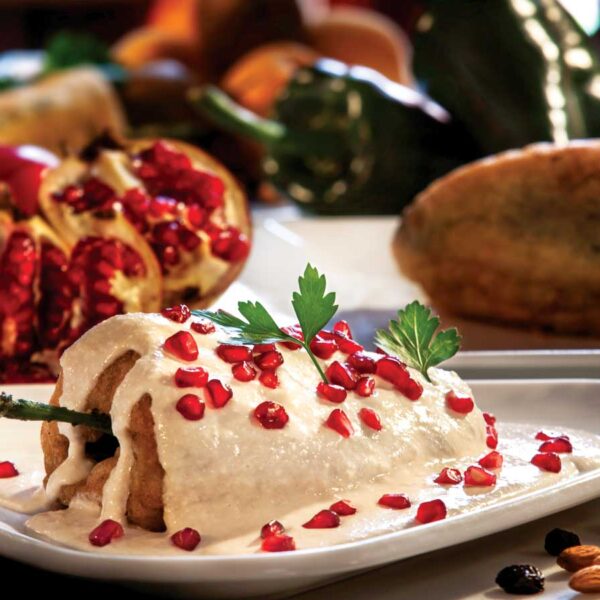 The Gastronomy of Mexico has a great diversity of typical dishes, which is why it was recognized by UNESCO as Intangible Heritage of Humanity. The basic and representative ingredients of Mexican dishes are: corn, coriander, chili, beans, piloncillo, nopal and tomato. Mexican cuisine is also characterized by its sauces, which serve as an accompaniment to traditional dishes, prepared based on spices.… Read More
Read More »