Coahuila is known for its rich and diverse gastronomy. The cuisine of this region is heavily influenced by fresh meats such as "cabrito", mutton, and veal. The meats are often red, juicy, and finely cut, making them a staple of the Coahuila table. However, the state's gastronomy has also been enriched with contributions from other areas, with which it has exchanged food and merchandise for many years. As in the entire north of the country, the essential flour tortillas, machaca, northern sheets, dial, chorizo, cheese and tamales are also part of the Coahuila cuisine.
One of the most appreciated dishes in the region is the baked "cabrito", although it is also cooked al pastor. The meat and corn tamales from Ramos Arizpe and Saltillo are other specialties, as well as the desert salad, which is an excellent option to accompany all kinds of dishes. It is made with hearts of palm, sweet corn, onion, nopales, and Parmesan cheese. Coahuila also offers top quality cheeses.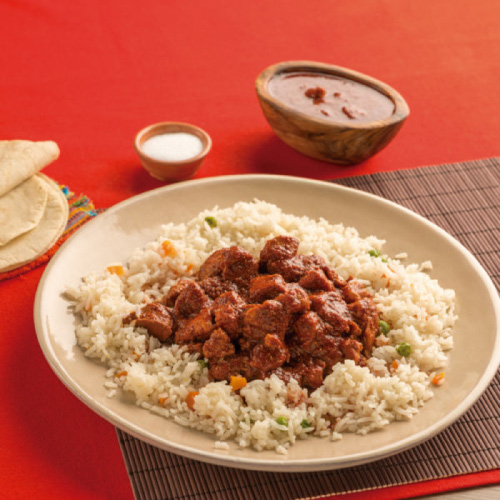 Famous and traditional is pulque bread, in which the dough is precisely mixed with pulque, giving it a very special flavor. It is very common to see street vendors offering this type of bread on the streets of Saltillo, although it can also be purchased at prestigious bakeries. Other traditional breads are: empanadas stuffed with nuts and piloncillo or cajeta; the chorreadas, typical in Saltillo and Ramos; and the campechanas of Parras.
Exquisite desserts are part of northern gastronomy, among which stand out milk and nut sweets, popularly called nut cheese, and suaderos, which are jelly rolls stuffed with pine nuts and almonds. Prepared the old-fashioned way, the quince cajeta is made in various regions of the state, mainly in Saltillo in small special mills where the cooked quinces are ground. Coahuila has established itself as one of the main wine producers in the country, especially in the area of Parras de la Fuente and Cuatro Ciénegas, where several wineries produce excellent wines.
The oldest vineyard in America, opened in 1597, is located in Parras. An exquisite vermouth is also produced in this city, with plants and herbs imported from Turin, Italy. The Sotol is another typical drink of Coahuila, it is an ancestral drink to which curative properties are attributed and that has certification of the denomination of origin, like Chihuahua and Durango. It is a product of the fibrous plant known as sereque or sotol, which is a type of mezcal. It is a strong drink with between 38 and 45 degrees of alcohol and is made with a completely handmade process with a smoky and sweetened flavor.
Coahuila's capital, Saltillo, is a great place to experience the region's gastronomy. Visitors can enjoy typical dishes such as "cabrito", accompanied by a good pulque bread, and a table wine or vine wine. Traditional Coahuila desserts such as tomato or milk can also be tasted. If you go on a trip to Coahuila, you will find that the seasoning is very different from that of other areas. So do not hesitate to know everything about the gastronomy of this beautiful city. Keep in mind that their dishes are delicious and easy to prepare.
Enjoying, knowing, and delighting in the cuisine of Coahuila is part of a perfect travel plan, which is why this beautiful Mexican destination prioritizes its culinary offer as one of its attractions.

Typical Dishes of COAHUILA
Grilled Meat
Coahuila is a state in northern Mexico known for its exceptional quality of meat. Along with Nuevo León, Sonora, and Chihuahua, Coahuila is renowned for producing some of the best meats in the country. One of the most popular dishes in the region is Carne Asada, a grilled meat that is enjoyed with a variety of accompaniments, such as hot sauce or guacamole, beans, onions, nopales, chorizo, sausage, and tortillas. This flavorful dish is often enjoyed with friends and family and serves as a great excuse to get together and savor the delicious food.
Coahuila is home to some of the best cuts of meat, such as ribeye and arrachera, which are used to prepare the famous roast beef, one of the state's main dishes. This savory dish is a perfect blend of easy-to-find ingredients like meat and salt, along with pepper, garlic, and any other seasoning of your choice. Some even add beer to give the roast a different touch. The seasoned meat is placed on a spit and cooked until it is golden brown. Small cuts are made where the fat is located to prevent it from shrinking. Roast beef is often enjoyed at Coahuila food establishments with substantial and rich garnishes.
Burritos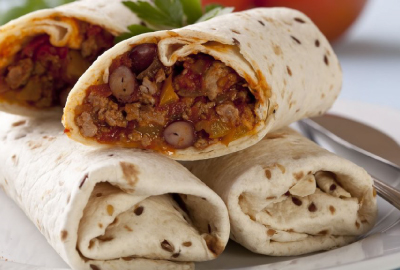 Another popular Mexican dish that has its roots in Coahuila is the burrito. While there are several versions of its origin, the most accepted one dates back to the days of the Mexican Revolution when a man named Juan Méndez sold food wrapped in a tortilla through the streets of Ciudad Juárez. His practical idea was to wrap the food inside a large flour tortilla to avoid the need for a plate. As demand grew, Juan had to use a donkey to transport his merchandise and even crossed the border to El Paso, Texas. Hence, he was given the peculiar name of "burritos."
The main difference between tacos and burritos is that tacos are made with corn tortillas and are open, while burritos are made with flour tortillas and are rolled up. Flour tortillas are popular in northern Mexico because of the region's high wheat production, which is why burritos have also become popular in Coahuila. The traditional ingredients of the burrito are flour tortillas, chorizo, ground beans, string cheese, sliced lettuce, chopped onion, and a pinch of salt. However, there is a wide variety of burritos to choose from, including beef, chicken, vegetarian, pork, and bean burritos.
The preparation of burritos is straightforward, as the tortillas are filled with different ingredients, although it is common to include refried beans, slices of avocado, and beef fajitas. This is one of the 30 typical Coahuila dishes that can be eaten at any time of the year. A good sauce made with tomatoes, chipotle, onion, cream, and salt is often added to give the dish a characteristic regional touch. Although burritos are considered a typical delicacy, they are said to lose their authenticity if they contain more than two ingredients.
Nachos
Nachos are another popular dish that has its origins in Coahuila. They were invented in 1943 by Ignacio Anaya at the El Moderno restaurant in Piedras Negras. Nachos are made by frying pieces of corn tortillas in the shape of triangles and topping them with cheese and jalapeño peppers. This delicious snack was originally created as a quick and easy snack to serve to some very demanding customers who visited the restaurant.
Ignacio Anaya had no cooks at the time, so he had to make do with the ingredients he had on hand. The snack was a hit, and soon customers were flocking to the restaurant to try the "Nacho Especial."
The Nachos became so popular in Piedras Negras that they became a part of the local culture. Today, the city celebrates the "Nacho Fest" every October, showcasing the variety of nachos that can be created. The Nachos have become an iconic dish and have gained international recognition. In fact, every November 6th, the United States celebrates "Nacho Day" in honor of this delicious snack.
In addition to being a typical food of the state, Nachos enjoy a special date on the calendar. International Nacho Day is commemorated every year on February 24th, providing yet another reason for visitors to Coahuila to enjoy its flavor. Nachos are a versatile dish and can be customized to your liking. You can add chorizo, ground beef, flank steak, or even sushi to give it a unique twist.
Machaca
Machaca is a type of dried meat that is prepared by pounding sun-dried beef or venison. It is a lean cut of meat, taken from the beef loin that has no nerves or fat. This dehydrated meat has been a part of the diet in Coahuila since ancient times when it was used as a way of keeping food fresh.
The history of machaca dates back to the time when the workers and engineers who worked in the construction industry would buy meat and carry it with them without any way of refrigerating it. They would sprinkle lemon juice on it, but eventually got bored of the recipe and started experimenting with other ingredients like lard, chili, tomato, and onion. The dish "Machacado con huevo" is a popular recipe that evolved from this experimentation, and it is often served with eggs.
Machaca is easy to prepare and can be stored for up to four months if packaged correctly. It is often used to make burritos, which are one of the most common dishes in Coahuila, along with the egg with machaca. This dish is rich in nutrients and can be accompanied by fruit water, juices, or any other beverage of your choice. The taste of Coahuila's machaca is unique, and you should not miss the opportunity to enjoy this dish.
Cabrito
Among the traditional dishes of the region, the Cabrito stands out as a popular and delectable option to enjoy with family and friends. The Cabrito, also known as baby goat meat, is a staple food in Coahuila, Nuevo León, Tamaulipas, and north of San Luis Potosí. The young calf, at only four months old, has meat that is similar to lamb. The Cabrito is cut into pieces and seasoned with garlic, onion, and other ingredients according to the diner's taste.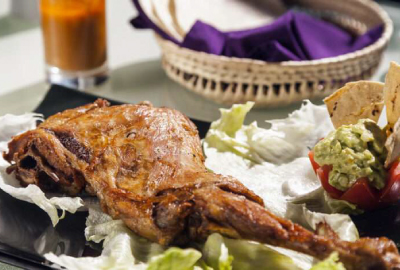 It can also be cooked with a sauce that has chilies, peppers, garlic, and oregano, and sometimes includes carrots and Cabrito tripe. Due to its versatility, the Cabrito can be prepared in various ways. In Coahuila, it is a tradition to eat Cabrito on December 25. Additionally, the National Executive Commission of the National Chamber of the Restaurant Industry and Seasoned Foods inaugurated April 18 as the State Day of the Cabrito in Coahuila.
Every year, the Cabrito Fest is organized between the months of April and May, where the main ingredient is Cabrito, and it is an excellent opportunity to taste and enjoy different dishes. The Cabrito is not only famous for its freshness but also for being one of the original dishes of Coahuila.
Its preparation is straightforward, and the ingredients used include garlic, ancho chile, oregano, onion, and salt. The process takes approximately four hours while the components are assembled and seasoned. Finally, the Cabrito is baked to perfection.
Legend has it that the Cabrito dish originated from a shepherd who only carried a knife with him. One day, he got a dead Cabrito, cleaned it, and pierced it with a stick to calm his hunger. From this act, the emblematic dish of Coahuila was born.
Pork Roast
The Pork Roast is another classic dish that is prominent in Coahuila's traditional food. In the past, when refrigerators were not available, grandmothers preserved pieces of pork in clay jars, covered them with a blanket, and buried them in the ground. When the pork cooled, it released fat resulting in a peculiar and delicious stew.
Today, the Pork Roast includes additional ingredients such as ancho chile, pasilla chile, tomato, onion, garlic, and pork loin pieces. It is common to accompany the dish with charro beans and flour tortillas. As a straightforward recipe to prepare, it is a traditional dish in several states in the North of Mexico, making it a popular option in various celebrations. It is also typical to cook it in mesquite firewood, as it was done before, giving the dish a unique touch.
Discada
Discada is a classic Coahuila dish that has gained popularity in recent years. It is prepared with various types of roasted and grilled meats, cooked on a plow disk. This form of preparation became a tradition among the farmers of Coahuila. It arose from peasants who used some worn discs to prepare the food, this with the intention of making it work for everyone.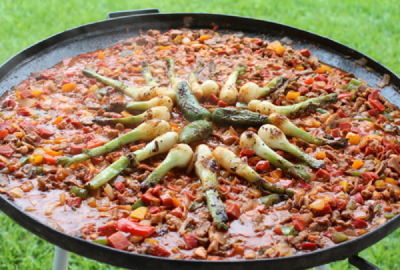 For the elaboration of this typical food, chorizos, bacon, and roasted and ground cumin are used. It also has pork fillet, sliced onions and also adds poblanos and tomatoes. It also has chipotles, salt and pepper to taste. The discada is one of the most classic dishes of Coahuila, and it can be combined with various ingredients, from meat to seafood.
The dish is prepared on special griddles, some of which have steel edges or even a stove at the bottom and a base to hold it. It is believed that at first, the discada was only prepared with deer meat. However, today several ingredients have been added to the dish that give it its exquisite flavor.
In the same way, the disc in which all the components are cooked has been modified to meet the needs of modern kitchens.
Chicken with corn
Chicken with corn is another popular dish in Coahuila. It is a divine traditional meal that is perfect for lunch and can be shared with loved ones. This dish is easy to make at home and can serve a large number of people, depending on the amount of chicken and corn used.
To prepare the dish, the chicken meat should be well-cooked and shredded. Garlic and onion should then be added, along with enough corn kernels and tomatoes to make a juicy stew. The next step is to layer the sliced poblano and bell pepper in a mold and pour the sauce or cream over it. The dish is then placed in the oven and baked to perfection.
The result is a mouth-watering dish that can be enjoyed with snacks, desserts, and drinks. The combination of flavors and textures will give your palate an exquisite awakening that you cannot stop trying.
Miguitas (Crumbs)
This dish consists of pieces of tortilla mixed with egg, which is then fried and served with a variety of toppings, such as beans, cheese, chorizo, avocado, and salsa. Miguitas were originally created by shepherds who used stale bread mixed with eggs and beans to create a hearty and flavorful breakfast. Over time, the recipe evolved to include tortillas instead of bread, and miguitas became a staple of Northern cuisine.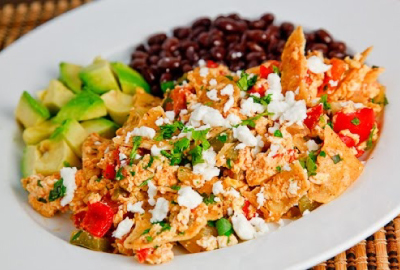 Miguitas can be made in different ways, depending on the region and the chef's preferences. In Coahuila, the specialty is Migas Norteñas, which is made with beans, tortillas, and chorizo. To prepare this dish, you must fry the tortillas and prepare the sauce with tomato puree, chili peppers, and onion. The result is a delicious and filling breakfast that is not too spicy, making it suitable for everyone.
If you want to make miguitas at home, you will need some key ingredients, such as corn and egg tortillas, onion, and green serranos. You can also add chipotle sauce to decorate and serve. To prepare miguitas, you should cut the tortillas into medium triangles and fry them in hot oil until they are golden brown.
Then, add the chili, onion, and other ingredients to the pan and cook until everything is well combined. The preparation time for miguitas is around 30 minutes, and you can garnish them with chipotle sauce or refried beans, depending on your taste.
Gorditas
One of the most beloved breakfast dishes in Coahuila is the gordita. These delicious treats are prepared fresh and can be found in street carts and local restaurants throughout the state. These savory stuffed cakes are made from fried corn dough and can be filled with a variety of ingredients, including meat, cheese, beans, eggs, cilantro, and onion.
They are often sold by street vendors who push carts through the city, or can be found in local restaurants. Gorditas are so popular that you can enjoy them any day of the year. In fact, their flavor has become so renowned that they are recognized as a cultural symbol of Coahuila and are enjoyed by people of all social classes.
While gorditas can be found throughout Mexico, the gorditas de harina have a special origin in the city of Torreón. These are made from flour dough and can be filled with a range of stews, such as green and red roast, chicharrón, mole, and egg. They are irresistible to locals and visitors alike, and their popularity has spread beyond Torreón to become a cherished Coahuilan dish.
Rajas de Chile in Escabeche
Pickled chili slices are a common ingredient in many Mexican dishes, and the Rajas de Chile in Escabeche is no exception. They are an ideal accompaniment to a wide variety of dishes and are very easy to prepare. All you need are sliced jalapenos, minced garlic, carrots, onions, spices, oil, apple cider vinegar, and salt to taste.
Fry the ingredients for 5 to 6 minutes, then add the vinegar and let it boil until it is cooked. The approximate preparation time is 10 to 20 minutes. This recipe can be used to accompany other delicious dishes.
Tamales de dedo (Finger tamales)
Finger tamales, also known as northern tamales, are a small and elongated version of the traditional Mexican tamale. They are made with corn dough, lard, and can be filled with either a salty meat filling or a sweet one. The origins of tamales date back to pre-Hispanic times in Mexico, where they were used to celebrate big events and give thanks to the fertility of the earth.
Each state in Mexico contributes a unique flavor to its tamales, and Coahuila is no exception. What sets the Finger Tamales of Coahuila apart from other tamales is their tiny size, as they are the size of an adult finger. They are wrapped in corn husks and steamed, and can also be prepared in banana, chilaca, papatla, and reed leaves.
What makes them particularly special is that they have more filling than dough, making them truly delicious. Finger tamales can be enjoyed with a delicious pinole atole, a type of sweetened cornmeal beverage.
Fritada norteña (Northern Fritada)
The Northern Fritada is another delicious dish that is an important part of the gastronomy of Coahuila. This dish is a Mexican version of the Spanish chanfaina and is made with lamb, "cabrito", lamb, oregano, thyme, and bay leaf. The origins of this dish date back to colonial times when the Spanish and Arabs arrived in Saltillo, bringing with them their own foods and spices.
The Northern Fritada is made from the liver, heart, lung, tripe, and head of the "cabrito", which can make it difficult to capture the flavor. However, the use of laurel leaves and oregano in the dish gives it a delicious flavor. To prepare it, a large pot is used, and it is commonly served with rice, corn tortillas, or bread.
Enchiladas de Olla (Pot enchiladas)
The Enchiladas de olla are a popular and traditional dish in Coahuila, and they are prepared in a unique and tasty way. They are made by mixing corn tortillas with red chiles (ancho chile) and are filled with grated cheese and slices of poblano chile. After frying the tortillas, they are arranged in layers with grated cheese, poblano, and green chili in a pot.
The pot is then covered and cooked in a bain-marie until the enchiladas are soft. Enchiladas de olla are typically served with lettuce leaves, radishes, and fresh cream, and they are a common dish in Saltillo. You can find them at town fairs, markets, and restaurants.
To prepare Enchiladas de olla, you can start by making rich tortillas with corn dough mixed with ingredients such as red chile, poblano, and grated cheese. Cook the tortillas on a griddle and then fold them in half like a quesadilla. Then, fry them in lard until they are crispy. Once they are ready, arrange them in layers in a pot, alternating with grated cheese, poblano, and green chili until the container is full.
Finally, bake the enchiladas in a bain-marie until they are soft. You can decorate the dish with lettuce leaves, radishes, and creams. Enchiladas de olla are not only delicious, but they also provide important nutritional information such as calories, carbohydrates, proteins, lipids, dietary fibers, sugars, and cholesterol.
Chorizo de Múzquiz (
Sausage from Múzquiz

)

Chorizo de Múzquiz is a type of sausage that is known for its traditional production. Múzquiz, a small town in Coahuila, is famous for its gastronomy, which includes dishes such as roast beef, beef cortadillo, and the Chorizo de Múzquiz. The inhabitants of this town make and promote artisan products of excellent quality, including the famous Múzquiz chorizo.

To prepare this delicious sausage at home, you must grind pork or pork in a mill until you get the desired texture. Then, you must season it with salt and pepper and add garlic, chili, thyme, oregano, vinegar, wine, cumin, and basil. Mix everything until you get a homogeneous mass.

Then, with the help of a funnel, press the meat mixture into the casing, which must be sealed or tied at one end. Once the casing is filled, seal the other end and make ties along it of the desired size of the chorizos.

Typical Drinks of COAHUILA
Wines
Coahuila is a place of exquisite gastronomy that offers surprises to everyone, especially those who enjoy pairing their meals with wine. Wine is the representative drink of Coahuila, a region with a long tradition in vine cultivation since the Spanish conquest when wild vines were discovered. In 1597, the Spanish crown authorized the planting of vine plants to produce wine, and this gave rise to the Hacienda de San Lorenzo, currently known as Casa Madero, with over 423 years of uninterrupted wine production.
Coahuila offers a wine route that takes you through more than ten wineries where you can savor delicious meals with excellent wines, regardless of the season. The cellars of the vineyards are a tourist attraction, and the wines are internationally recognized, including Shiraz, Santos Brujos Tempranillo, Cabernet Sauvinon, and Malbec 2016, among others. Some of the most recognized wineries in Coahuila are Casa Madero, Viñedos Don Leo, Vinícola Rancho el Fortín, Hacienda Florida, Bodegas del Wind, and Treasury of the Marquis.
Wines from Parras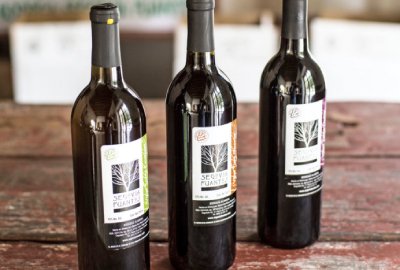 If you're a wine enthusiast, you won't want to miss Parras, a magical town in the State of Coahuila that's considered the cradle of wine in all of America. Parras has a semi-dry climate that favors the growth of the vine, and it's where the first wine house in the American continent was created. Casa Madero, founded in what was then the San Lorenzo Hacienda, is the birthplace of Mexican wines.
Vinos Don Leo, one of the best wine houses in Parras, received the highest international recognition at the "Concours International Des Cabernets," where its cabernet was crowned the best in the world, competing with labels from 25 countries. Parras has excellent quality wines, ideal for pairing with strong and complex dishes, such as cuts of meat.
The fertile land in Parras, located at less than 1,600 meters above sea level, has a perfect climate for planting and harvesting the vine. During the conquest, the Jesuits discovered these privileged lands with beautiful springs and wild vines, and this is how wine production began in the area. Today, Parras is a tourist attraction where you can learn about the production process, quality, and tasting of the wines of this region.
Parras owns the oldest wine-producing wineries in the American continent, and you can try vine wine at any of the following wineries: Segovia Fuantos, El Vesubio, Antiguas Bodegas de Perote, Viñedos de Coahuila, Casa Madero, and Licorama.
Tuba
Coahuila offers another local beverage that's difficult to find in other states due to its unique flavor: tuba. Tuba is obtained by cutting the cluster of coconuts completely just before the flowers open, and the liquid drips into containers that are left for days. The accumulated amount is collected every morning to obtain the drink known as tuba.
Sotol
One of the most popular drinks in Coahuila is sotol, a strong alcoholic beverage that has been produced for centuries. Sotol is made from the leaves of the dasylirion plant, which is native to the Mexican desert. The leaves are distilled through a traditional artisanal process, which results in a liquid substance that can have between 35° and 55° alcohol.
Originally, sotol was used for ceremonies and rituals by the indigenous peoples of Mexico, together with peyote. Nowadays, sotol is widely consumed in different bars and restaurants across the country. If you are a lover of this type of drink, you should try the different presentations that will be offered to you on your visit to Coahuila, such as the special red sotol, the sunrise sotol, and the fighting bull and sotol cocktail.
It is important to note that sotol has denomination of origin in three states of Mexico: Coahuila, Chihuahua, and Durango. So, if you want to try an authentic sotol, you must visit Coahuila, where you can find it in places like the Cantares Torreón bar, located in Saltillo.
Pineapple Tepache
Pineapple tepache is another traditional drink of Coahuila, which has its origins in pre-Hispanic times. This amber-colored substance has the smell and flavor of pineapple, and it is made from corn with very few degrees of alcohol. The ingredients of this drink include ripe and large pineapple shells, nutmeg, piloncillo or sugar, cinnamon, cloves, and a little anise.
To prepare pineapple tepache, you must wash the pineapple very well and chop it in such a way that the shells remain with pineapple pulp. Then, place it in a container along with the cinnamon and piloncillo, and add the cloves and anise. Finally, let it soak for four days until it ferments. To serve it, you can add a few ice cubes to the preparation.
Pineapple tepache is one of the regional drinks of Coahuila, ideal to share with family and friends. Moreover, this craft drink is available for sale only by street vendors. But since its recipe is very easy to prepare, you can do it in the comfort of your home. An additional fact is that this juice has a high level of vitamin C and some minerals such as magnesium, which makes it a healthy and delicious option.
Tejuino
Tejuino is one of the oldest and most traditional drinks in Coahuila, with its origins dating back more than five thousand years to pre-Hispanic times. The indigenous Wixarikas began to make this drink in an artisanal way, using it for their rituals and ceremonies, representing the union between the spiritual plane and the cosmic.
Tejuino is made from corn with piloncillo or panela, which are left to ferment for approximately two or three days in a clay container. This drink is characterized by its bittersweet flavor and by having little alcohol. To drink it, you can add chili, salt, and lemon to taste.

Typical Sweets and Desserts of COAHUILA
Coahuila is known for its rich culinary traditions and delicious sweets and desserts. From walnut cheeses to figs, from milk sweets to quince rolls stuffed with fruit and walnuts, there is no shortage of sweet treats to satisfy any sweet tooth.
In the Central-Desert Zone of the state, between Monclova and Cuatro Ciénegas, one can find traditional cones with dulce de leche quemada. This sweet is made by slowly cooking sweetened milk until it caramelizes, resulting in a rich and creamy treat that is perfect for any occasion.
In the Municipality of Ramos Arizpe, the famous Nieve Ramos is produced. This is a frozen dessert made from a combination of fresh cream, milk, and fruit, resulting in a refreshing and delicious treat that is perfect for hot summer days.
The Lagunera Region, and particularly the city of Torreón, is known for its sweets made with dates. This influence can be traced back to the Middle Eastern immigrants who settled in the region and brought with them their culinary traditions. One popular sweet in this region is campechanitas, a delicious pastry filled with dates and covered in sugar.
Fig Cheese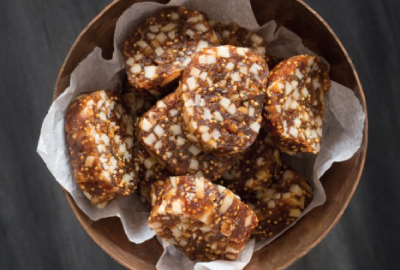 If you are looking for a sweet treat in Coahuila, one of the most popular options is fig cheese. Despite its name, this dessert does not actually contain any dairy products. Instead, it gets its name from its firm texture, which is similar to that of cheese. Fig cheese is made from figs, nuts, sugar, and water. It is believed that the sweet originated in Spanish convents and was later perfected by the nuns of the convents in the town of Parras.
The abundance of figs in the region made fig cheese a staple sweet in Coahuila. Figs are also known for their nutritional benefits, which include iron, potassium, calcium, and magnesium. You can find fig cheese in traditional candy stores and markets throughout the state of Coahuila.
Milk Sweets
Another popular type of sweet in Coahuila is milk sweets, which are also known as arequipe or delicacy. Dulce de leche, a sweet made from milk, sugar, vanilla essence, and baking soda, is a particular favorite in the region. The preparation of milk sweets can include a variety of ingredients, but the basic process involves heating the milk, adding sugar, and stirring to achieve a creamy texture. In addition to dulce de leche, other popular milk sweets in Coahuila include walnut cheeses, jamoncillos, and suaderos.
Suaderos
Suaderos are a type of sweet that is particularly popular in the city of Saltillo, Coahuila. These jelly rolls are typically filled with pine nuts and almonds and are made from a jelly that is traditionally made from quince. However, other fruit jellies, such as apricot, peach, or apple, can also be used. While the origin of the name suaderos is unclear, these sweets are a beloved part of Saltillo's culinary culture. In addition to suaderos, quince cajeta is another popular sweet in Saltillo, made by cooking quinces and grinding them in special mills. This process is still done by hand in the traditional way.
Pudding
One of the classic desserts of Coahuila is the pudding. This sweet or savory pie can be found in many tourist destinations throughout the region. The pudding is not only delicious, but also easy to prepare at home. To make it, you need a special container for baking. You begin by preparing a soft and thin layer of wheat flour to cover the base of the mold. Then, add your desired ingredients.
For a savory dish, you can use refried beans marinated with cumin, sliced potatoes, grated cheese, ancho chili sauce, and finely chopped jalapeño. Bake for 40 minutes until it is cooked.
If you have a sweet tooth, you can add fruit, nuts, and cinnamon to the mixture. You can find this Coahuila dessert in any restaurant in the state, so don't miss the opportunity to taste it.
Coahuila Style Pulque Bread
Another dessert that is typical of Coahuila is the Pulque Bread, which can be found in the bakeries of Saltillo and Ramos Arizpe. This bread combines the flavors of bread and the drink of the gods, Pulque. It is a Mexican cultural heritage recognized for its rich flavor and the history it represents. The Tlaxcalans, who were skilled bread artisans, arrived in Coahuila with the knowledge of making pulque, and it was then that they combined these two ingredients.
These breads were baked in ovens fired with pine wood, adding a unique flavor to the bread. At first, Pulque bread was very salty, but over time it evolved by combining the acidity of Pulque with the sweetness of sugar, creating a perfect duo. Pulque is part of the pre-Hispanic dishes of Coahuila, and it is an indigenous drink used in rituals that is made from the distillation and fermentation of sugars present in the agave tree, known as the "tree of wonders."
To make this famous bread, they combine the dough with wheat flour, eggs, sugar, butter, fresh walnut, and, of course, Pulque. It is widely consumed and is used as a treatment for gastrointestinal ulcers and gastritis.
Tomato Sweet
The tomato sweet is another delicious dessert that you can find in Coahuila. This sweet enchants with its unique flavor, color, and consistency. To prepare it, you will need ripe tomatoes, cloves, pepper, and sugar. After cleaning and peeling the tomatoes, cook them together with the other ingredients until they boil and turn into a jam-like consistency.
This sweet can be enjoyed with crackers, sweet wheat tortillas, rancheritas, or gorditas for a delicious snack. What makes this sweet stand out is that it can be enjoyed year-round since tomato planting and production occur throughout the year. Any of the three types of tomatoes that grow in the country can be used to prepare this sweet.

More Tourist Attractions in COAHUILA

Flights & Hotels in COAHUILA

More Tourist Attractions in MEXICO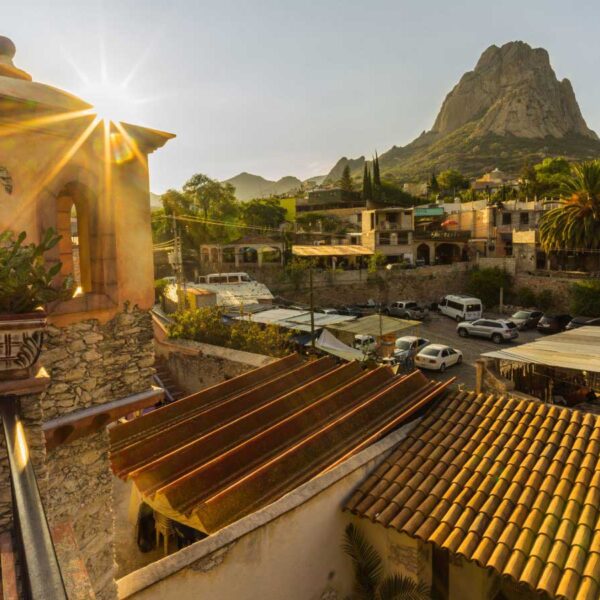 A Magical Town is a place with symbols and legends, towns with history that in many cases have been the scene of transcendent events for our country, they are places that show the national identity in each of its corners, with a magic that emanates from its attractions ; visiting them is an opportunity to discover the charm of Mexico. The Magical Towns Program contributes to revalue a set of populations in the country that have always been in the collective imagination of the nation and that represent fresh and varied alternatives for national and foreign visitors. A town that through time and in the face of modernity, has conserved, valued and defended its historical, cultural and natural heritage; and manifests it in various expressions through its tangible and intangible heritage. A Magical Town is a town that has unique, symbolic attributes, authentic stories, transcendent events, everyday life, which means a great opportunity for tourist use, taking into account the motivations and needs of travelers.… Read More
Read More »