Typical Food of NUEVO LEÓN
The gastronomy of Nuevo León has meat as its protagonist, and it is one of the richest in the region, due to the various mixtures that influenced it. Many of the typical dishes of the state are prepared with beef, goat meat and milk, due to the fact that agriculture developed after cattle raising; other important ingredients are corn and wheat.
The cuisine of Nuevo León has its origin in the Spanish Catholic and Jewish cuisines and that of the Tlaxcalan indigenous people who arrived from the center of the country; The latter used the drying technique to preserve food, due to the extremely hot climate and the infertility of the land.
That is why the gastronomic prestige of this entity resides mainly in the high-quality cuts of beef sold in restaurants, such as agujas and arrachera, and in various typical dishes of the state such as alambres and cortadillo de beef, which is traditionally served with charro beans, tomato or drunk sauce, and wheat flour tortillas.
Dishes made with goatling are of Jewish origin and are currently prepared, especially roasted or baked "cabrito", in caldillo and in its blood.

Typical Dishes of NUEVO LEÓN
"Cabrito" (Goatling)
The "cabrito" is definitely the most emblematic dish of the gastronomy of Nuevo León. It was precisely the Jewish-Spanish who introduced it in the absence of lambs, as a substitute in their traditions.
According to legend, a shepherd had strayed too far from his home for him. With nothing more than a knife, he took advantage of the accidental death of a goatling to clean it, put it on a stick and satisfy his hunger. This is how the "cabrito al pastor" was born as an emblem of northern Mexico. This dish is prepared with goatling meat fillets, these can be roasted, stewed, fried or to taste.
It is roasted, for hours, completely open, using firewood from the mesquite tree. Currently in regional restaurants it is accompanied with charro beans, roasted onion, tortilla, lemon and salsa. You can serve the part of the leg, the kidney and the shoulder.
But the blood and chopped entrails of the goatling are also used to prepare a kind of soup called fritada. And finally, the intestines, cooked and fried, are also used to make another of the typical dishes of Monterrey: the machitos.
The classic thing is to eat them with wheat flour tortillas and red sauce. Its versatility allows us to prepare and taste it in different ways:
Al pastor, prepared and roasted in the heat of firewood, usually mesquite.
In sauce, prepared as a stew.
In his blood, better known as fritada, a dish that was previously typical at festivities such as fifteen-year-olds and weddings.
To the "coffin", baked.
In consommé, the "come back to life" from the northeast, it is made with "cabrito" cut into pieces and fried in lard.
In "machitos", a dish that is made with the viscera wrapped in the intestines and cooked on charcoal.
Machitos
It is a dish that is made with the tripe of the "cabrito", it is a very common dish in the state, especially in Monterrey, they are enjoyed at any family gathering, although you can also find them in restaurants, they are served with a taco-shaped tortilla, or also accompanied by roasted vegetables.

"Machacado" with egg
The machacado with egg is another of the typical dishes of Nuevo León. Inescapable for breakfasts. A dish that also has an interesting origin, linked to the hunting of large animals.
There are several versions of the origin of this typical dish, but the best known indicates that it arose in 1928, in the municipality of Ciénega de Flores. Fidencia Quiroga Chavarría is the name of the woman who created the machacado with egg, she tells the story that thinking about how to get ahead with her small food business, she chose to implement dried meat, since it was easy to preserve.
And it is that given the abundance of meat, a method had to be found to preserve it. It was then that it was decided to dry it in the sun for later consumption. This is how the jerky, machaca or machacado arose, so called because the meat was beaten with a stone to thin it out and thus dehydrate it better.
This dried meat, finely chopped or shredded, is cooked with egg to form a classic breakfast dish, particularly in Monterrey it is prepared bathed in sauce, accompanied by flour tortillas.
"Arrachera" (Skirt steak)
The arrachera is a cut originally from Nuevo León. Inevitable in those typical meetings of the premises in which a good roast meat is enjoyed. It is usually consumed in tacos and accompanied by a good beer. Many restaurants also offer this carnivorous alternative along with other fine cuts.
Curious that it is typically men who prepare this roast meat. The "agujas" (another meat cut) on the coals, the roast pork with red chile, the stew and the cortadillo, are other delicacies prepared with meat.

"Atropellado"
This dish is some tacos filled with dried meat with onion, a little chili, garlic and stewed tomato. It is a very simple dish to prepare because you only fry the onion and the chopped chili until very soft and then add the meat and brown it, the tomato is blended together with the garlic and a little salt, when the sauce is ready it is added to the meat and it is browned a little more, but the fact that it is easy does not take away from how tasty it is.
"Cuajitos" de Cadereyta
Also the delicious cuajitos, are a very traditional Cadereyta dish, however the city of Monterrey has adopted them in a great way. This stew came to Cadereyta Jimenez with the Spanish, originally and traditionally, the cuajitos refers to calf bags that are filled with pieces of leg meat from the same animal.
Cuajitos are a meal with a soupy appearance, made up of beef, accompanied by tomato, onion, chili and garlic. Over time the recipe improved and the demand for food grew and it was difficult having to slaughter so many calves. That is why beef, lamb and pork are essential in the typical diet.
Today, the delicious delicacy is the favorite of the people of Cadereyta Jimenez. It is made with small pieces of neck or tough beef meat, all the spices are added and in a broth. This delicious and traditional dish is normally eaten very early on Sundays and is prepared in many homes in the municipality. It is very common to find this traditional recipe in restaurants in Cadereyta Jiménez and other nearby places.
"Barbacoa" Tacos
It is a tradition every Sunday to get up early to go buy barbecue and make some delicious tacos, this meat is beef, it can be shank, skirt, tongue, or any other cut that is easy to shred.
Stuffed peppers
Made from whole pieces of chile, which are roasted directly over the fire, on a plate or on a griddle, and then generally stuffed with various meats, wrapped in a layer of beaten egg, and fried.

Jerky beef

Another delicacy that gives us the opportunity to enjoy it in different ways:
As a snack, natural or with sauce and lemon.
The "Atropellado", stewed in sauce or with tomato, onion and chili, a little drier but very Mexican.
In caldillo, it is made with shredded dried meat, onion, garlic, lard, green tomato, serrano chile, ancho chile, beef broth and oregano.
"Machacado", the famous king stewed with egg and accompanied with flour tortillas.
Beans "with Poison"
It may not be a main dish, but it is a complement that everyone falls in love with. In Nuevo León, beans with poison are used as an appetizer in the center of the table, they are prepared with beans, generally bay beans, and on top of them is sauce from the roast and some meat from it. Without a doubt, it can be a delicious appetizer to eat with tortilla chips or toast any day of the week.
Roast
A dish that will always be present in the life of Monterrey, the grill is lit at least once a week, the union around the grill does not exclude anyone, even if it is a vegan or vegetarian
Roasted meat will always have a complement to suit whatever it is, from onions, nopales, roasted potatoes and sweet potatoes, to guacamole, quesadillas, charro beans, a very good molcajeteada sauce and some very cold beers, the idea is that the roast beef plan becomes the meeting point or reunion with the people we love the most.
This dish is not just another meal, the reason why roast beef is so appreciated and popular by the people of Monterrey is because it is a way to socialize and create bonds between people. It is a generator of unforgettable experiences and memories, it has become a tradition to grill a delicious steak with your loved ones to celebrate a birthday, a baptism, or simply celebrate and want to have a good time.

Tamales
It is said that Juárez Nuevo León is the capital of the tamale, and they are right, there you will find the most delicious tamales, pork, chicken, bean and more, these are consumed at any time of the year, but when the December dates are It is a tradition to eat tamales both at Christmas and on Candelaria Day, and what a delicious tradition, these are prepared with corn flour and the filling that you want, this dish is so appreciated in Nuevo León that there are even sweet tamales.
Chicharrón de cachete (Pork rinds)
Another classic of the Monterrey diet, this meaty dish can be eaten:
Natural, without more, just like that. In a taco, accompanied by a good sauce and lemon, if it is accompanied by a few slices of avocado, better.
In green or red sauce, accompanied by flour or corn tortillas. Without a doubt, these dishes are a pleasure that cannot be missed, since they invite us to accompany each special moment with their delicious flavor full of tradition.
Normally it is eaten with some thin slices of onion and a touch of chili, accompanied with refried beans, it can be eaten with either flour or corn tortillas.
"Empalmes"
The empalmes are two tortillas passed through lard, joined together, they have their respective smeared with refried beans and sauce; There are different stews, such as dried meat, roast pork, pork enchilada and more. Another wonderful exponent of the typical food of Nuevo León
"Aguja norteña" of Nuevo León
Also the "aguja norteña", is the quintessential meat cut from Nuevo León, this cut can be accompanied with red rice, beans with cheese and tortilla chips, guacamole, roasted tail onions and the inevitable sauce.

Nuevo León Pork Roast
The Asado de Puerco is a festive dish for Nuevo León, it is prepared with pork browned in lard, ancho chile, guajillo, cumin, oregano, garlic and onion, to accompany some black beans and rice with tomato and freshly made tortillas.
This is a stew prepared in a red sauce made with dried chiles, such as guajillo and ancho chili, it is regularly served with rice. It is part of the traditional cuisine of Nuevo León, it is so versatile that it can be found in a traditional wedding or a taco stand in a market.
Dry Noodle Tacos
As you read, in the city of Monterrey, it is a tradition to eat dry noodle tacos, they are served in a flour tortilla and accompanied with sauce and that's it, you have a typical dish of Nuevo León cuisine.
Menudo from Nuevo León
Also in Nuevo León to the Menudo broth, better known as "pancita" (tummy) in the center of the country, they add wide chili so that it takes on a red color; some prepare the broth with beef legs and marrow bones.
Squares of "pancita", cacahuazentle corn, all boiled with garlic and onion; already at the table add oregano, chopped chili, lemons and salt. Another delight of the gastronomy of Nuevo León
Beef "cortadillo" from Santiago Nuevo León
The northern beef cortadillo is a very traditional dish, they are steak tips, which are prepared in tomato sauce, onion, Mexican style, it is very similar to beef roasts from the center of the country.

Typical Drinks of NUEVO LEÓN
Beer is the queen of gastronomy in Nuevo León. A craft production movement has recently been unleashed that is worth trying. And it is that accompanied by roast meat, beer is ideal. But, in addition, in Nuevo León you can enjoy mezcal.
As for non-alcoholic beverages, the white atole stands out, made with white corn dough and water. we must mention among the typical drinks the atole de mesquite, and the champurrado.
White atole
Mexico has a close relationship with corn and we can see that in its great varied gastronomy. But corn is not only present in food, it is also present in drinks. And a typical drink from Nuevo León is white atole, which is prepared with white corn, cooked, ground and boiled in water.
It should be noted that it is not the only atole drink that we will find in the state and in the country, since the list would be very extensive, it only remains to enjoy the type of atole that touches you according to the state.
Mesquite Atole
Another drink that is based on atole is mesquite atole. It is very popular in the region and it is an atole mixed with ground mesquite pods. And despite being a drink that originates from the city of Hidalgo, with the passage of time it has become popular. That is why it is part of the set of popular drinks in Nuevo León.
Pinole
Another drink that comes from corn and that we can find in the northern lands is pinole. A traditional drink that is prepared with toasted cornmeal sweetened with piloncillo.
Champurrado
As we mentioned a few moments ago, there are different types of atoles and in some places like Nuevo León, there are drinks that are derived from atole and the chapurrado is a clear example of this type of drink.
It is a popular drink that in the first instance is "atole", but dark chocolate and vanilla water are added to it, which completely changes its color and flavor, resulting in chapurrado.
Mezcal
In the state the planting and harvesting of the maguey occurs, which is the main element for the elaboration of Mezcal. Mezcal is a drink present in a large part of the culture of Mexico, but mainly in the northern states of the country, one such as Nuevo León.
This is because this, like other states, are benefited by very fertile lands that allow them to plant and harvest maguey, which is the main element for the production of Mezcal. But something that we must particularly mention is that in the face of the demand for this drink, sometimes we do not know which ones are from this state.
Beer
Beer is a completely popular drink all over the world, but one of the reasons why it is part of Nuevo León's drinks is because the state is the creator and supplier of several brands of beer.
"Carta Blanca" Beer
Before we mentioned some brands of beer that are part of the drinks of Nuevo León, but one that saw its origin in this state since 1890 and is still at the forefront is Carta Blanca beer. And it can be said that this beer is always present in roast meat, kid, soccer, regional music and any social event in Nuevo León.
"La Joya" soft drink
This is a soft drink that can only be found within the state of Nuevo León, which means that it is an original and unique drink of the state. It went on the market in Monterrey in 1942 and to this day it can still be found in various flavors such as apple or orange.
"Topo Chico" Mineral Water
Until recently, the "Topo Chico" brand mineral water, like the La Joya soft drink, could only be found in this state and its commercialization began in 1985.

Typical Sweets and Desserts of NUEVO LEÓN
Nuevo León is distinguished by its variety of sweets made with pecan nuts, since this nut abounds in the region, not everything is meat in Nuevo León, it also offers a series of typical desserts, among which the "glorias" stand out, sweets made with goat's milk, sugar and chopped walnuts, and the "hojarascas", which are wheat flour rolls , butter and sugar that melts in the mouth.
Glories are a tradition of burnt milk and walnut sweets that began in 1932. There are currently around 15 companies in Linares that are dedicated to making them.
The perlitas or "Indian kisses", the roll, the cannelados, the revolcadas, the custard and the marquetas, in different designs, are other traditional sweets. Also pleasing to the palate are goat's or cow's milk balls, pumpkin in tacha cooked in piloncillo, canned oranges from Montemorelos and those of other fruits in Santiago and surrounding towns.
"Turcos" Turks

This is a dessert that is shaped like an empanada and is filled with ground pork, aniseed, sugar, cinnamon, cloves, spices, walnuts, and raisins. To all this, you may imagine that its flavor should not be very good, but it is quite the opposite, because the sugar, cinnamon and walnuts give it a very sweet touch, that just trying it you would not even imagine that it has meat.
Bustamante bread
The famous Bustamante bread, is made according to a family tradition and baked home-style. The walnut empanadas, the "turcos" (turks) and the semitas are some of the flour delicacies that distinguish this municipality and those of the area.
Capirotada
The Spaniards created it and we perfected it, this is a dish that is mostly eaten during Lent, there are many ways to prepare it, but it generally uses aged bread, raisins, walnuts, piloncillo syrup, and almonds.
Burnt milk candy
Among so many varieties, it seems somewhat ironic to see ingredients that are repeated in -almost- all of them. We are specifically talking about nuts, milk and sugar.
The wonderful thing about the typical sweets of Nuevo León is that with these three you can make a world of things. The secret is in the burnt milk and the texture that it acquires as it caramelizes. Different nuts are added to each variety, among which pecans stand out due to the number of walnut trees planted in the state.
"Glorias" (Glories)
Originally from the municipality of Linares, Glorias are perhaps the most famous typical sweets of Nuevo León. And it is not for less, the cow's milk -or goat, or both- that when cooked with sugar takes on a consistency very similar to the cajeta, it is completed with pieces of pecan nuts.
Its name comes from what it provokes when you try them because, according to many, this little sweet -which always comes dressed as a gala between red cellophane paper- tastes like "gloria" (glory).
Milk pellets
In Marín, Nuevo León, they take advantage of burned milk in a slightly different way than Linares. The milk balls are completely solid – that is, they do not have the smoothness of dulce de leche as such – and they are sprinkled with sugar to finish.
The texture is very similar to that of jamoncillos, however the color is a little lighter and the final frosting gives them a crunchy touch at the end. This happens because cornstarch is added to the recipe to give it body.
Sevillanas
The northeastern dulce de leche has many faces but none as popular as the sevillanas. It is about two wheat wafers stuck together with a lot of this delight to make a kind of sandwich whose origin is also in dispute with Celaya, Guanajuato.
The difference with the latter is the origin of the milk. While in the Bajío they use goat as the only source, Nuevo León takes advantage of its abundant cattle to satisfy any sweet tooth.
Bean candy
The aromas of this peculiar dessert are of firewood, cinnamon and piloncillo. The beans are cooked and then ground to integrate with milk and sweeten. The result will be a paste that is finished with orange to make a delicious and highly nutritious dessert. It is originally from Agualeguas and its consumption is deeply rooted in this area of Nuevo León.
Orange preserve
Montemorelos is the capital of oranges in the north of the country. Just to give you an idea, it is one of the five states with the highest production in Mexico. Having so many, preparing a sweet to take advantage of it is almost a commandment that also results in something sweet and very aromatic.
The orange peel is boiled in salted water and then rinsed to remove any trace of bitterness. It is then cooked once more in orange juice, which gives it a much deeper flavor. The best way to eat it is with a little cheese, orange leaves and orange blossom.

Peanut marzipan
In reality, marzipans are not only typical sweets from Nuevo León, but there are thousands of interpretations around the globe. The peculiarity of the Northeast is that they are produced with peanuts from the region and their grinding is quite rustic, resulting in a product full of flavor and texture. It is a great option to accompany a coffee or an infusion in the middle of the winter afternoon in the cold northeast.
Nut candy
That typical walnut roll that is present in every Christmas basket has a place of origin and it is Nuevo León. It comes in various shapes and sizes, but what prevails is the basic recipe: cow's or goat's milk, sugar, walnuts, eggs, corn starch and some liquor to give aroma. Once it is cooked and thick, it is allowed to cool so that it is ready.

More Tourist Attractions in NUEVO LEÓN

Guided Tours in NUEVO LEÓN

Flights & Hotels in NUEVO LEÓN

More Tourist Attractions in MEXICO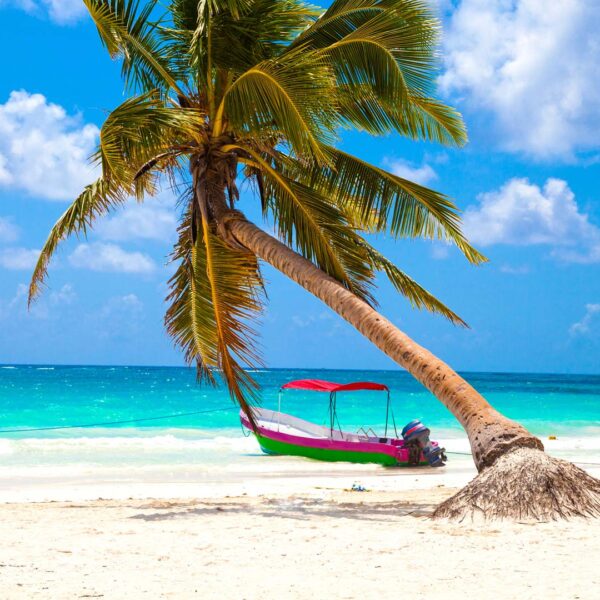 On the Beaches of Mexico you can immerse yourself in the intense blue ocean of the Pacific bays, sunbathe on the shore of the warm and transparent waves of the Caribbean Sea in Quintana Roo or even rest on the beautiful coasts of the Gulf of Mexico. Mexican beaches hide wonderful secrets for the traveler. By visiting them, in addition to enjoying the excellent climate and water activities, you can discover splendid archaeological sites and interesting colonial cities without traveling long distances.… Read More
Read More »