The gastronomy of Hidalgo is made up of ancestral ingredients: corn, insects, meat, chili and spices, in combination with ancestral traditions and secrets that have resulted in a gastronomic fusion of very peculiar characteristics in this part of the country.
If something characterizes Mexican cuisine, it is the wealth of flavors and traditions that come together in its dishes. Not for nothing has it been recognized by UNESCO as Intangible Heritage and the gastronomy of Hidalgo is no exception.
If you want to pamper your palate with exotic and traditional food, be sure to try the barbecue, the pastes, the mixiotes and the great variety of dishes that are in Hidalgo, accompanied by a good pulque.

Pastes
Let's start our list with a dish from England: pastes. If a dish is famous in Hidalgo, it is the pastes of Pachuca and Real del Monte, whose origin dates back to colonial times as the English miners took them as an aperitif to their working days.
The "Pastes" are a kind of empanada made with wheat flour filled with ground meat, potatoes, salt, pepper and parsley. Its origin dates back to the time of colonial Mexico when mining activity was at its peak and the English workers from Pachuca and Real del Monte took them as an aperitif to the pits and holes where they extracted the silver.
They are made with puff pastry filled with a stew of potatoes, ground meat and parsley, this being the original recipe. Now they include sweet or savory fillings such as mole, tuna with potatoes, pineapple, blackberries, rajas, among others.
Tlacoyos
I can still hear the noise and smell the aroma that comes out of the frying pan with oil or butter where these snacks are fried, to later be prepared, served warm and lick your fingers after tasting them.
Tlacoyos are elongated corn tortillas stuffed with lima beans, peas, or dried beans, topped with red or green sauce, onion, fresh cheese, and cilantro to taste. Order these succulent snacks at local markets and inns.
Mixiotes
If there is something that characterizes the Hidalgo plains, it is its landscapes populated with maguey pulquero crops, from whose stalks a film called "mixiote" is extracted, which gives the name to this delicious dish.
The mixiotes are filled with a stew that can be marinated beef, chicken or rabbit, wrapped in this film that gives it a touch of maguey flavor. They are steamed in a water bath and can be served with red rice. All a delight.
Barbacoa (Mexican Barbecue)
The barbecue is perhaps one of the most typical dishes of Hidalgo whose preparation is pre-Hispanic heritage. The oven where this succulent dish made with lamb, beef, venison or rabbit will be cooked must be earth.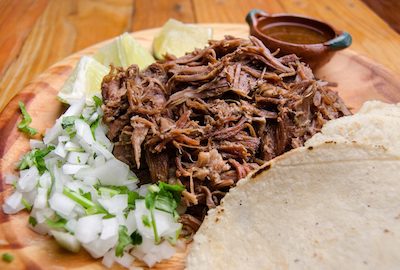 The meat in pieces is wrapped in the leaves of the maguey plant that gives it a very peculiar flavor, and is then placed in a hole in the ground one meter deep and half a meter in diameter.
It is accompanied with freshly made blue corn tortillas, the consommé with all the juices that the meat releases in its cooking and ingredients such as chickpeas, rice and spices.
A good pulque or a cured from the region make the perfect pairing to taste this dish.
Xoconostle
Fruits of the nopal plant, a kind of prickly pear, pink inside and thick, bittersweet rind and a little strong. Its most common use is as a condiment in the delicious mole de olla.
It is also used to prepare sauces or as a drink in smoothies, as its properties include the decrease in blood sugar.
Zacahuil
This typical dish from the Huasteca of Hidalgo is a huge tamale one or two meters long, made with corn dough stirred with lard, salt, spices and ground chili peppers, stuffed with stewed beef, pork, chicken or turkey. .
Once the tamale is made, it is wrapped in banana leaves and cooked in wood ovens. When cooked, its edges are more golden than the center, which is known as glued. Its crunchy flavor is delicious.
Pulque
To add a beverage to this list of typical dishes of Hidalgo, we have the maguey as the main ingredient of pulque, a traditional drink of pre-Hispanic origin.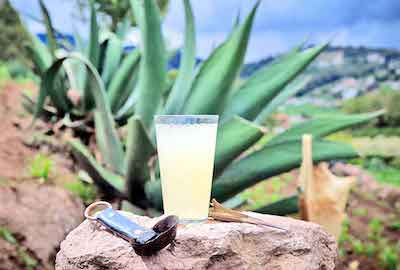 Fermented drink that is extracted from the mead of the magueys, the plains of Apan and the Valle del Mezquital. There are also "curados" which are fruit or seed juices that are added to pulque, resulting in a touch of sweet and fresh flavor.
Although pulque is the quintessential liquor in Hidalgo, there are other drinks made with corn, brown sugar, seeds, fruits and plants, such as Tachuela, Requintada, Acachul, Achocote, Rompopes de Huasca de Ocampo and Licores de Tlahuelompa, also very rich.
Tecotitos
They are made with nixtamal, lard, salt and ingredients such as potato, mint, chicken, pipián and Mexican sauce are added; they are wrapped in corn husks and cooked on a comal.
Moles de Jacala
The most famous in this region is the rabbit mole with pine nuts and walnuts, also known as pascal.
Like all moles, its preparation is based on chili peppers, sesame and spices; the filling can be with chicken or turkey meat, served with black beans and freshly made corn tortillas.
Gualumbos
When the pulquero maguey reaches maturity, flowers sprout on the stalks known as hen's feet. They are edible flowers that are used as an ingredient in broths, stews, fillings for snacks and tamales. They are also used in the preparation of atole or as an accompaniment in the delicious chicken barbecue and other typical dishes of Hidalgo.
"Guajolotes"
A telera with refried beans spread and filled with a red or green enchilada, are the ingredients that make up these typical snacks from the town of Tulancingo. The enchiladas can be boiled egg, chicken or fried in lard, which gives these delicious turkeys a very particular flavor.
Escamoles
Its preparation has pre-Hispanic origin. They are eggs or larvae of a güijera ant whose nests are formed under the nopaleras. It is an expensive dish due to its laborious production.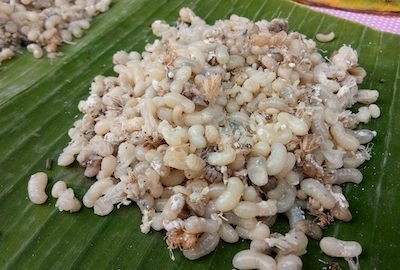 Escamoles are high in protein and taste great. You can taste them in soups, tamales, stewed with nopales, eggs or chili, although the ideal is to eat them with few ingredients to enjoy their characteristic flavor.
Chinicuiles
These small, red worms known as chinicuiles sprout at the bottom of the plant, after the autumn rains that bathe the magueys. Its name comes from the Nahuatl language "chilocuilin", which means "chile worm".
These insects are a delicacy in the gastronomy of Hidalgo. They can be prepared fried, toasted and enjoyed in tacos accompanied by a green or red molcajete sauce.
Ximbó
Its preparation is very similar to barbecue, as it is a stew wrapped in maguey leaves that is cooked in an earth oven. Although it is a typical dish throughout the state of Hidalgo, it is known that it had its origin in Actopan and San Salvador, belonging to the "Valle del Mezquital".
The variant of the barbecue is that the Ximbó is made with pieces of chicken meat, pork skin, chamorro or rib, which result in an exquisite flavor.
Maguey worms
Insects are a staple of the gastronomy of Hidalgo and the Maguey Worms, a very famous dish. They are raised on the maguey stalks and the ideal time to extract them is in the rainy season, a process that makes them a rare and precious dish.
The process of making the dish is not very complex. They are served browned with tortillas and a good sauce, which gives them a somewhat strong and crunchy flavor when biting into them.

More Tourist Attractions in HIDALGO


Flights & Hotels in HIDALGO

More Tourist Attractions in MEXICO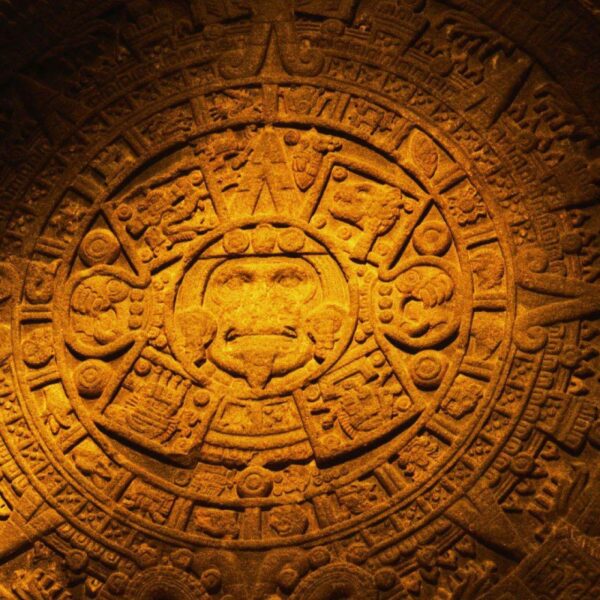 Mexico has an incredible diversity of landscapes, where the beauty of its beaches, internationally recognized, stands out. In its vast territory of coasts, there are beaches of unparalleled beauty, and colorful landscapes. A large network of first-class hotels and tourist services is available to visitors to these beaches. Mexico is also mystical places, dotted with archaeological testimonies inherited from its original inhabitants. Monuments made by the Mayas, Aztecs and Toltecs are located in magical landscapes, like lighthouses in an ocean of natural beauty. They offer visitors buildings that tell their history, and museums that collect their cultural heritage. And that keep alive ancestral traditions, in ceremonies and festivals, where you can enjoy cultural activities and entertainment.… Leer Más
Read More »