Tourism in CIUDAD DEL CARMEN
It was founded during the pre-Hispanic period, and after the arrival of the Spaniards the island was populated mainly by pirates, it was known as
"Isla de Tris". Cd. del Carmen has an extension of 6,353.3 square miles and is surrounded by beautiful landscapes with tropical vegetation.
Also known as the Pearl of the Gulf, the island lies off the coast and is connected to the mainland by two bridges over the Laguna de Terminos, one of them with a length of more than two miles is the longest in Mexico.
The natural attractions along with the archeological sites and the European style buildings in town, convert the island in a very apealing place for visitors.
Nowadays the zone has turned into one of the most important centers of production in Mexico, due to its oilfields. More than 80 % of oil national production and 40% of gas is extracted from here. Besides, the place has another treasure, the giant schrimp, also call "pink gold", you should enjoy the extraordinary cuisine of the region.

Tourist Attractions in CIUDAD DEL CARMEN
Church of Our Lady of Carmen
Built with armonic architecture and an altar made of grey and white marble.
In its beginnings, a small chapel that served as a meeting place for the Catholic community of Carmen during the 18th century, burned down in 1850. In 1856 the construction of the church was completed as it is today: made of wood, stone and sascab, under the original idea of naval officer Mateo Perry. Inside you can appreciate beautiful stained glass windows, altarpieces carved in wood and oil paintings.
Culture House
Located in a French style building of the19th Century, today it houses the Culture House. There are exhibits of recognized artists, as well as workshops of art, it also houses the Symphonic Orchestra.
Central Park Ignacio Zaragoza
It has a nice gazebo since 1886 and the nice floor were brought from Belgium and Spain. It is located in the heart of the City. The park has a very nice wooden kiosk that was rebuilt in 1905. The famous Iglesia de Nuestra Señora del Carmen is located here.
Victoriano Nieves Museum
It has an interesting display, and reviews the overall history of Cd. del Carmen. Some highlights are the Mayan pottery and a ship. In a magnificent Porfirian building, from the beginning of the 19th century until 1960, the building that houses this museum functioned as a hospital, surviving several crises (the hardest during the 1940s). In 1998 it opened its doors as a museum where pre-Hispanic pieces from the region and pirates are now exhibited, and it has a room for photographic, pictorial and sculptural exhibitions.
Zoo
It has 40 different species of animals, a playing yard, coffee shops, and bike rental.
Jesus Church
Built in 1820, it is surrounded by beautiful old houses. Empress Carlota attended mass in this temple when she visited Ciudad del Carmen.
El Zacatal Bridge

It is the longest bridge in Latin America, measuring 3,860 kilometers long, longer than the La Unidad bridge. It was inaugurated in 1994 and connects the Ciudad del Carmen with Villahermosa. Between 8:00 p.m. and 9:00 p.m., a light and sound show is presented, illuminating the bridge.
Barrio del Guanal (Guanal Neighborhood)
The first 7 families settled here in 1722. Its temple dedicated to the Virgin of Asunción was the first to be built in 1815. As the oldest neighborhood, it retains its primacy in terms of the construction of Marseille tile houses with their beautiful balcony windows.
Isla Aguada (Aguada Island)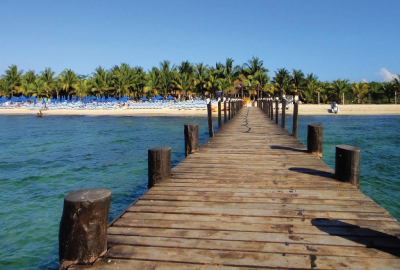 This is one of the best beaches in the Gulf of Mexico. A protected area with nice beaches and mangroves. There you can find a small seafront with a fishermen pier, where several guided tours take you to the Terminos Lagoon and the Isla de los Pájaros (Birds Island), to watch dolphins and a wide diversity of birds.
Términos Lagoon
It has an extension of near 2,667 square miles and is part of a Protected Area. It is surrounded by mangroves with tropical birds, a rich marine life, mammals and reptiles.
The largest estuary in the country with 705,000 hectares, it is a very rich reserve of mangroves and various types of original forest. Declared a flora and fauna protection area, the mangrove is a reservoir of species, and an ideal place for nesting birds and reptiles. If fishing is your thing, it is a good place to fish for shrimp, sea bass, mojarra, dogfish, oysters and turtles. You can also visit Playa Caracol and spend a quiet day.
Fénix Ecopark
It is an eco-park only 8 miles far from Cd. del Carmen, it has a crocodile farm, a green house, camping areas and guided tours.
Atasta
It borders with Ciudad del Carmen and communicates through the El Zacatal bridge. Populated with a beautiful boardwalk and a great diversity of fauna, manatees can be found in its lagoon. Nearby is Xicalango, an interesting archaeological zone. In pre-Hispanic times this was a very important port for trade between the Mayans, Olmecs and Mexicas.

Beaches in CIUDAD DEL CARMEN
North Beach

White sand beach with tranquil waters ideal for swimming; there are restaurants along the beach, this is the place where takes place the "Carmen Fair" in Jully and during the Holly Week there is the "Festival of the Sea". Playa Manigua: gorgeous beach of tranquil waves surrounded by mangroves, ideal for water sports, there are excellent places to eat.
With its three kilometers of white sand, it is one of the favorite places to spend the day in the area. In addition to having all the services for a comfortable stay: palapas, restaurants, dressing rooms, lifeguards and a doctor. If you go during the months with more tourist influx, you can also rent jet skis, sailboats, bananas. In short, you will have everything at hand for a pleasant day alone or with the family.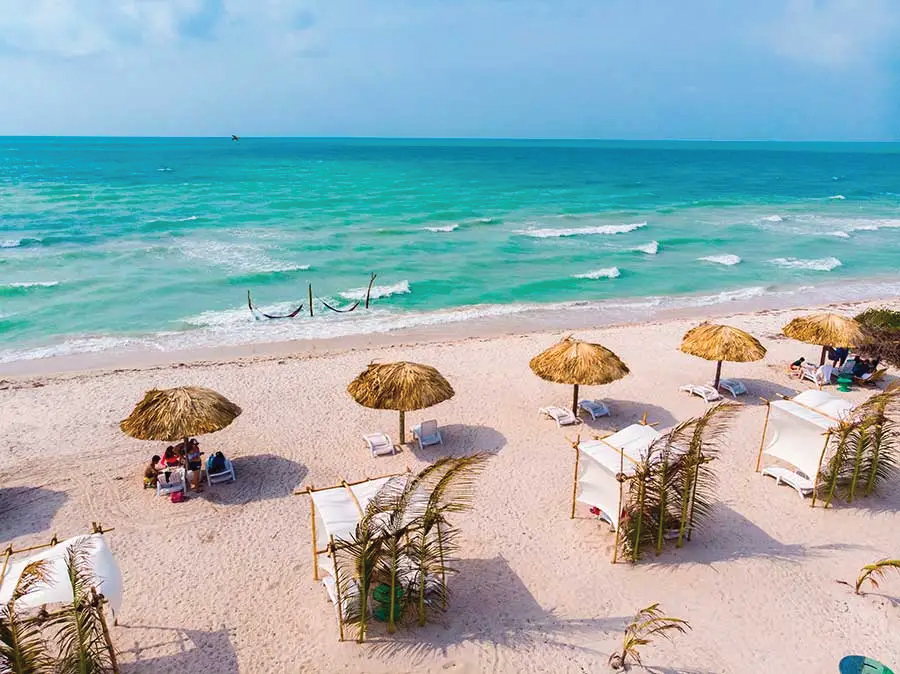 Caracol Beach
Nice beach with tranquil waters bathed by the waters of the Terminos Lagoon, surrounded by mangrove vegetation; there is a restaurant, bungalows and acuatic gear rental.
Bahamita Beach

A place of unique beauty with clear waters and soft sand; it has a small bay with restaurants, excellent for water sports. Puerto Real: It has a shell bank with tranquil waters; it is the ideal place for sport fishing, diving and swimming.
Playa Sabancuy
It has transparent and shallow waters, excelent for fishing, shrimp, oysters and fish of all sorts abound; it is also good for sailing and for nature lovers.

Map of CIUDAD DEL CARMEN, CAMPECHE

More Tourist Attractions in CAMPECHE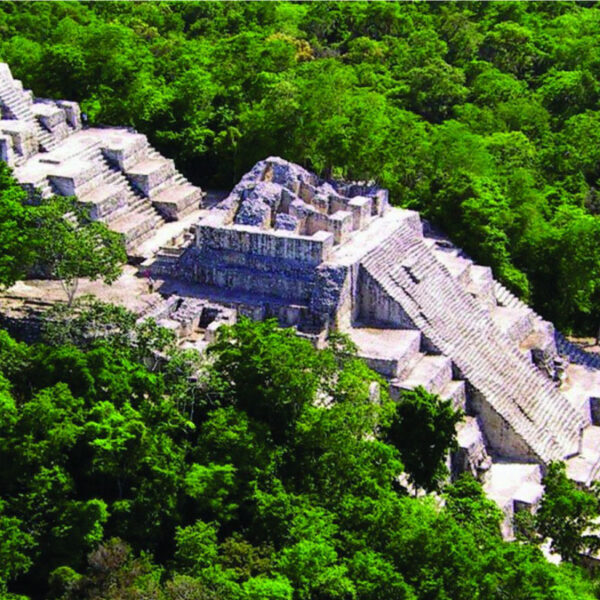 Archaeological Sites
The centers of the cities were filled with foundations for the temples, palaces, ball courts, astronomical observatories and rooms; like those seen in the Campeche Petén, the Puuc region, that of Los Chenes, that of Río Bec and that of the rivers and lagoons.… Read More
Read More »

Flights & Hotels in CAMPECHE​

More Tourist Attractions in MEXICO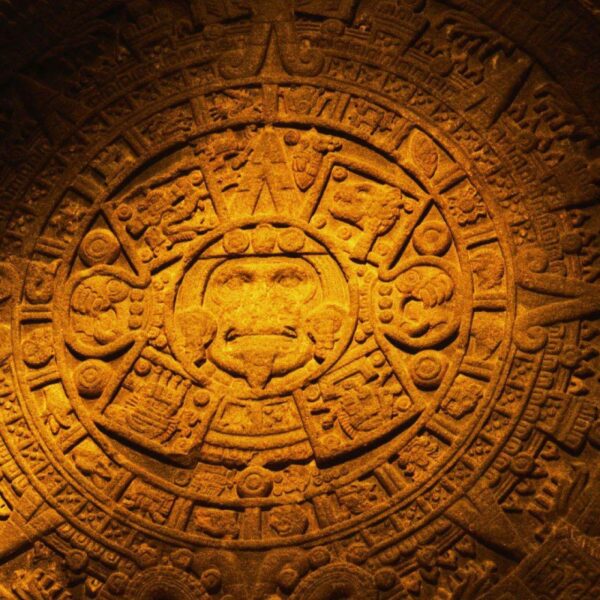 Mexico has an incredible diversity of landscapes, where the beauty of its beaches, internationally recognized, stands out. In its vast territory of coasts, there are beaches of unparalleled beauty, and colorful landscapes. A large network of first-class hotels and tourist services is available to visitors to these beaches. Mexico is also mystical places, dotted with archaeological testimonies inherited from its original inhabitants. Monuments made by the Mayas, Aztecs and Toltecs are located in magical landscapes, like lighthouses in an ocean of natural beauty. They offer visitors buildings that tell their history, and museums that collect their cultural heritage. And that keep alive ancestral traditions, in ceremonies and festivals, where you can enjoy cultural activities and entertainment.… Read More
Read More »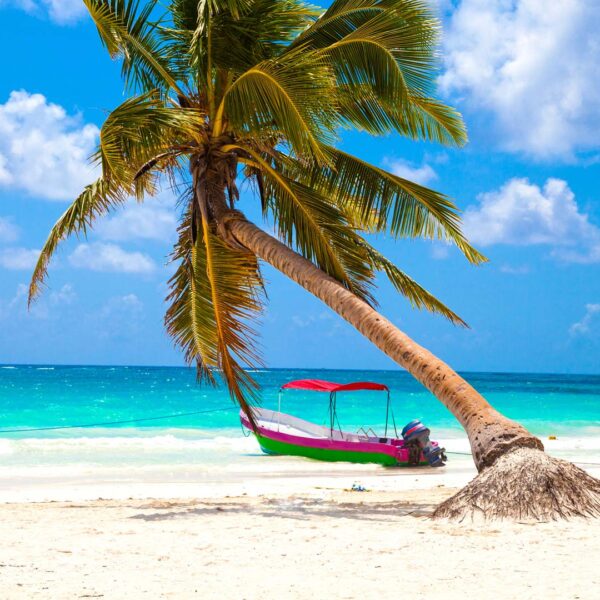 On the Beaches of Mexico you can immerse yourself in the intense blue ocean of the Pacific bays, sunbathe on the shore of the warm and transparent waves of the Caribbean Sea in Quintana Roo or even rest on the beautiful coasts of the Gulf of Mexico. Mexican beaches hide wonderful secrets for the traveler. By visiting them, in addition to enjoying the excellent climate and water activities, you can discover splendid archaeological sites and interesting colonial cities without traveling long distances.… Read More
Read More »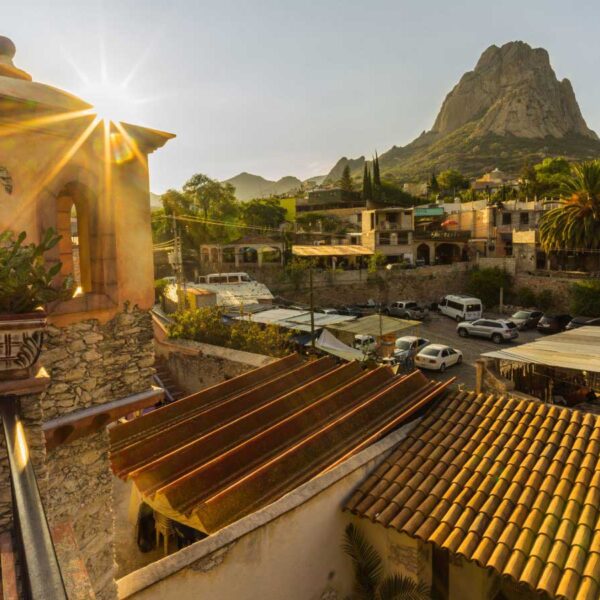 A Magical Town is a place with symbols and legends, towns with history that in many cases have been the scene of transcendent events for our country, they are places that show the national identity in each of its corners, with a magic that emanates from its attractions ; visiting them is an opportunity to discover the charm of Mexico. The Magical Towns Program contributes to revalue a set of populations in the country that have always been in the collective imagination of the nation and that represent fresh and varied alternatives for national and foreign visitors. A town that through time and in the face of modernity, has conserved, valued and defended its historical, cultural and natural heritage; and manifests it in various expressions through its tangible and intangible heritage. A Magical Town is a town that has unique, symbolic attributes, authentic stories, transcendent events, everyday life, which means a great opportunity for tourist use, taking into account the motivations and needs of travelers.… Read More
Read More »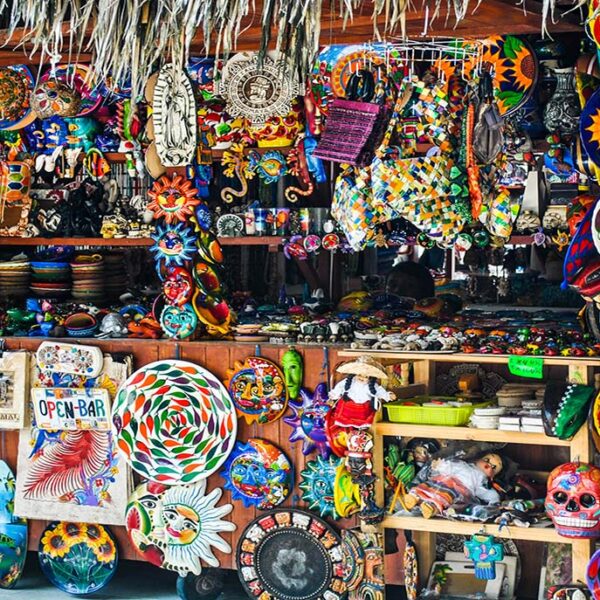 It is practically impossible to make a meticulous, and above all, accurate selection of the places to visit in Mexico. Each place that our country houses is unique and beautiful in its own way. Mexico, with its nearly 2 million km², has a large number of scenarios to offer, as well as endless activities to do. Do not lose your way and enter the places to visit in Mexico. In Mexico, apart from the beaches and its famous archaeological sites, there are many other really interesting sites and activities that you should know. In the surroundings of the main cities you will find places full of culture and tradition, where you can spend relaxing, interesting and fun vacations. On your trip through Mexico you cannot stop obtaining souvenirs, the crafts that are made here are of the highest quality and recognized worldwide. A shopping tour cannot be missed.… Read More
Read More »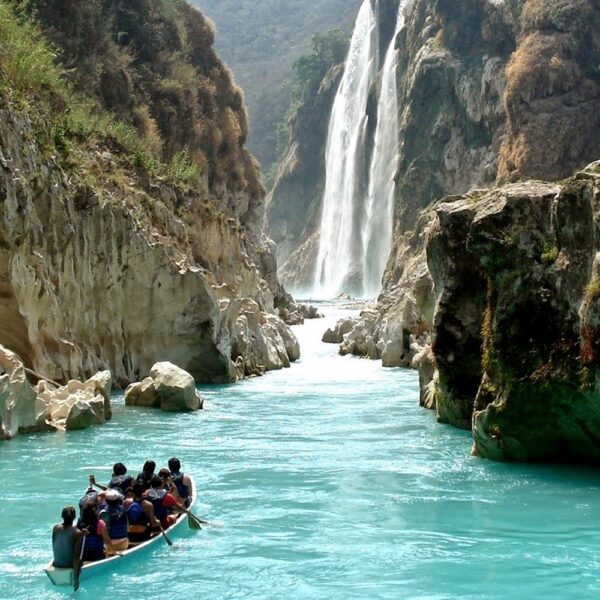 Mexico is one of the best countries for Ecotourism as it has a great variety of flora and fauna, as well as a large number of refuges for extraordinary species. You can enjoy recreational activities of appreciation and knowledge of nature through contact with it, such as: stargazing, observation of natural attractions, wildlife and bird watching. Throughout México there are more than 176 protected natural areas, 5 of them considered by UNESCO as Natural Heritage of Humanity. Just for this and much more, we believe that Mexico is a Paradise for Ecotourism.… Read More
Read More »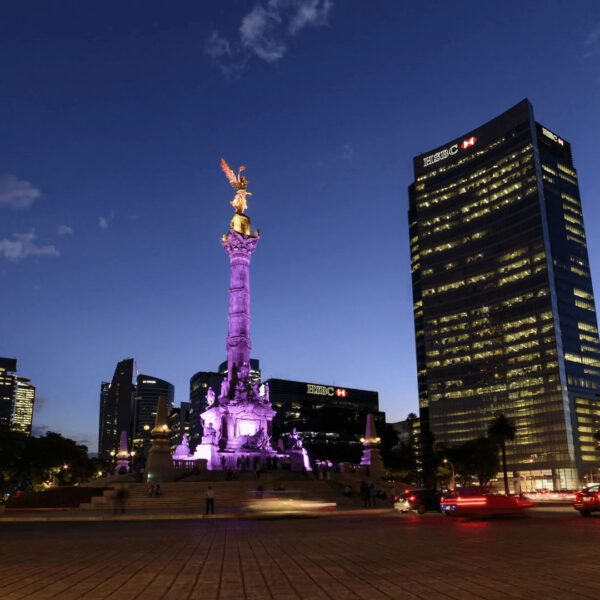 Folklore, gastronomy, literary culture, art and exhibitions, is what you will find in the capitals of the states of Mexico. To the north, colonial Mexico, Puebla, Guadalajara, Guanajuato, the Sonoran desert and the California peninsula. To the east Veracruz and the gulf. To the west Acapulco, Oaxaca and Tuxtla Gutiérrez. And to the south the Riviera Maya and the pyramids of Chichén-Itzá, Tulúm and Cobá in Yucatán, Palenque in Chiapas, the cenotes, and the Central American jungles.… Read More
Read More »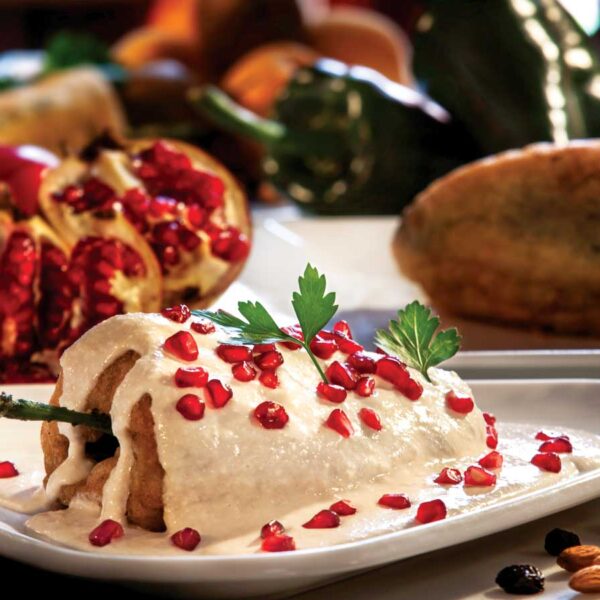 The Gastronomy of Mexico has a great diversity of typical dishes, which is why it was recognized by UNESCO as Intangible Heritage of Humanity. The basic and representative ingredients of Mexican dishes are: corn, coriander, chili, beans, piloncillo, nopal and tomato. Mexican cuisine is also characterized by its sauces, which serve as an accompaniment to traditional dishes, prepared based on spices.… Read More
Read More »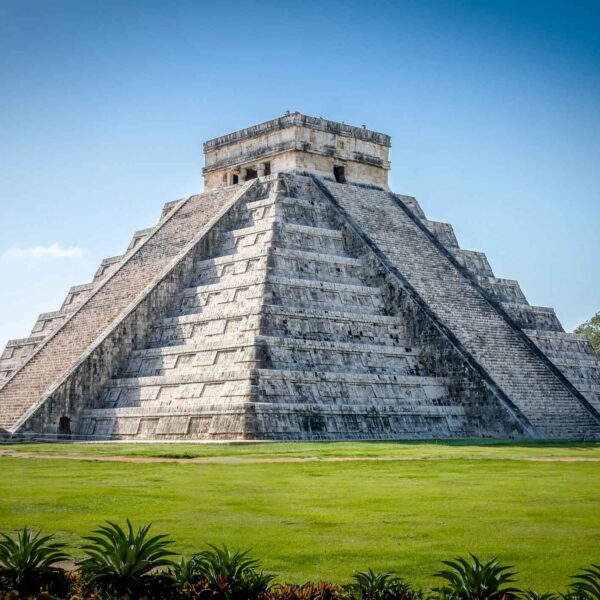 The Archaeological Zones are the cultural past of every Mexican. You will be amazed at the ambient, nature and the environment that surrounds them. Climbing to the top or being around it will take us back in time to admire every detail. México is a country of culture and traditions, many of which we have inherited from the pre-Hispanic inhabitants of this vast territory, although it is true that there were more settlements in the central and southern part of the country, it is also possible to find some archaeological remains in the north.
… Read More
Read More »